Have you ever had a recurring dream as a kid where you imagined yourself soaking in a pool of pudding? or jello? or some sort of yummy food you enjoyed? For me, it was Hot Cheetos. I was a weird kid.
Unfortunately, I never got to live out that dream (or maybe, fortunately). Little did I know, as an adult, I would get to live it out, but very differently.
Instead of soaking in a painful tub of fiery Cheetos, I would be soaking in a soothing tub of one of my favorite beverages: beer, and I would be doing it at a beer spa in Prague.
When I first learned beer spas were a thing, I was intrigued for a few reasons.
It's weird
If I can drink it, why not soak in it
Two words: Unlimited Beer
The fact that I was visiting Prague, one of the worlds major beer-loving cities AND there were a few beer spas to choose from AND one only a 5-minute walk from my hotel meant fate was on my side.
I decided to go with Original Beer Spa. It had great reviews and was in a central location.
I didn't think twice before booking.
I was ready for my first ever, all-around awesome Prague beer bath experience.
Psst, are you planning a trip to Prague? Check out some of these cool experiences.
What is a Beer Spa
What is a beer spa you ask? Well, the name is pretty self-explanatory. It's a spa revolved around beer. You soak in a beer like mixture, you drink beer and you eat snacks made with beer (which will usually be beer bread).
One misconception a lot of people have is that you are actually soaking in beer. This isn't too far off, but not true. You are soaking in warm water, brewers yeast, and malt which are beer ingredients, so close enough.
Who knows, maybe you will be the one fermenting.
Now, spas are great because the treatments you get generally have awesome skin and health benefits and beer spas are no different.
According to research done by the Journal of the European Academy of Dermatology and Venereology, some of the benefits are:
absorption of vitamins and minerals
increased energy and blood circulation
decreased fatigue and stress
skin hydration
hair conditioning
reduction of wrinkles
improvement of damaged skin cells
You will be leaving the spa feeling like a whole new person, refreshed, energetic and ready to take on the world!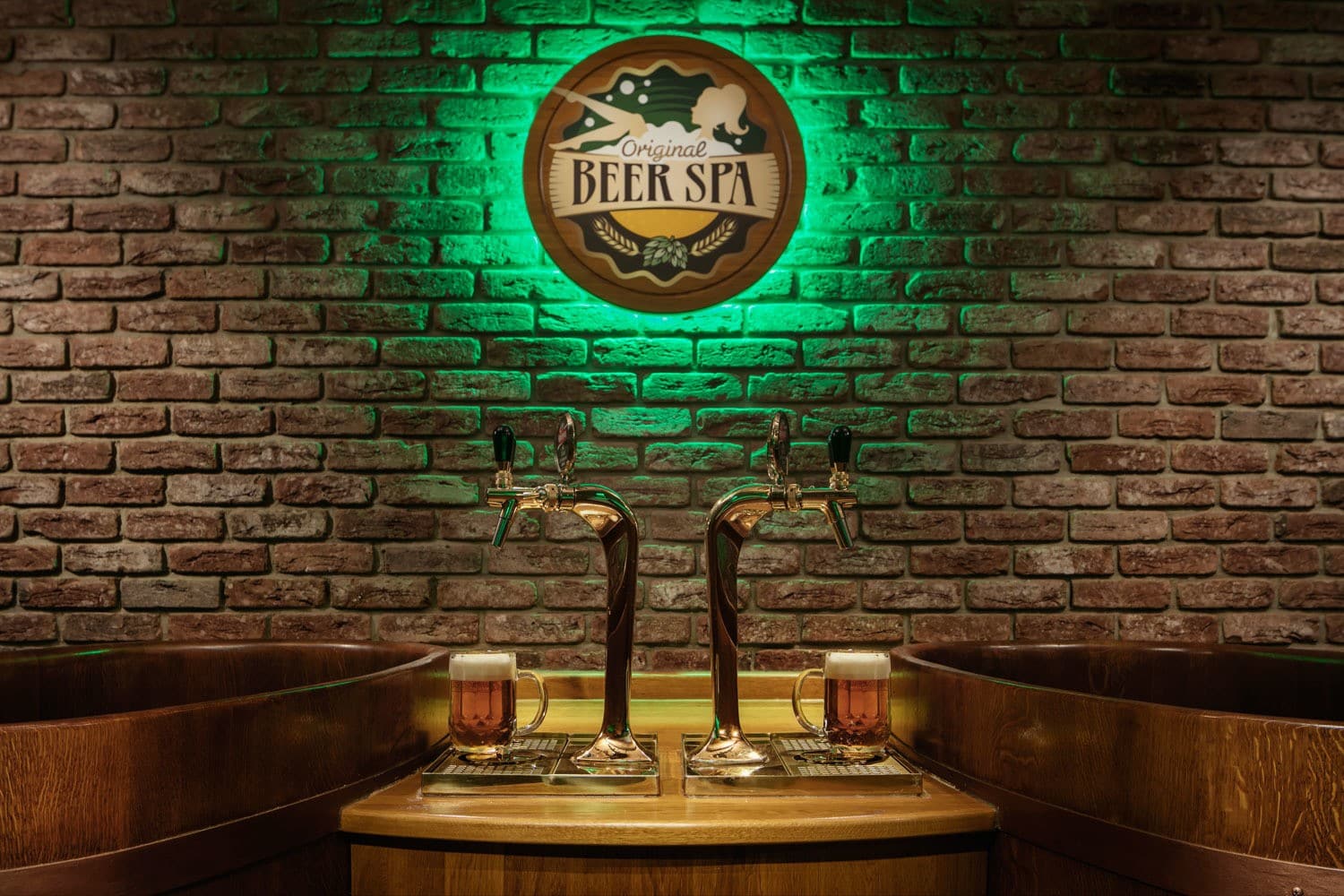 What to Expect at the beer spa in Prague
If you have decided to visit a beer spa, you made the right decision.
Here's what my experience was like at the Prague beer spa.
As you can imagine, I was pretty eager and excited about the beer spa, so much so that I couldn't help taking a big whiff of the pungent yeasty odor wafting in the air when I walked through the front door of the lobby.
I was then greeted by an attendant who took me to my room. She mixed up the bath in front of me, showing me the ingredients she would be using and explaining everything I'll need to know about the spa.
She showed me a buzzer I could push to call her if I had any questions.
And then gestured towards the beer tap filled with light and dark Krušovice beer and glasses that I would be able to fill unlimitedly.
She left to bring me some beer bread which I devoured pretty quickly.
Then left me on my own. I had 20 minutes of bath time, soaking in that tub, drinking, munching on bread, soaking, drinking, munching, soaking, and even more drinking. I was not ready to get out when she came back and told me my 20 minutes was over. I'll be booking 2 hours next time!
I then dried off with the towel they provided, wrapped the linen sheet around myself, and put on the slippers. I got to lie down on a straw bed, which was a bit weird. I later learned the straw bed helped with the absorption of the minerals and extracts from the bath.
Once my time lying down was up, I was told to get dressed and leave (Okay, maybe not that abruptly)
Since I wasn't finished with my beer they allowed me to finish the rest of it in the lobby.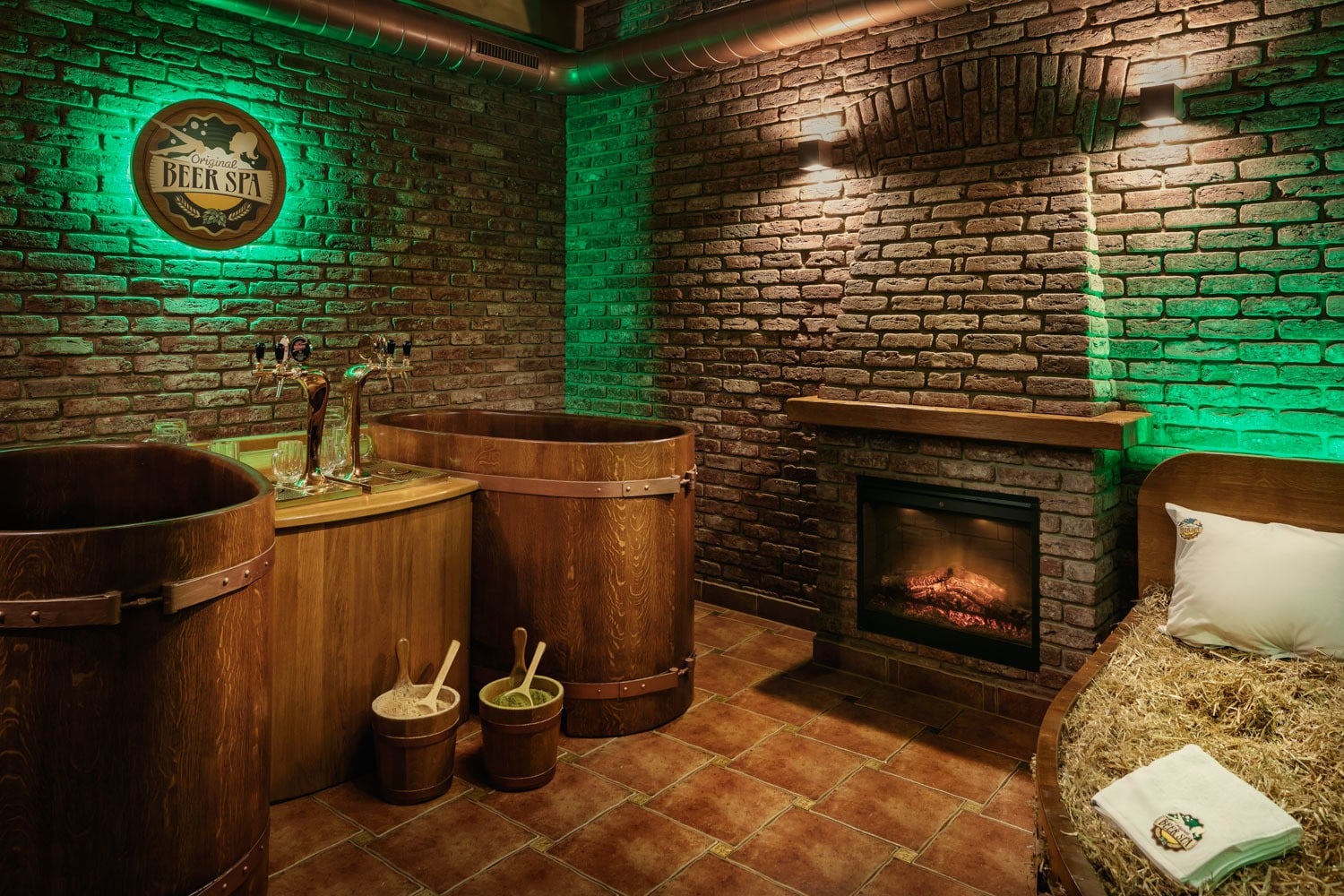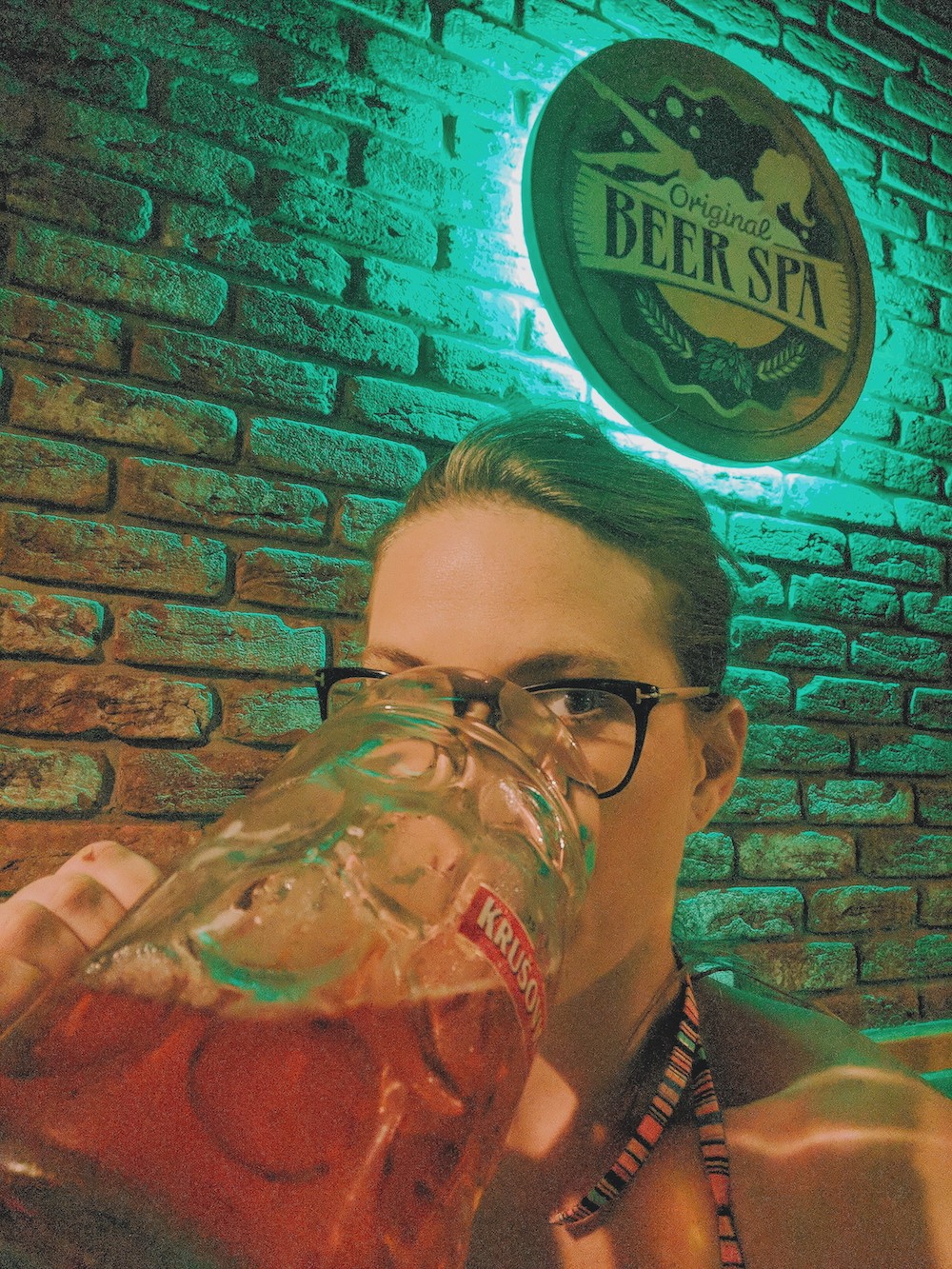 How to Book Your Beer Spa in Prague
You can book the beer spa one of two ways. You can either book online or in person. I decided to book in person because I was staying close enough.
Many of the days were sold out, so if you know when you will be in Prague, and you are planning on partaking in a beer spa experience, book in advance!
If you want to book in person, go several days beforehand to ensure you can reserve a time slot.
What to Bring to the Beer Spa in Prague
All you really need to bring is your swimsuit and even that isn't necessary. A towel, sheet, linen blanket, and slippers are provided for you.
If you are alone and want to snap some pics, bring a tripod or you can ask the nice attendant to take some pictures of you.
Cost
The price breakdown is as follows:
Since I was one person I only had to pay 87 euros and that's by hour.
According to the website, "the quoted price is for 1 hour, with each additional hour available at a 15% discount (max. capacity 4 persons)"
Below are the prices as stated on the website:
| | | | |
| --- | --- | --- | --- |
| 1 tub | 1 person | CZK 2,000 | EUR 87 |
| 1 tub | 2 persons | CZK 2,700 | EUR 117 |
| 2 tubs | 2 persons | CZK 3,300 | EUR 144 |
| 2 tubs | 3 persons | CZK 4,300 | EUR 187 |
| 2 tubs | 4 persons | CZK 5,000 | EUR 217 |
To book your beer spa experience click here
Where to Experience A Beer Spa
Beer Spas have been popping up all over the place and below are a list of places you can get this unique treatment:
Europe
USA
Asia
As you will notice, most of the beer spas are in the Czech Republic, but if you can't get there, no worries! There are plenty of other options.
Helpful Tips
Eat Before:
 Chances are, you'll be drinking a lot, so don't do it on an empty stomach. They do serve a small portion of beer bread, but it won't be enough to sustain you.
Confinue refilling your glass, even if you still have some: The time you are in the spa will go by quickly and before you know it, you'll be out of there! They do allow you to finish your drink in the lobby once your time is up, but you should make it a rule, every 5 minutes fill it up again!
Bring a change of clothes:
 There is nothing like the feeling of clean clothes after a bath. It won't hurt to be prepared with an extra change of clothes or at the very least a fresh pair of undies.
Did you read this guide and think, "Oh, I want to soak in some suds right now." I am going to assume you did!
This beer spa was such a cool and unique experience and I would do it again in a heartbeat! It's a fun activity to do alone or with friends and who knew soaking in beer could have health benefits?
Helpful Travel Resources
First off, if you want to browse all my favorite travel resources check out my Travel Resources page.
Trip Planning: I have put together the ultimate trip planning guide that will walk you through everything you need to know to plan your perfect trip.
Book your Flight: Check out Skyscanner and Momondo! They can have great deals. Airfarewatchdog is also a favorite of mine. I get notified by email every time there is a good deal from my local airport.
Book your Transportation: Wanderu is usually where I check first. They check hundreds of different transportation companies all over the world and find you either the best bus or train deal. Flixbus is one of my favorite cheap options for Europe. The buses generally aren't too bad and they go to most countries around Europe. It's the perfect option for short distances. Train travel is my favorite mode of transportation and I always use Rail Europe to book my tickets. The Eurail pass makes Europe train travel super affordable.
Book your Accommodation: On a budget and looking for cheap accommodation? Hostelworld is my preferred site to book cheap and reliable hostels. Hotels Combined compares hundreds of sites to give you the cheapest hotel deal. If I know the hotel I want to stay at, This is the site I generally use. Hotwire has a fun mystery to it. It's a great site to use for last-minute bookings. They don't actually tell you the name of the hotel when you are browsing. You will just get the area of the city it's in, the price, and how many stars it has. I love the surprise aspect of it!

Book your Travel Insurance: Getting travel insurance is such a crucial part of preparing for a trip. You never know what could happen and why take the risk? Before I travel anywhere I always book my insurance through World Nomads.
Book your Activities: Now, you have planned all the logistics time to think about what you will do once you get to your destination! These are a few of my favorite trip planning sites. I always use Viator when I am looking for tours. I have booked cooking classes, day tours and so much more through them and absolutely love the immense selection they offer in cities all over the world! Pinterest is great to get travel inspiration and plan an upcoming trip or share inspo with friends and family. I use Trip Advisor to plan itineraries for what I want to see & do in each city. I also use them to read reviews on restaurants and hotels too.

Store Your Luggage: Do you have a long layover or a late flight and need to store your luggage? Luggage Hero has got you covered. You can book luggage storage in more than 35 cities worldwide for as little as $1 an hour or $8 for the day.
Was this article helpful to you? Well, go ahead and save it by pinning it so you can reference it later on.