Is there anything better than sipping wine inside a 500-year-old medieval castle in the Spanish countryside? Maybe. But it's pretty hard to beat! I had the opportunity to visit Castell De Pontons – A winery in the Penedes region of Spain about an hour drive from Barcelona. This turned out to be one of the BEST wine tours I have ever taken.
What made Castell De Ponts so incredible you may ask?
Well first off, it's hella old. For American standards that is. It's been in the same family for 500 years and that just blows my mind. The Penedes Region is also super pretty and feels like another world compared to the hustle and bustle of nearby Barcelona. Oh, and there is a 16th century monastery built on the property.
This was truly such an epic day trip from Barcelona and I am dying to tell you guys about it, so let's get into it!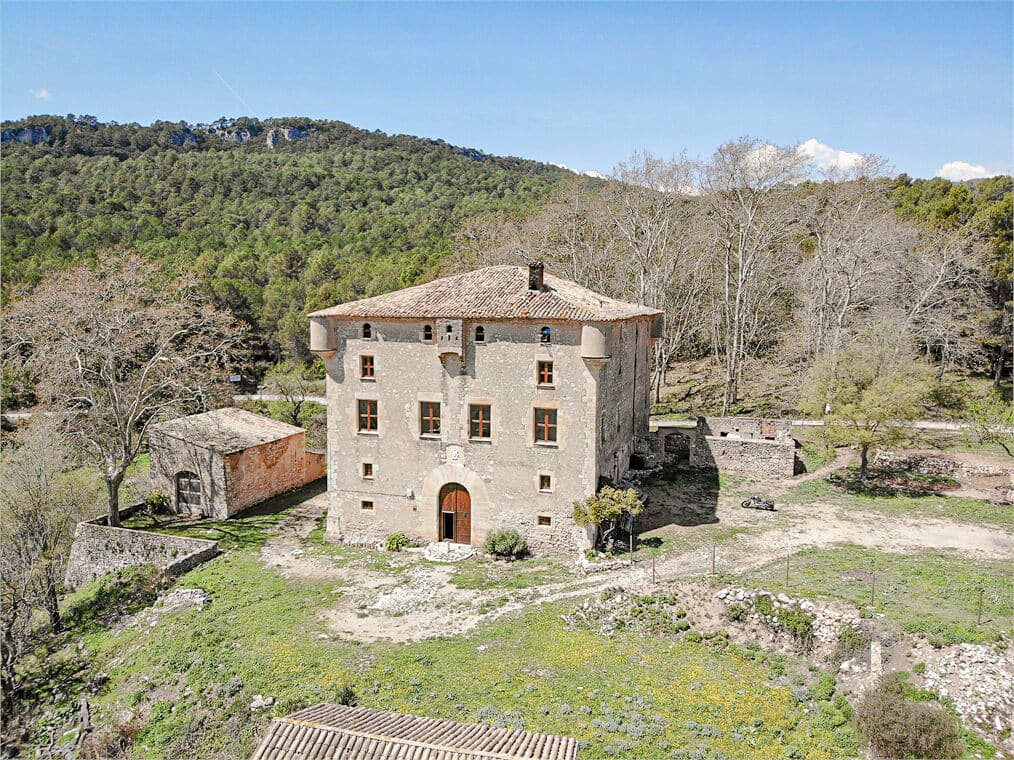 Getting to Winery
We began our journey to the winery in the morning on a beautiful sunny day which is quite rare for Barcelona during the time we were there (March). Our guide picked me and 4 others up in front of a pharmacy on a busy street and we were off on our wine tasting adventure. The car ride up was pretty quiet with our guide giving us interesting tidbits about the towns we were passing and the Penedes Region.
The ride took about 45 minutes which was mostly spent quietly enjoying the rolling hills of the passing landscapes, eventually we arrived and excitedly hopped out of the van to appreciate the incredible view the winery offered. Pictures do not do this place justice.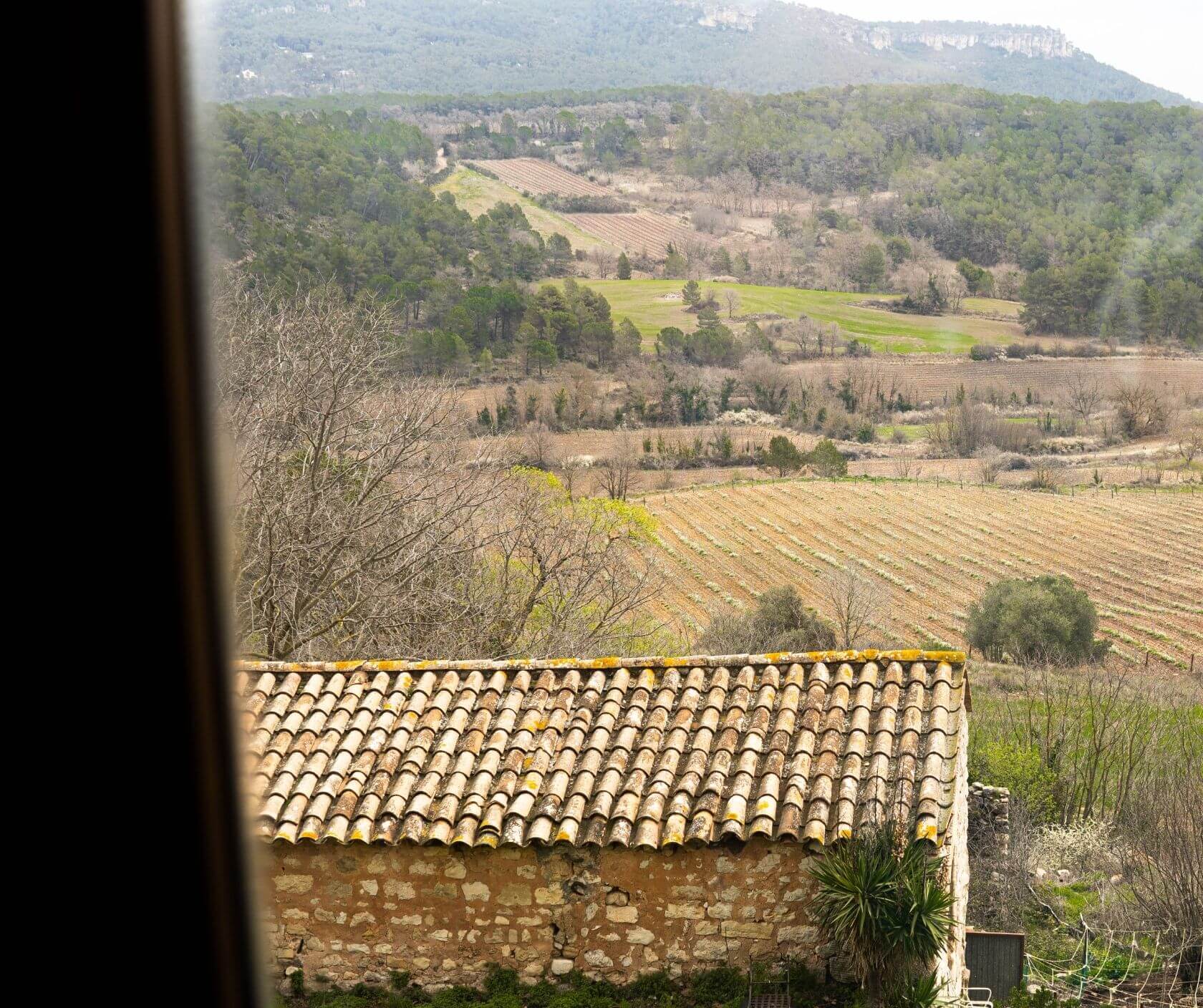 Our Guide
Our guide Fernando was the man! He was such an interesting guy. His family has owned and operated the winery for over…you guessed it 500 years! He only sells the wine to a few restaurants and on the property, so unless you visit, it will be difficult to try. He used to work as a reporter and has lived in so many cool places around the world, but has decided to make his home in Barcelona and offer tours of the winery as a side job.
He's so passionate about wine and wine production, and I learned more about wine from him than I have on any other wine tour.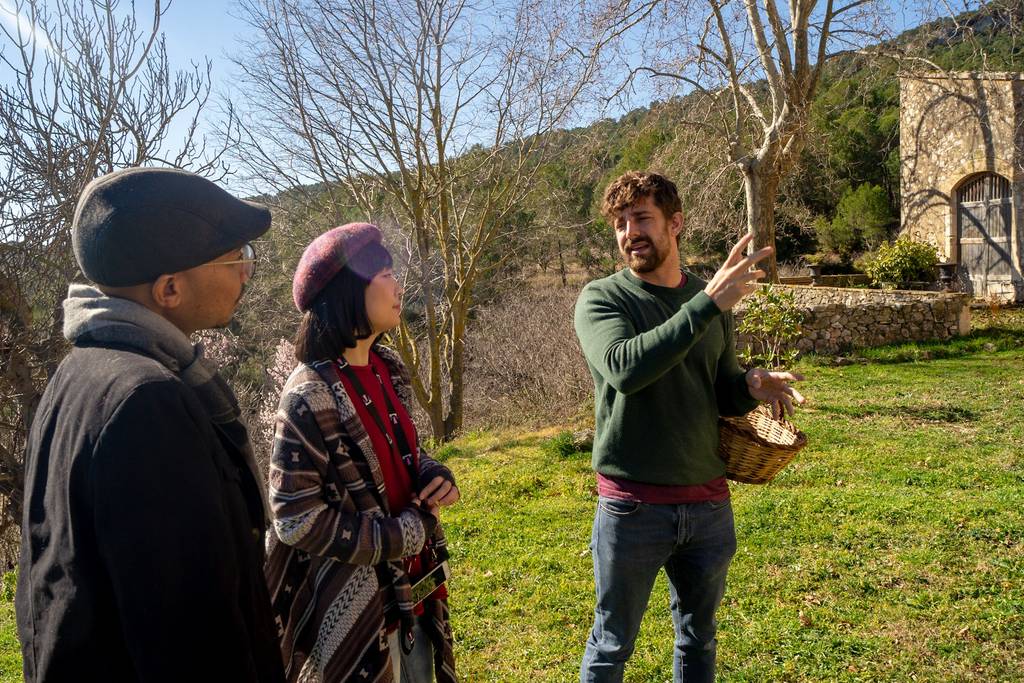 500 Years of History
Yes, you read that right! Castell De Pontons was built in 1560. 
The entire castle has been renovated, but the owners have have made sure to keep that historic charm and some of the original elements. The basement for example is where they used to store the wine and it hasn't been changed. There are even some tools that were used to process the wine that are still present. They don't use the basement anymore, but it's still so interesting to see some of those historical wine making tools.
They are still renovating, but I can see how much love goes into the renovations.
Olive Oil & Honey
When we finished looking around downstairs we started to ascend the stairs where we entered a gorgeous room with a massive table smack in the middle. Some homemade honey, olive oil, and bread were neatly set up for us to try. The honey had some hints of lavender and surprisingly tasted good combined with the olive oil.
Most everything we tried was made with ingredients from the property or local ingredients and you know how much I love local!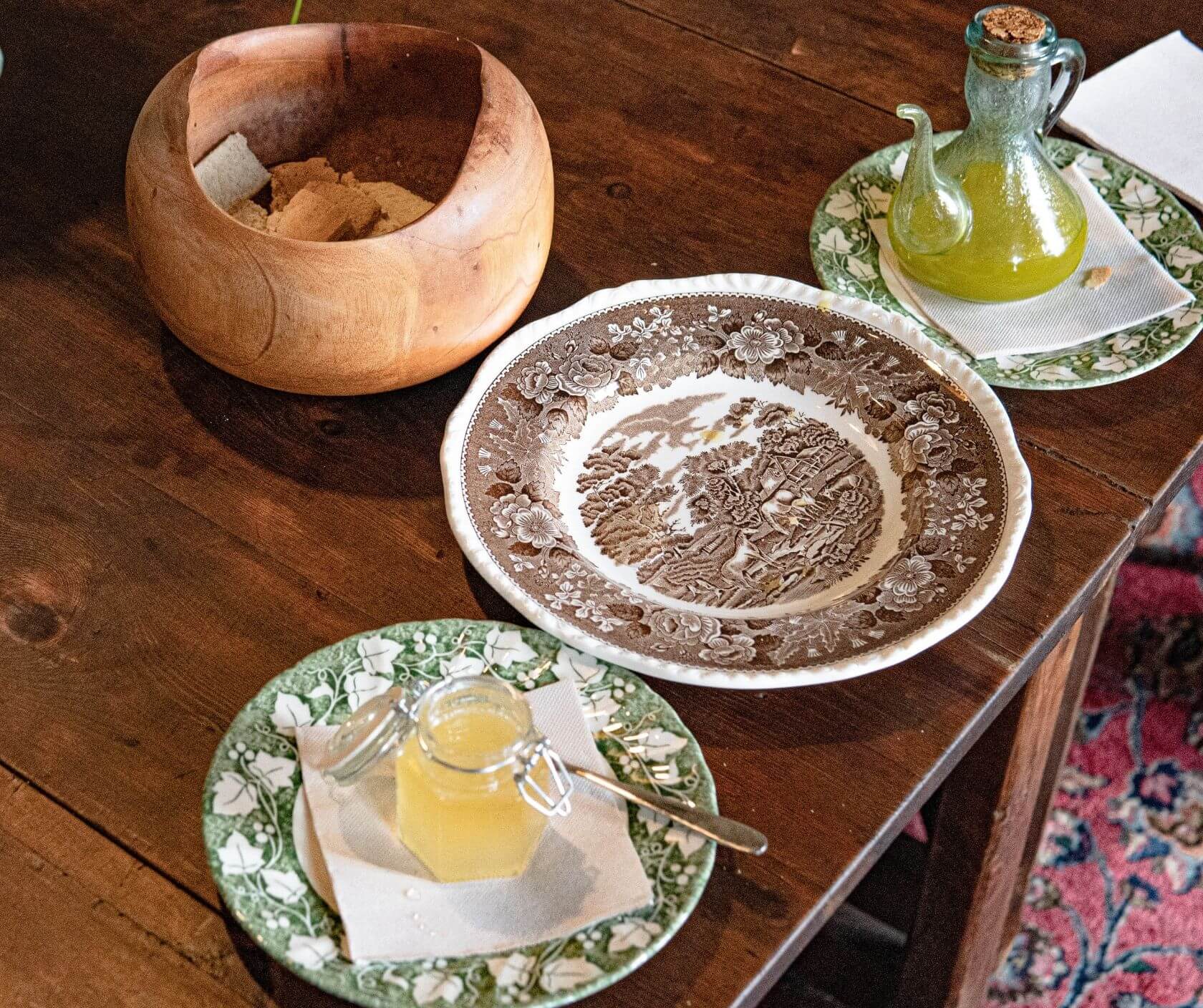 Smelling All The Forest Smells
After our little honey and olive oil snack, we headed downstairs to tour the property. We got to play a game of "guess the plant." The property is huge as most wineries are, so we did a small hike to get down to the vineyards. On the way we would stop and Fernando would give use a tiny sample of a plant. We had to smell it and guess what it was.
I surprised myself and guessed the majority of them right. Fernando then proceeded to tell us how all these herbs and plants we smelled are used in the wine to create different taste notes. We saw the vineyard, but since it's not grape growing season they were all bare. We learned about the cultivation process and how the soil plays a huge part in what the wine looks and taste like.
It got pretty cold since we were in the mountains, so we made our way back up to the castle for the actual wine tasting.
Wine Tasting and Tapas
Once we got back into the castle there was a huge spread of bread, cheese, meat, olives and cake laid out for us – along with 4 wine glasses for our tasting. As we munched on all the tapas laid out before us, Fernando showed us how to taste wine to get the most out of the experience.
When our first glass was poured Fernando told us to describe the color without using white or red. He wanted us to use natural terms like dark cherry. We then proceeded to sniff the wine and decide if we smelled more fruity or floral notes. I got all of them wrong, so needless to say, I don't know wine as well as I thought I did. Then we finally got to taste the wine and swish it around in our glass and mouth.
I actually never knew why people did that, but it changes the taste and really makes a difference. Finally we had to guess the flavors we tasted which could be any kind of fruit, herb or essence. The last part was the most difficult for me, but eventually we tasted all four wines and even got a bit extra.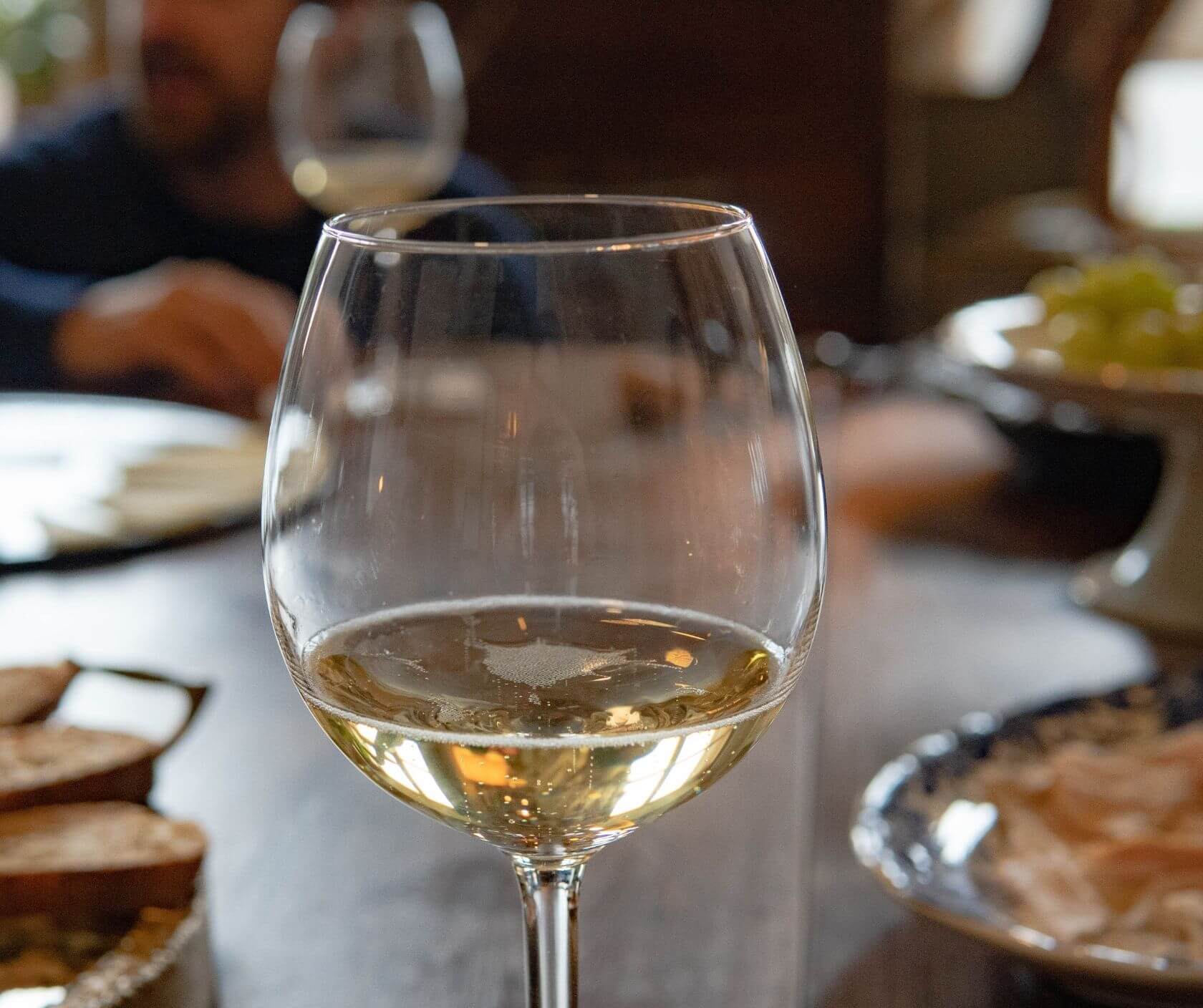 Essential Oils
Castell De Ponts not only produces wine, olive oil, and honey, but they also produce essential oils. from fruits and plants found on the property. Essential oils have so many benefits and depending on the ingredients used.
For example, Lavender can be used for cramps – plus help improve sleep and reduce anxiety. Rosemary can be used to treat headaches and improve circulation As we were learning about the benefits of essential oils, each bottle was passed around, so we could take a little sniff and towards the end, we got to make our own essential oil concoction in our hand, and man did mine smell good!
I didn't end up buying any essential oils, but will definitely consider using them in the future
Once we all were den purchasing we headed back to Barcelona. So I know I have said this before but I will say it again, this was the BEST wine tour I have ever done. Fernandos passion for wine making and wine in general shows and I highly recommend anyone visiting Barcelona take this tour.
Was this article helpful to you? Well, go ahead and save it by pinning it so you can reference it later on.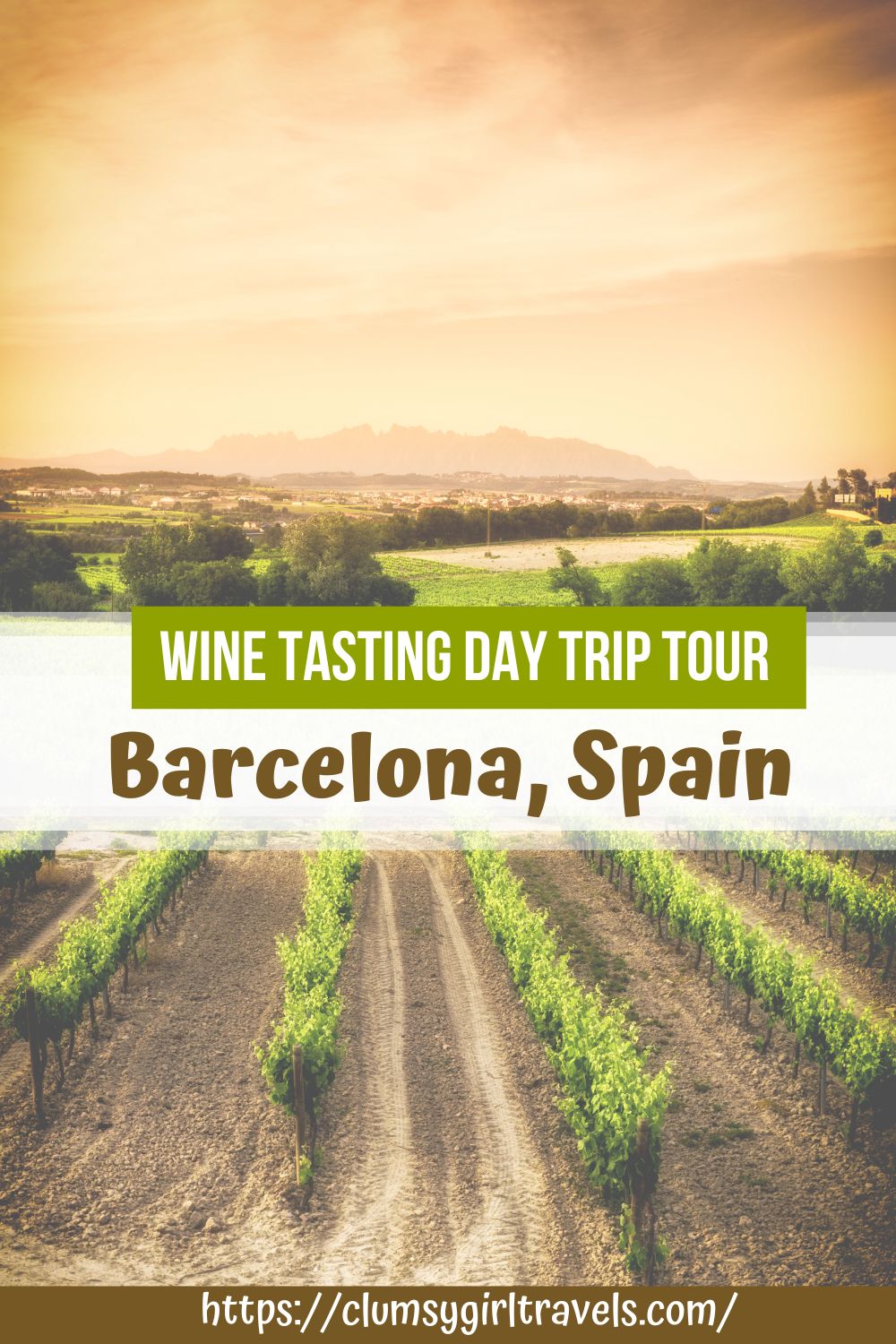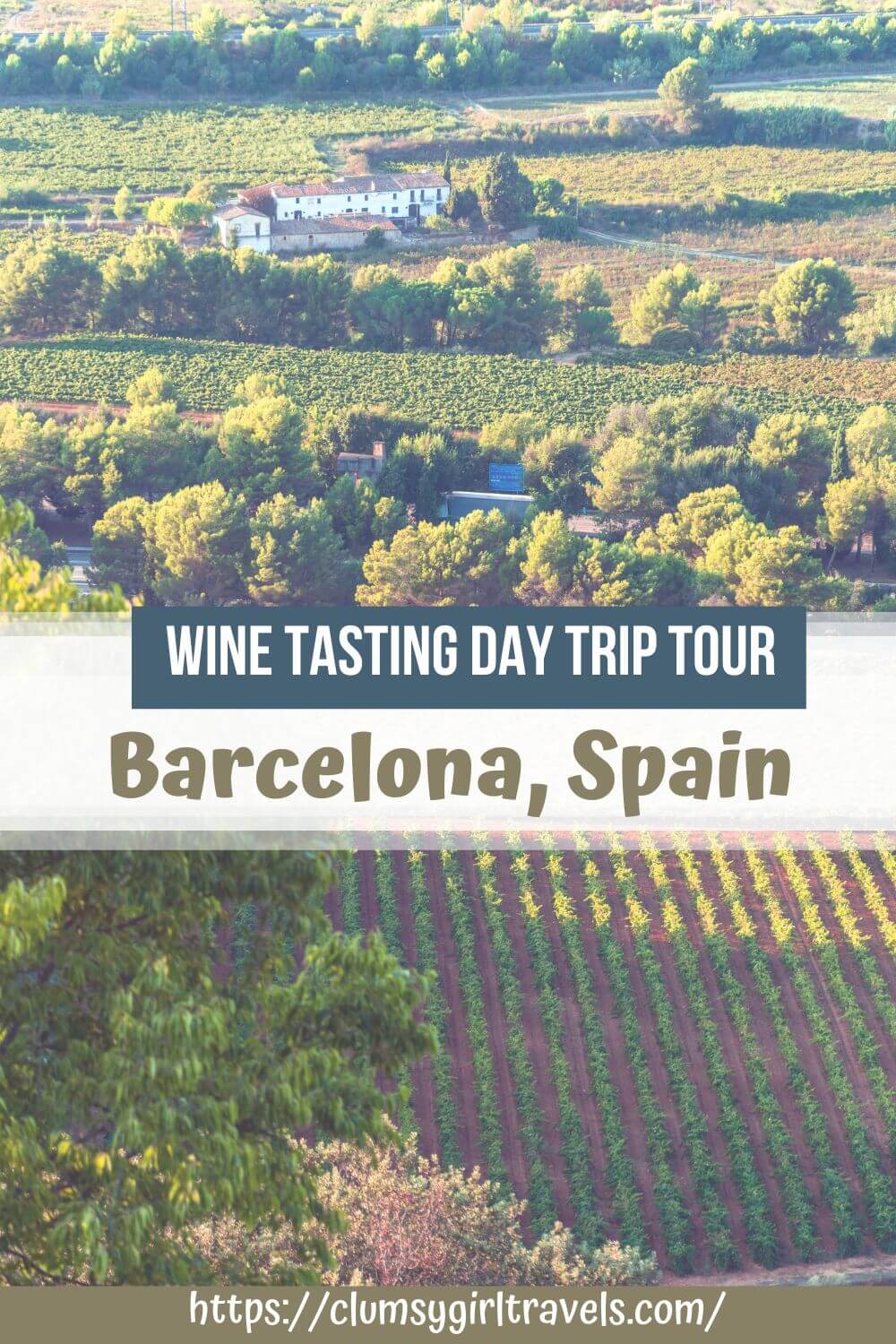 Helpful Travel Resources
First off, if you want to browse all my favorite travel resources check out my Travel Resources page.
Trip Planning: I have put together the ultimate trip planning guide that will walk you through everything you need to know to plan your perfect trip.
Book your Flight: Check out Skyscanner and Momondo! They can have great deals. Airfarewatchdog is also a favorite of mine. I get notified by email every time there is a good deal from my local airport.
Book your Transportation: Wanderu is usually where I check first. They check hundreds of different transportation companies all over the world and find you either the best bus or train deal. Flixbus is one of my favorite cheap options for Europe. The buses generally aren't too bad and they go to most countries around Europe. It's the perfect option for short distances. Train travel is my favorite mode of transportation and I always use Rail Europe to book my tickets. The Eurail pass makes Europe train travel super affordable.
Book your Accommodation: On a budget and looking for cheap accommodation? Hostelworld is my preferred site to book cheap and reliable hostels. Hotels Combined compares hundreds of sites to give you the cheapest hotel deal. If I know the hotel I want to stay at, This is the site I generally use. Hotwire has a fun mystery to it. It's a great site to use for last-minute bookings. They don't actually tell you the name of the hotel when you are browsing. You will just get the area of the city it's in, the price, and how many stars it has. I love the surprise aspect of it!

Book your Travel Insurance: Getting travel insurance is such a crucial part of preparing for a trip. You never know what could happen and why take the risk? Before I travel anywhere I always book my insurance through World Nomads.
Book your Activities: Now, you have planned all the logistics time to think about what you will do once you get to your destination! These are a few of my favorite trip planning sites. I always use Viator when I am looking for tours. I have booked cooking classes, day tours and so much more through them and absolutely love the immense selection they offer in cities all over the world! Pinterest is great to get travel inspiration and plan an upcoming trip or share inspo with friends and family. I use Trip Advisor to plan itineraries for what I want to see & do in each city. I also use them to read reviews on restaurants and hotels too.

Store Your Luggage: Do you have a long layover or a late flight and need to store your luggage? Luggage Hero has got you covered. You can book luggage storage in more than 35 cities worldwide for as little as $1 an hour or $8 for the day.