Budapest, a beautifully historic city that most people add to their ever-growing bucket list and for good reason. It's freaking gorgeous! Familiar spots in Budapest like The Hungarian Parliament, Széchenyi Thermal Bath and Fishermans Bastion are scattered all over the web, enticing people from all over the world to visit. It's a city that has grown in popularity these last few years but is often overshadowed by its neighboring city of Prague which is such a shame because as pretty as Prague is (I love you Prague!) there is so much to love about Budapest and as you will discover in the post, there are tons of hidden gems in Budapest just waiting to be explored.
Seriously, Budapest will take your breath away.
It's a city steeped in history; it's cheap; it's less touristy than other major cities in Central Europe AND there is a tranquil island in the middle of the city. I mean really Budapest, can you be any more perfect?
When I arrive in a new city one of the first things I do is frantically search for things to do and places to eat. You know, basically, what everyone does when they travel to a new place, but instead of focusing all my time on the city tourist sites, I like to get advice from locals. Whether its reading articles locals have written about the place or hiring a local to show me around for the day. I was on a mission to see as many of Budapest's hidden gems as I could fit into my visit.
On this trip, I planned to spend a month in Budapest. I wanted to know the city well before leaving, but due to some friends visiting Prague (total plan ruiners…Kidding!), I rushed there after spending 2 weeks in Budapest which was enough time for Budapest and I to become well acquainted.
By the end of my time in the city, I devoured the best soup I have ever had in my life, rode a train conducted by children (wait, what??), climbed through caves (okay, crawled through caves), and so much more!
This is the Budapest I discovered and absolutely fell in love with and if you plan on visiting the city I know you will too!
Psst, if you are planning a trip to Budapest – check out some of these cool expereiences
Want more Central Europe travel inspiration? Check out these posts!
 Rudas Baths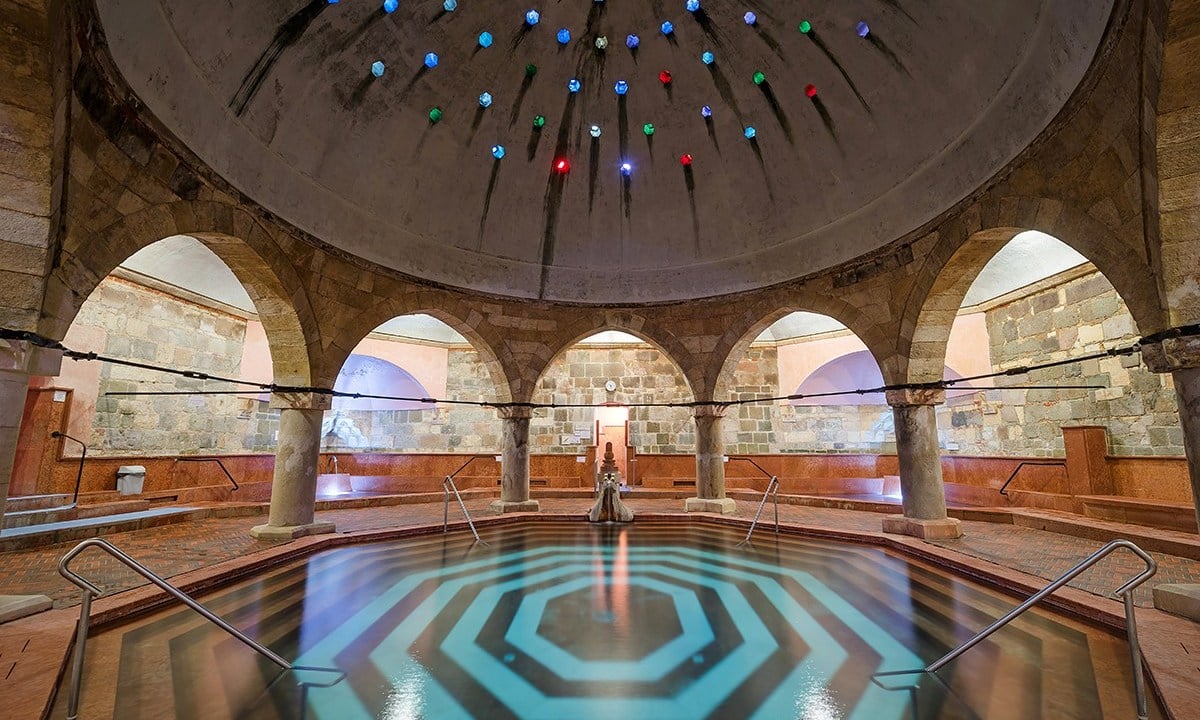 If you are visiting Budapest, chances are your plans involve visiting Széchenyi Baths because well… you're in Budapest and that's what everyone does. But Budapest is home to 5 other thermal baths including Rudas Baths (AKA Rudas Spa) which is worth a visit if time permits.
I ended up visiting Széchenyi Baths and Rudas Baths and I preferred Rudas. It's the oldest bath in Budapest built in the 16th century and it's architecturally stunning. This is one of the baths that locals love to visit and is gender separated so be prepared for nakedness. lots and lots of nakedness. The only downside is that women are only allowed in the Vapor Bath (the main pool) on Tuesdays.
Don't let that deter you from visiting though! There is a co-ed swimming pool, a rooftop pool, and a wellness center. Depending on the ticket you buy, you can have access to different parts of Rudas Baths.
I was lucky and (totally unplanned) ended up visiting the pools on a Tuesday and decided to rent a changing cabin where I could store my things. As soon as I changed into my suit I planned to take a few pictures and then put my phone away but as soon as I walked into where the pool was, a wave of nakedness hit me. I decided that pictures weren't a necessity and put my phone away.
According to the Rudas Bath website, the opening hours are as follows:
Swimming pool and wellness section (co-ed)
Swimming pool: 06:00 – 22:00
Wellness – sauna world: 08:00 – 22:00
Vapor bath (the main pool)
Every day: 06:00 – 20:00
For women: Tuesday
For men: Monday, Wednesday, Thursday, Friday,
Group use: Saturday, Sunday
Night bathing: Friday, Saturday: 22:00 – 04:00
(The sauna world is not available during night bathing.)
Cash desks close one hour before closing.
Pricing is different depending on what month or season you visit. To check the price for your visit click here
What to bring to Rudas Baths: All you really need to bring is your swimsuit and even that's not a requirement if you plan on using The Vapor Bath.
Rentals are available: Rudas has everything you need for a small rental fee. You can rent a towel, sheet, bathing suit, and bathrobe. plus they have a swimming cap and slippers for purchase.
Services: Rudas offers tons of services so there is no excuse for you not to be completely zenned out when you are finished.
Water Massage
Aroma Massage
Royal Thermal Massage
Treatment with Mátra Mountain Herbs
Treatment with Kolop medicinal mud
Treatment with Hungarian Wines
I wish I had time for one of their amazing services! I mean, HUNGARIAN WINE! I don't know what it entails, but it sounds freaking amazing. Next time, Budapest. Next time.
Address: Budapest, Döbrentei tér 9, 1013 Hungary
Metropolitan Szabo Ervin Library
Europe seems to have a knack for designing and building the most stunning libraries! Every single one I have been to has blown my mind with the amount of detail and intricacy that goes into every nook and cranny. It's unreal! C'mon America! Let's take our libraries more seriously. Szabo Ervin Library was such an exciting find. My inner book hoarding demon was squealing with glee.
Szabo Ervin Library is a neo-baroque building originally built as a mansion in the late 18th-century by Frigyes Wenckheim, a Hungarian Aristocrat. In 1931 the city council purchased the mansion and converted it into a library. Only a few of the rooms are preserved, so they have a special tourist ticket for purchase to view them.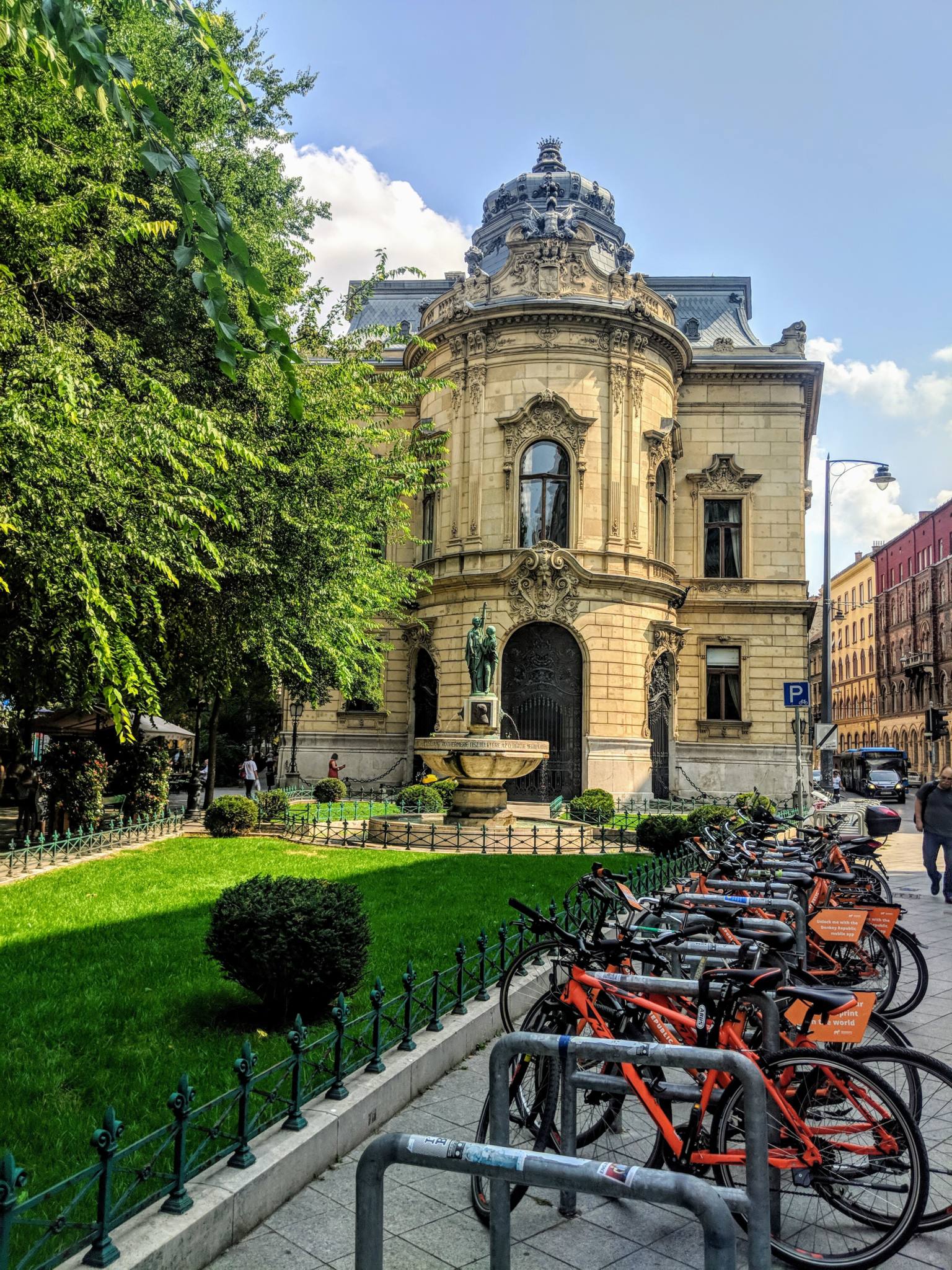 I recommend heading to the library right when it opens. There will already be hordes of people waiting to get their study on or read because you know…libraries are for reading too. The library opens at 10 every day but check here for up to date times.
Since the library opened in the morning, I decided to head straight over after Breakfast. I arrived 15 minutes before the doors opened so I patiently waited outside reading my book. When the library doors opened, everyone stampeded inside to claim a complimentary locker where people left belongings they wouldn't need inside. I locked my bag up just taking my phone for pictures. I then went to the front desk to ask about getting admittance to the library because there were turnstiles that could only be used with a membership card.
I purchased the ticket for $4 and then showed it to the security guard seated at the turnstiles and he let me in and told me where to go. The library is massive and I unsurprisingly got lost. It's too bad my GPS can't navigate inside buildings. I had to ask someone else once I was inside where to go but not to worry! I finally found my way.
The moment I entered the first room I felt like I had been transported to Hogwarts. It was a big reading room that used to be the dining room. There was a massive chandelier hanging in the center. There must have been some extravagant dinner parties.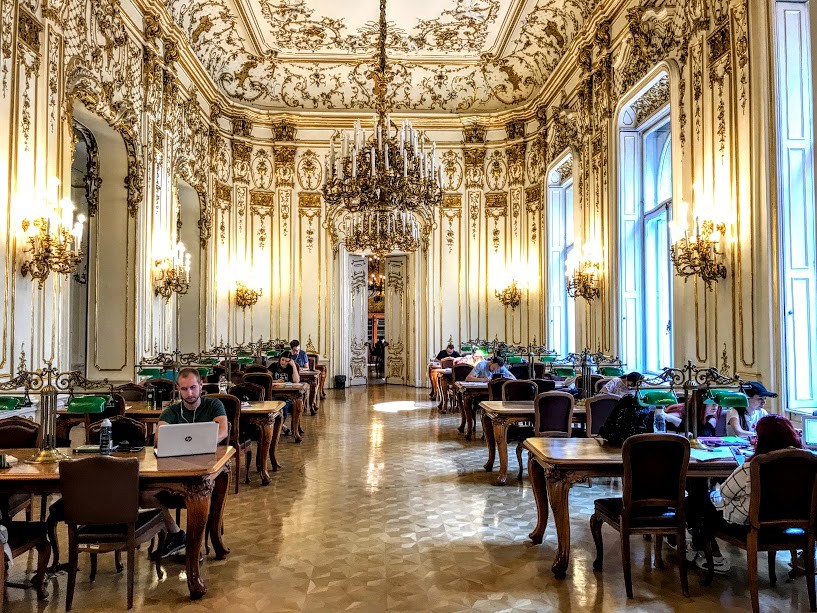 I didn't want to be a gawking tourist for too long, distracting those who were hard at work so I took my pictures and moved on.
The next room was my favorite room. It used to be the smoking room and I could see it would be the perfect room for the men to gather around and discuss worldly affairs. Everything from the winding staircases that lead up to a second floor with bookshelves to the big, comfy leather chairs placed in front of the fireplace. This felt like the most homely of rooms. I couldn't resist a little sit down in one of the plush leather chairs for a read.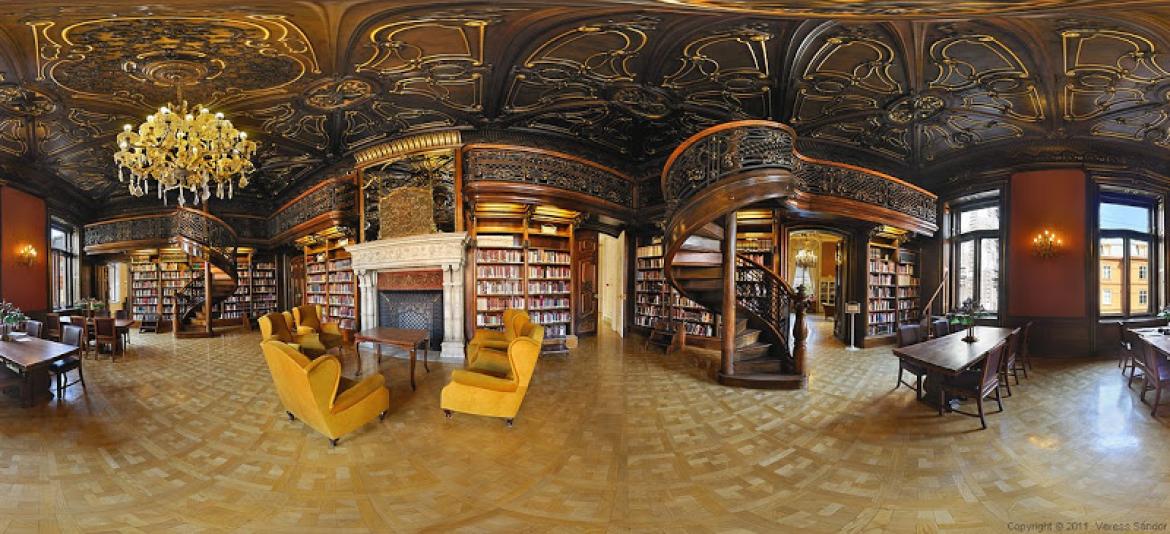 There were chandeliers above that illuminated a soft glow giving the room a nice intimate feel. For a second, I almost forgot it was 2018. Silly me!
I wanted to stay seated in those chairs all day but I had things to do and see so after reading a bit I walked through the next few rooms and happily left the library thinking of decorating ideas for my place.
Building a winding staircase surrounded by books is totally doable.
Address: Budapest, Szabó Ervin tér 1, 1088 Hungary
Metropolitan Szabo Ervin Library opening hours:
Monday – Friday: 10 a.m. – 8 p.m.
Saturday: 10 a.m. – 4 p.m.
Sunday: closed
The Children's Railway
If you were to ask me how I would feel about riding a train conducted entirely by children, I would have laughed and called you cray cray, so you can imagine my surprise when I found out Budapest had A children's railway that was you guessed it – conducted by kiddos and I willingly decided to ride it.
Kids are never too young to live out there dreams, right? Well, I  have to say, it was one of the coolest experiences I have had and I am still here to tell the tale!
The Children's Railway (Gyermekvasút), was built after World War II and run by children under the supervision of adult railway workers. All the posts are run by kids ages 10-14, minus the driver of course. That would be a bit too much.
The kids are required to train for 4 months and then take a test and if they pass, they can work on the railway. I loved seeing how much fun the kids were having! It was evident that they loved their jobs.
The track is 11.2 Km long and has 7 stops in the Buda Hills. I ended up staying on the train the entire round trip journey, due to time, but many people got off at various stops. I've heard there is a zip line at one of the stops.
If you do decide to partake in this cool and unique experience, make sure you check the website for times and days that it's open. It's different, depending on the season.
I suggest taking public transport or If you are short on time, I suggest using the Tapsi app. It's Budapest's version of Uber. Uber is illegal in Budapest, so this is what is used instead. DO NOT GET A CAB FROM THE STREET. The cabs on the street are run by the Hungarian Mafia and are known to charge crazy amounts to go short distances. If you want a cab always use the Tapsi app.
Ticket prices:
Tickets are available for the entire route or for travel between stations.
Adult – entire route: HUF 700 one way, HUF 1,400 return
Child – entire route: HUF 350 one way, HUF 700 return
Adult – between stations: HUF 500 one way, HUF 1,000 return
Child – between stations: HUF 300 one way, HUF 600 return
Address: Budapest, 1029 Hungary
Vajdahunyad Castle
Vajdahunyad castle is located in the city park of Budapest. It was built for the Millenial celebrations of 1896 with the goal of celebrating 1000 years of Hungarian Architectural history. It was originally constructed out of wood but became so popular that it was reconstructed with stone and brick.
Inside, you will find the Museum of Hungarian Agriculture. I found all the exhibits pretty fascinating. I wish I had more time there, but really, any amount of time I spend in a museum is never enough. The struggle is real. There is also a tower you can climb with a guide to get a stunning view of the grounds.
Address:  Budapest, Vajdahunyad stny., 1146 Hungary
The cost is as follows: 
MUSEUM
Adult 1600 HUF
Student, senior 800 HUF
(The entrance ticket is including the ticket to the Gatehouse Tower.)
TOWERS
Gatehouse Tower 400 HUF
Tower tour to the Apostles' Tower 600 HUF
Tower tour for groups (over 10 visitors) 500 HUF/person
COMBINED TICKET
Museum visit with tower tour
Adult 2100 HUF
Student, senior 1300 HUF
Hours are as follows: 
Museum
Mon: closed
Tue-Sun 10 am – 5 pm
Gatehouse Tower
Mon-Sun: 9 am – 7 pm
For information on how to get to Vajdahunyad Castle, click here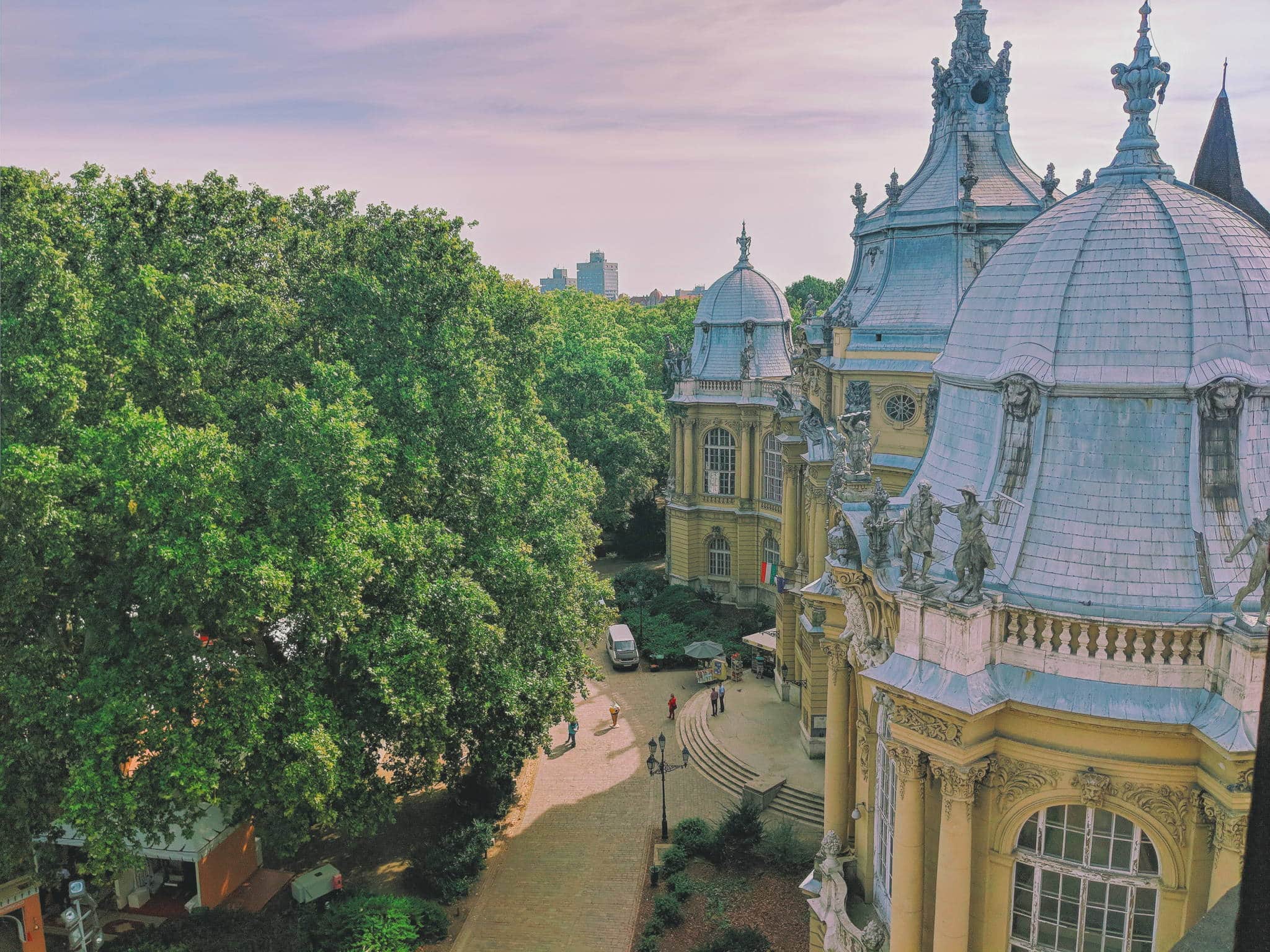 Secret Food Tour
I love food tours!! They are a great way to get a know a city while indulging in delicious local foods. I have been a fan of Secret Food Tours since I took my first tour with them in NYC. At that time, they only had a few cities where they offered tours but now have more than 30 cities. When I discovered Secret Food Tours had a tour in Budapest I booked it right away!
There isn't much information about the places or foods you will eat on the website. They have to keep it a secret after all but trust me, you will finish the tour satisfied, full, and counting down the time until you are hungry again, so you eat everything a second time.
Everything I ate on the tour was incredibly good. All the meats we got to try, Lángos (a traditional Hungarian street food) smothered with sour cream and sprinkled with garlic, coffee with honey (which was surprisingly good) and so much more!
Ughhhh my mouth is watering just thinking about it.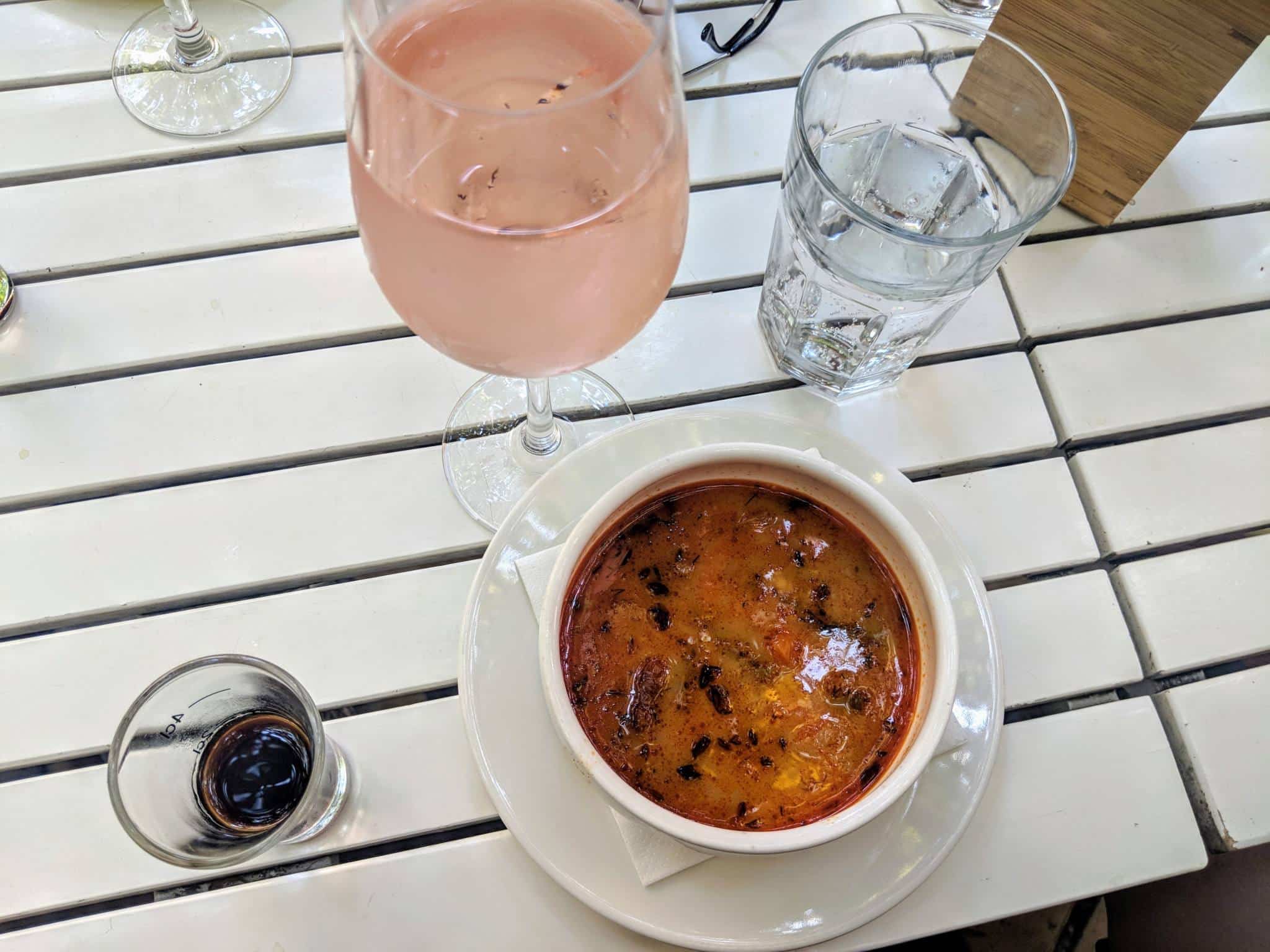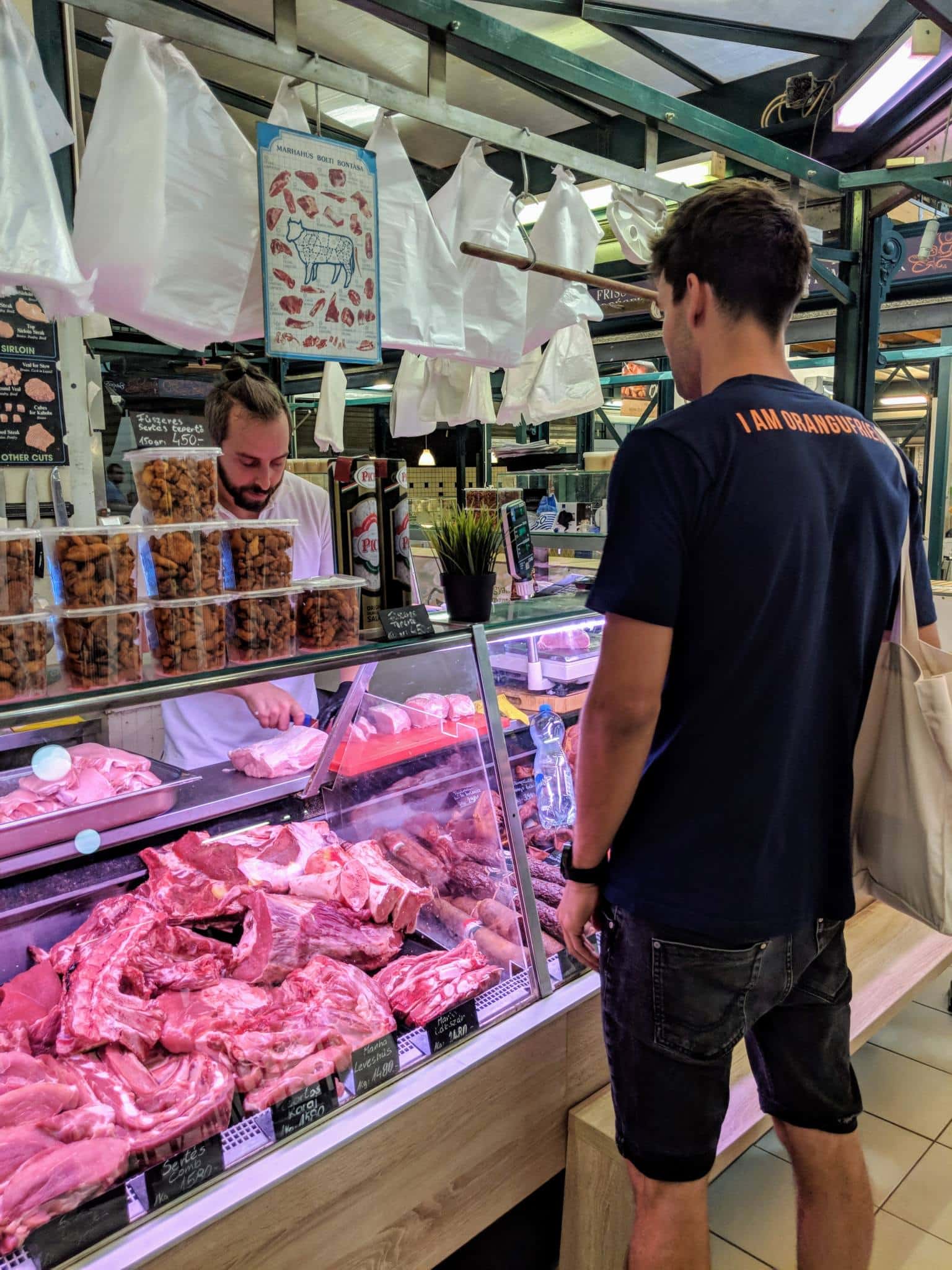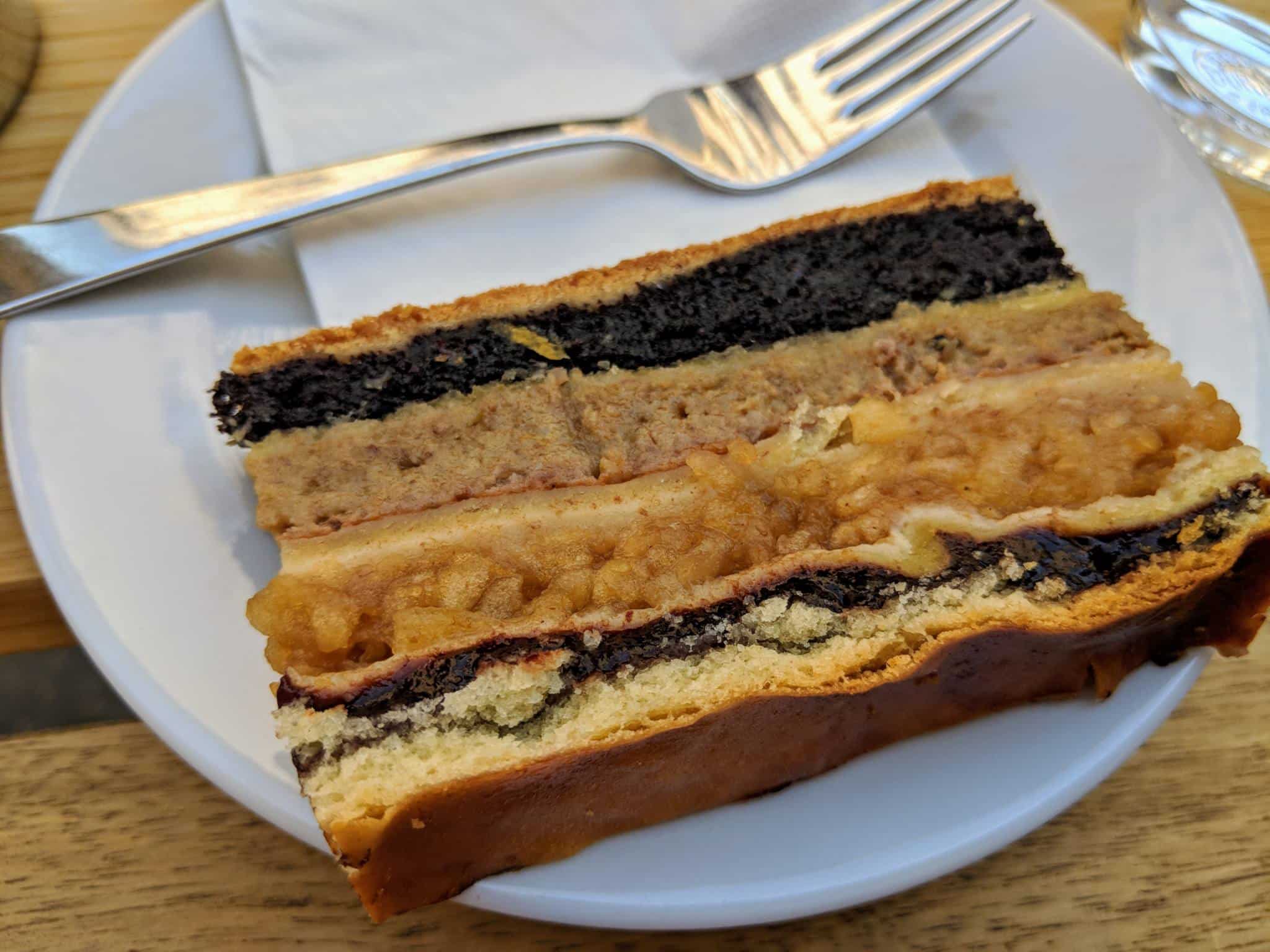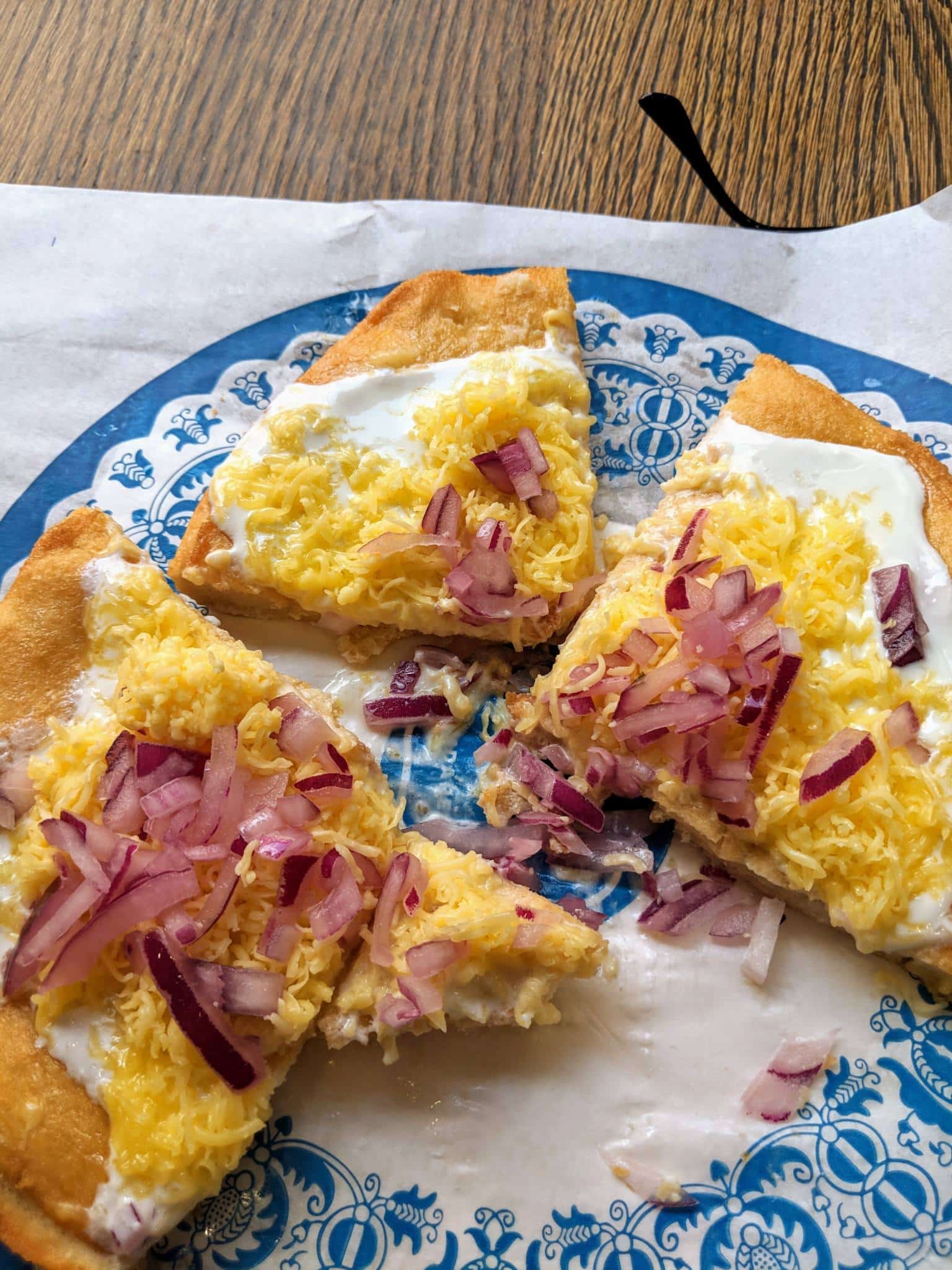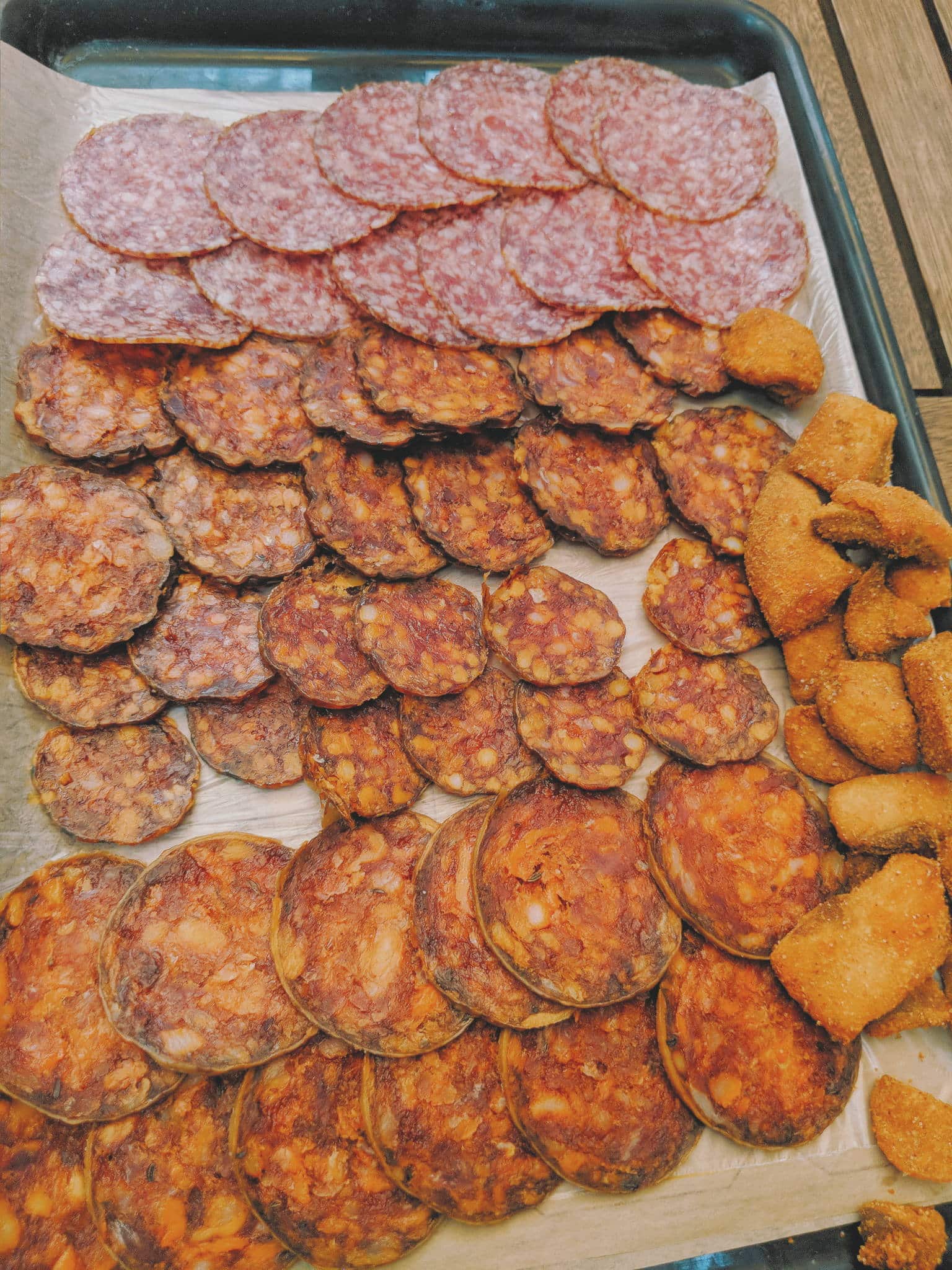 Website: Secret Food Tours
Tour Name: Budapest Secret Food Tour – Downtown
Starting Time: 11 am
What You Get: 3 hours of exploring downtown Budapest and indulging in amazingly delicious food and wine. Plus, a local english speaking guide who will give you tips for the duration of your trip.
Price: €69
Beer Spa
The good ol Beer Spa in Budapest was just what I needed to relax and decompress from my many days of non-stop sightseeing! After first experiencing it in Prague a few months prior to my trip to Budapest. I was thrilled when I discovered Budapest had one. It's located in Széchenyi Thermal Baths, but you don't have to use the baths to book the spa. 
There is a separate entrance to use the spa, but if you want to do the beer spa, I highly recommend spending the day at Széchenyi Thermal Baths. You know what they say when in Budapest do the thermal baths!
Maybe I am the only one that says that, but moral of the story; do the baths!
If you have never soaked in a tub of beer, it should definitely be added to your bucket list. It has tons of health benefits and you just feel really good after which could also be from the unlimited beer on offer. YES. There is an unlimited beer tap right by your tub for you to fill up as you please.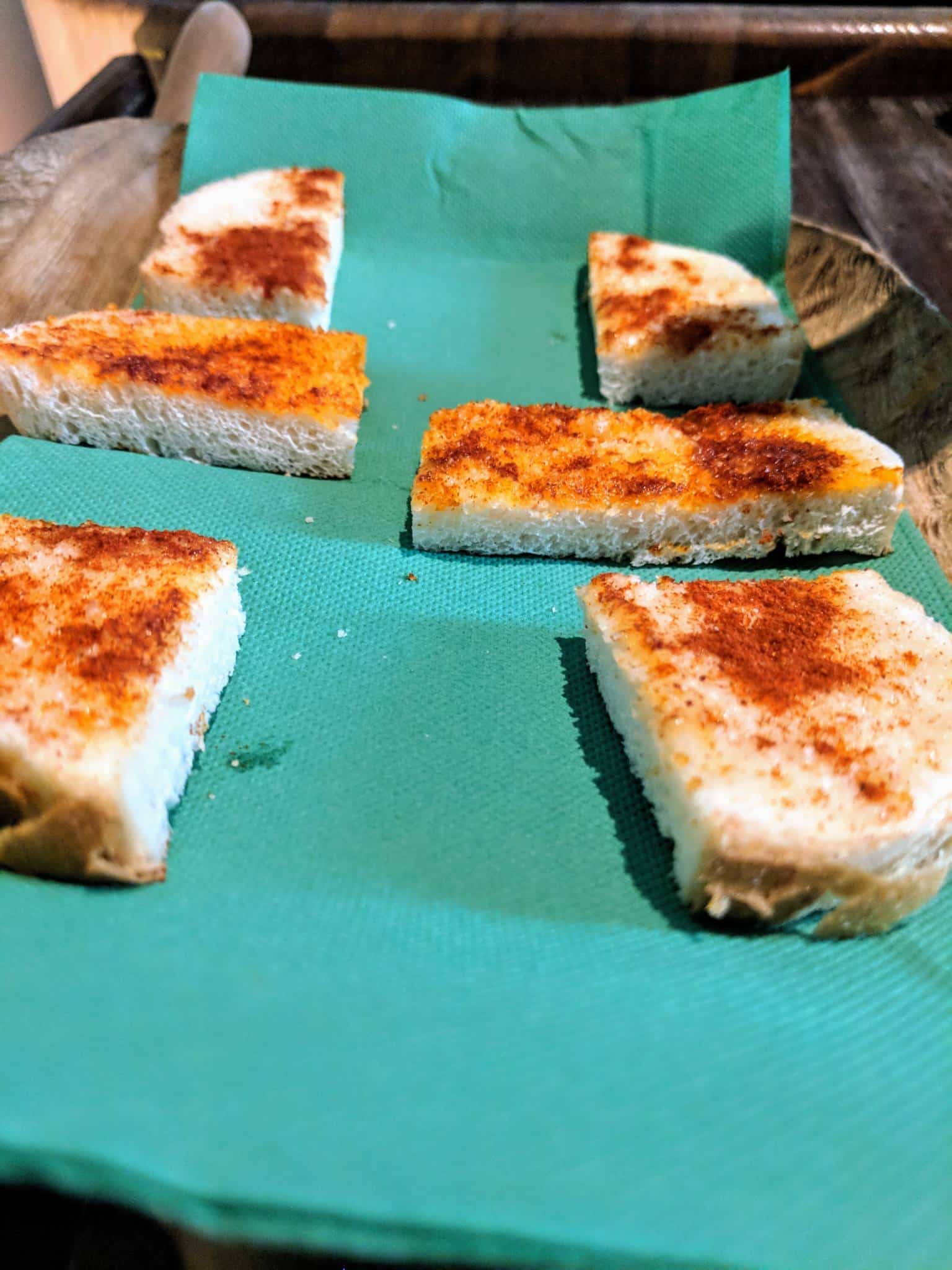 I mean, if that doesn't get you booking your beer spa experience right now, I don't know what will!
Address: Budapest, Kós Károly stny. 1, 1146 Hungary
Below is a breakdown of the cost.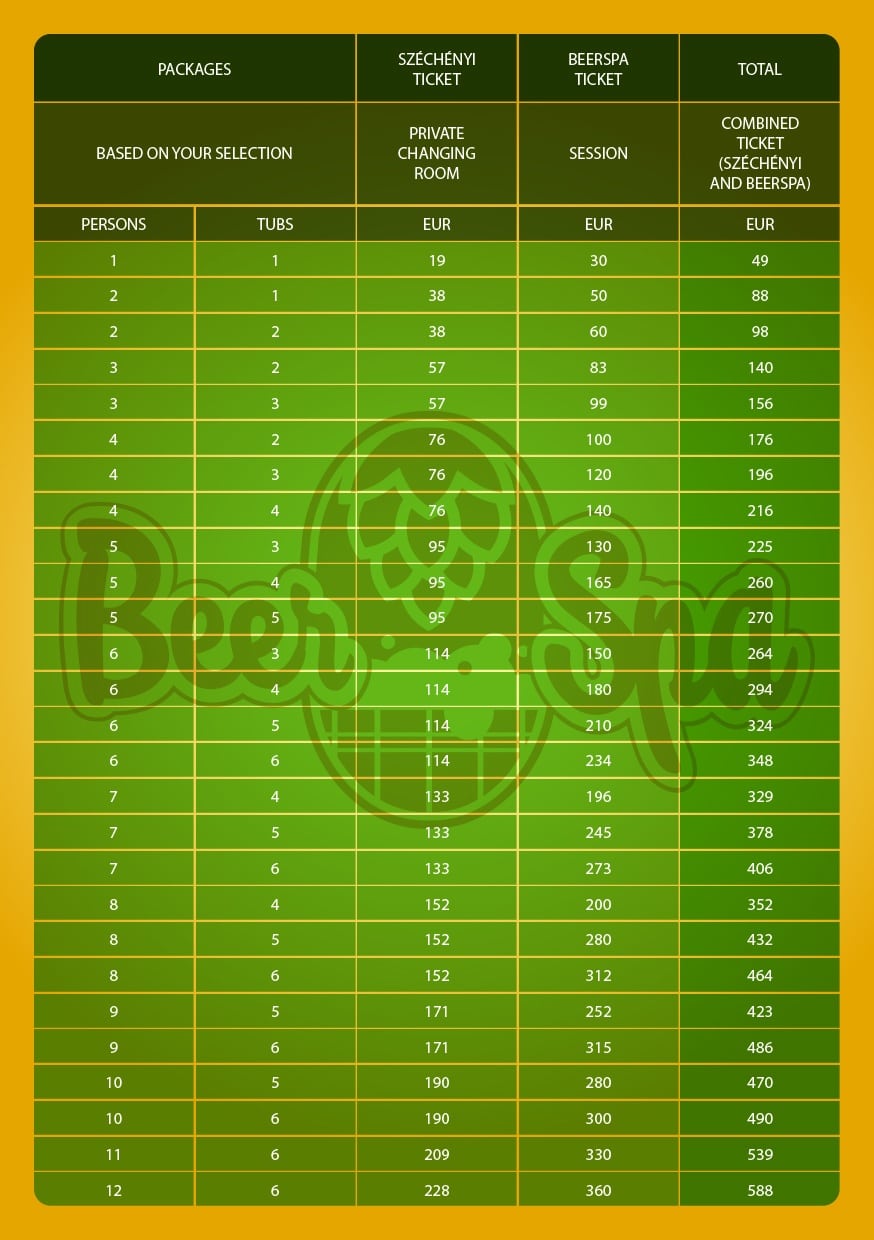 Underground Caves
Budapest is home to the largest underground cave network of any capital in the world, so upon learning that…what do I do? I book an adventurous caving tour; not really thinking about what I will have to endure to get through those caves.
I booked the tour through my hostel with someone I met there. On the day of the tour, we met our guide a few blocks away from our hostel by a bus stop. We bought our tickets for the bus and then boarded with our guide and the rest of the group. It took about 45 minutes for us to get to our destination.
Once we arrived we were brought to a changing room where we were required to change into body suits and put on helmets. It took us all a bit of time because some of the bodysuits didn't fit and some of us had to change sizes, but eventually, we were all ready to go! We were separated into two groups and I was part of the second group.
Once the first group went in we waited for about 20 min before we entered. Our guide started slowly leading us into the darkness of the cave. He had a flashlight faintly glowing which we followed. A few of us started making ghost noises as you do when going into a dark cramped space.
As we slowly made our way through, our guide was having the best time playing tricks on us. Like, finding tiny holes within the rocks and sticking his fingers in them moving them around so it looked like some vicious animal; scaring the BEJEEBUS out of us.
Moving through those caves was not easy so I allowed myself to be at the very back of the group. I thought I was Ataxic before, but crawling through a cave gets my Ataxia really going. Yeah, There was a lot of squirming and tripping. 
The whole caving excursion was about 3 hours and halfway through I was defeated! There were certain parts I had to use my upper strength and climb some of the rocks. The guide had to push my booty up on the majority of them and he told me, 'It's okay if you fart. It happens all the time."
I felt so bad for him. Imagine having a job where people just fart on you all the time. Luckily for him, I was able to control my gas and wait until I got OUTSIDE of the cave.
There was one part towards the end where we could climb through a tiny opening that looked way too small for any adult to get through. Surprisingly many people in my group decided to do it and squirmed right though. I opted for the easy way which did not include squirming into a tiny hole but rather going around it.
After our excursion finished I saw the light at the end of the tunnel, literally. I was so happy I immediately started taking off my jumpsuit because the wedgies are no joke.
I could finally rest my sore aching body.
We then went back to the changing room to retrieve our things, get back on the bus and head back to the center of Budapest.
Despite my constant struggle throughout the tour, I really enjoyed myself. I like doing things that challenge me and this was a challenge worth taking. At least that's how I felt AFTER the tour.
I booked my tour through my hostel but Viator has loads of caving tours available or depending on where you decide to stay, you will be able to book it through your accommodation.
Karavan Budapest
Karavan Street Food in Budapest was a magical place I just happened to pass by after devouring way too much soup at Bors (listed below). As I wandered inside I immediately took note of one street food vendor selling burgers. As my eyes scanned the menu I saw it. They were all lángos burgers! If you don't know what lángos is it's a traditional Hungarian street food of fried dough smothered with sour cream and sprinkled with garlic. It's a piece of heaven on the taste buds. You can get it with other toppings but the traditional way is so good!
Anywho, I took note of the lángos burger for another day when I would most definitely be back. After all, I needed a break from my daily dose of delicious soup from next door.
A few days later I did go back for the burger and it was everything I hoped it would be and more. The burger consisted of lángos for the buns and inside was a beef patty topped with arugula, bacon, tomato, cheese and smeared with sour cream. They had a few burger options to choose from.
Aside from the burger, there were so many food options. Everything from Italian food to Thai food to homemade ice cream. It's a foodie paradise and although I only had room in my stomach for the lángos burger everything else I saw people happily eating looked really good. If only I had more time!
Tip: Karavan is cash only!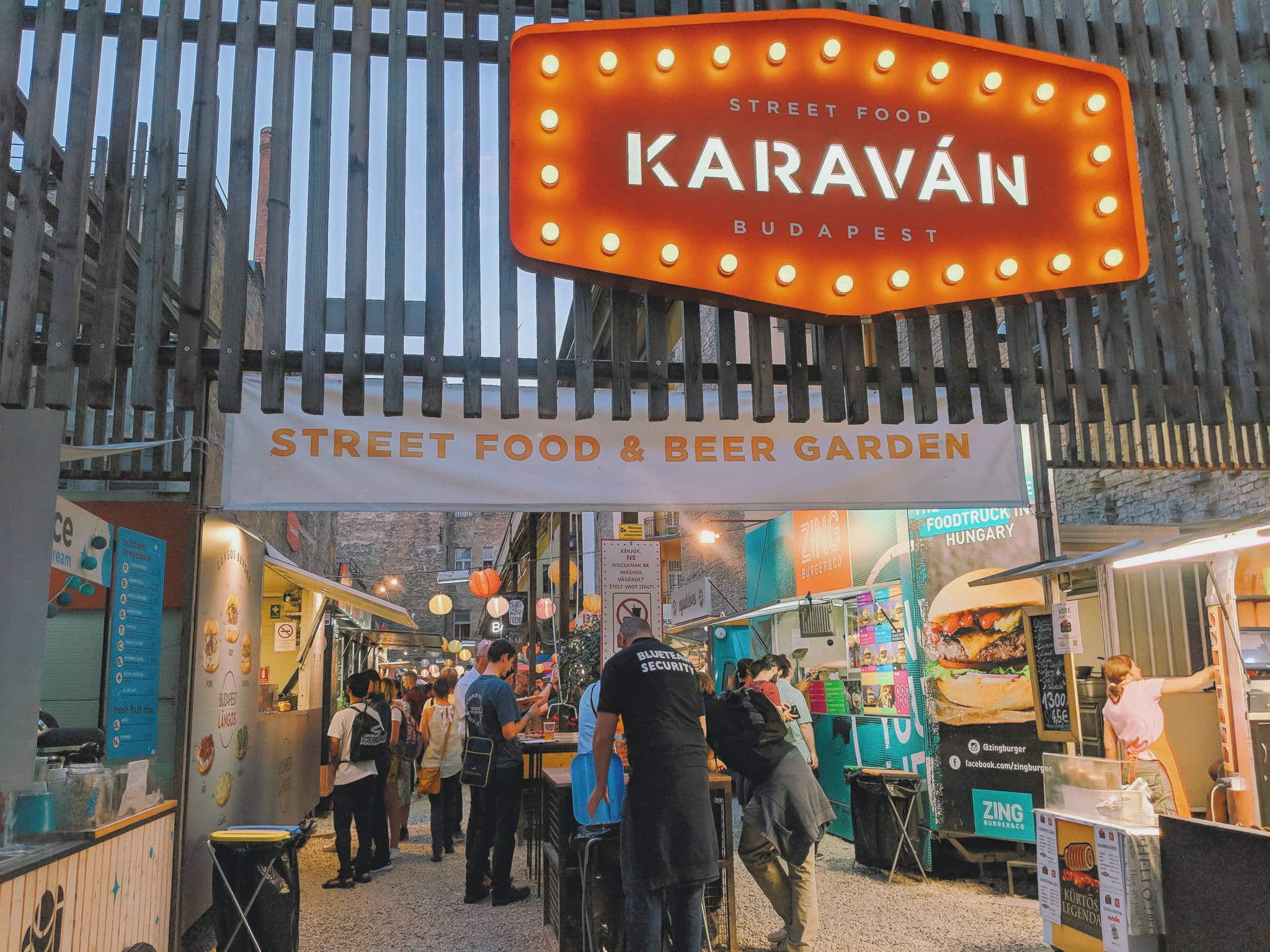 Address: Budapest, Kazinczy u. 18, 1075 Hungary
Hours:
Sunday – Wednesday: 11:30 am – 11 pm
Thursday – Saturday: 11:30am – 1:am
Zwack Unicum Museum
Unicum is a traditional Hungarian liquor created in 1790 by Dr. Jozef Zwack who was the royal physician for the Hapsburg Dynasty. It was originally used as an aid for indigestion, but apparently, people loved the stuff because soon after it was first made, the drink received the royal seal of approval and then, J. Zwack and Co were born.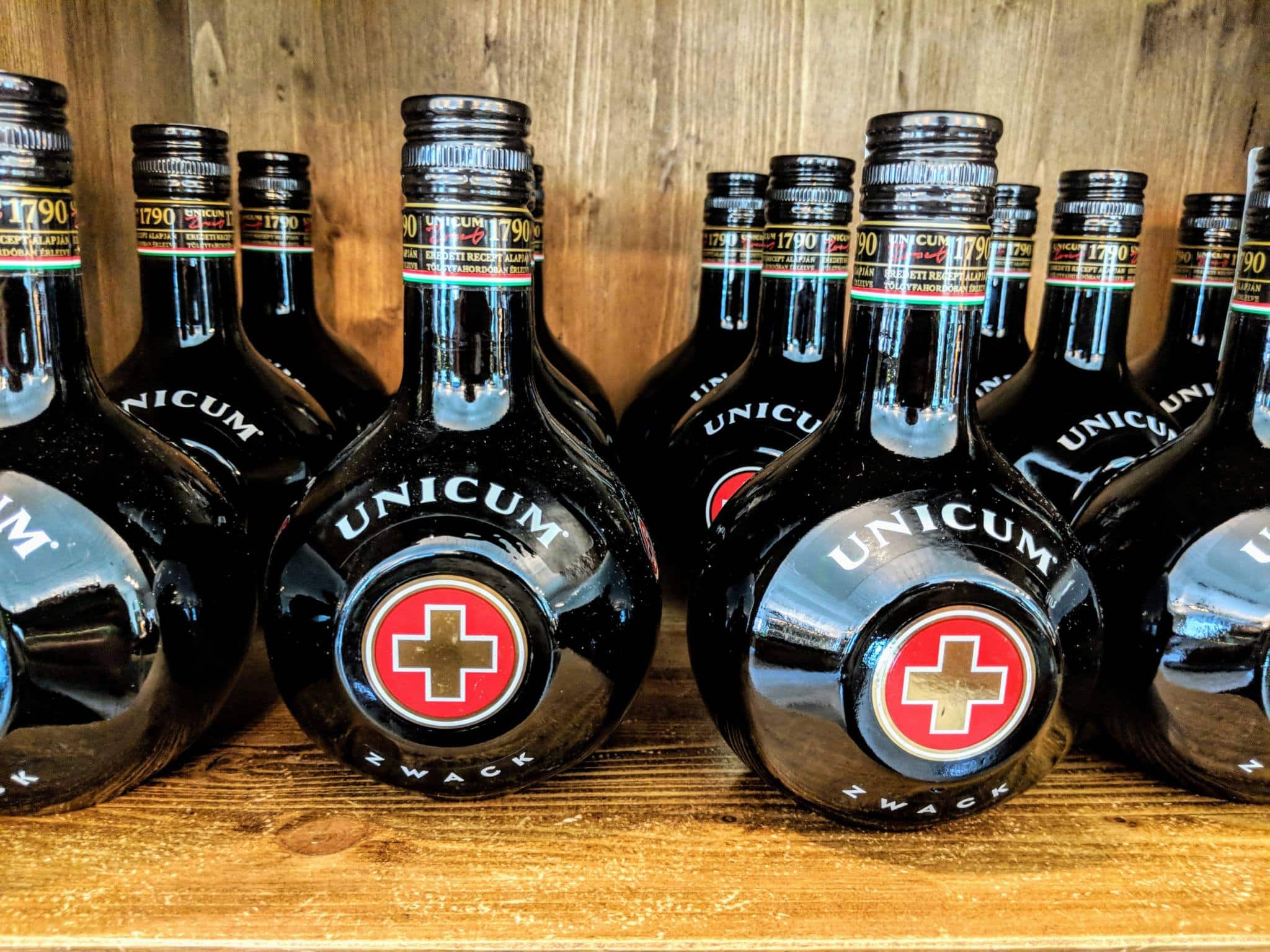 The recipe is kept a secret by the Zwack family to this day. People have tried countless times to recreate it but to no avail. There is a table of aromatic herbs in the museum that might be used in the recipe, but unless you are a Zwack, you'll never know!
Unicum is a very bitter spirit and is enjoyed as a shot in social settings or after a meal. It's an acquired taste and if I am perfectly honest, I don't like it. Shocking, I know.
Despite my distaste for it, I wanted to tour the factory and learn more about this disgusting liquor that is so popular and it ended up being a pretty enjoyable experience.
The Unicum factory is located a bit outside the city center, but easy enough to get to on a bus or taxi.
Once I arrived, I bought my ticket and then browsed all the Unicum products in the store while I waited for my tour to begin. I should have bought a bottle or two to take home. I mean, I may get a case of indigestion and need it.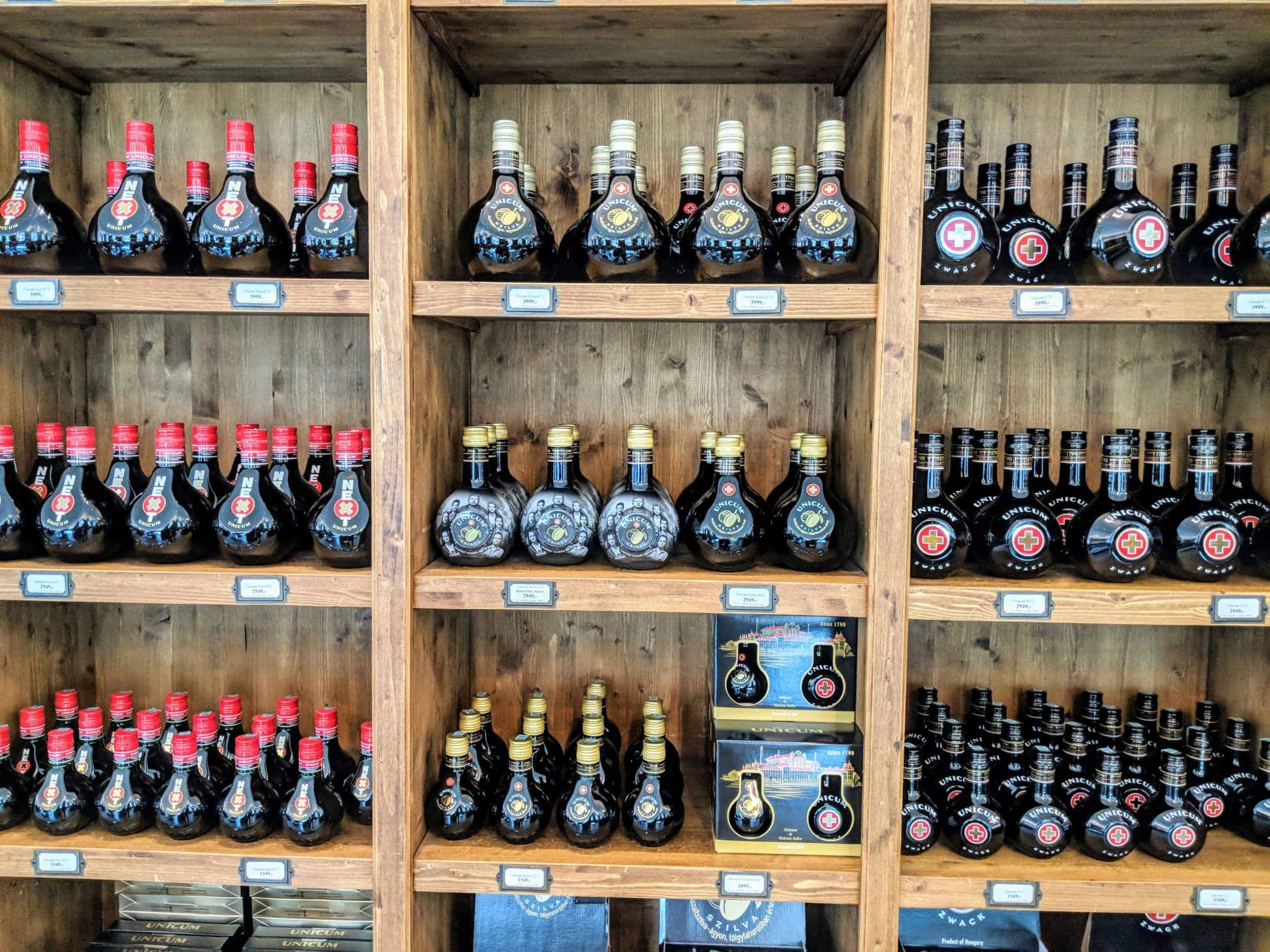 After about 10 min, I was summoned into a room to watch a film which told the history of Unicum and the family who started it.
Once the video finished, the guide took us to the place where the magic happens!
Thank goodness the smell wasn't as bad as the taste. 
We were first shown the distillery where we learned about the method used for extraction. They have used the same method for over 100 years!
Then we were shown an array of herbs that may or may not be part of the Unicum recipe. We got to smell them and guess which herbs were what. I didn't get very many right.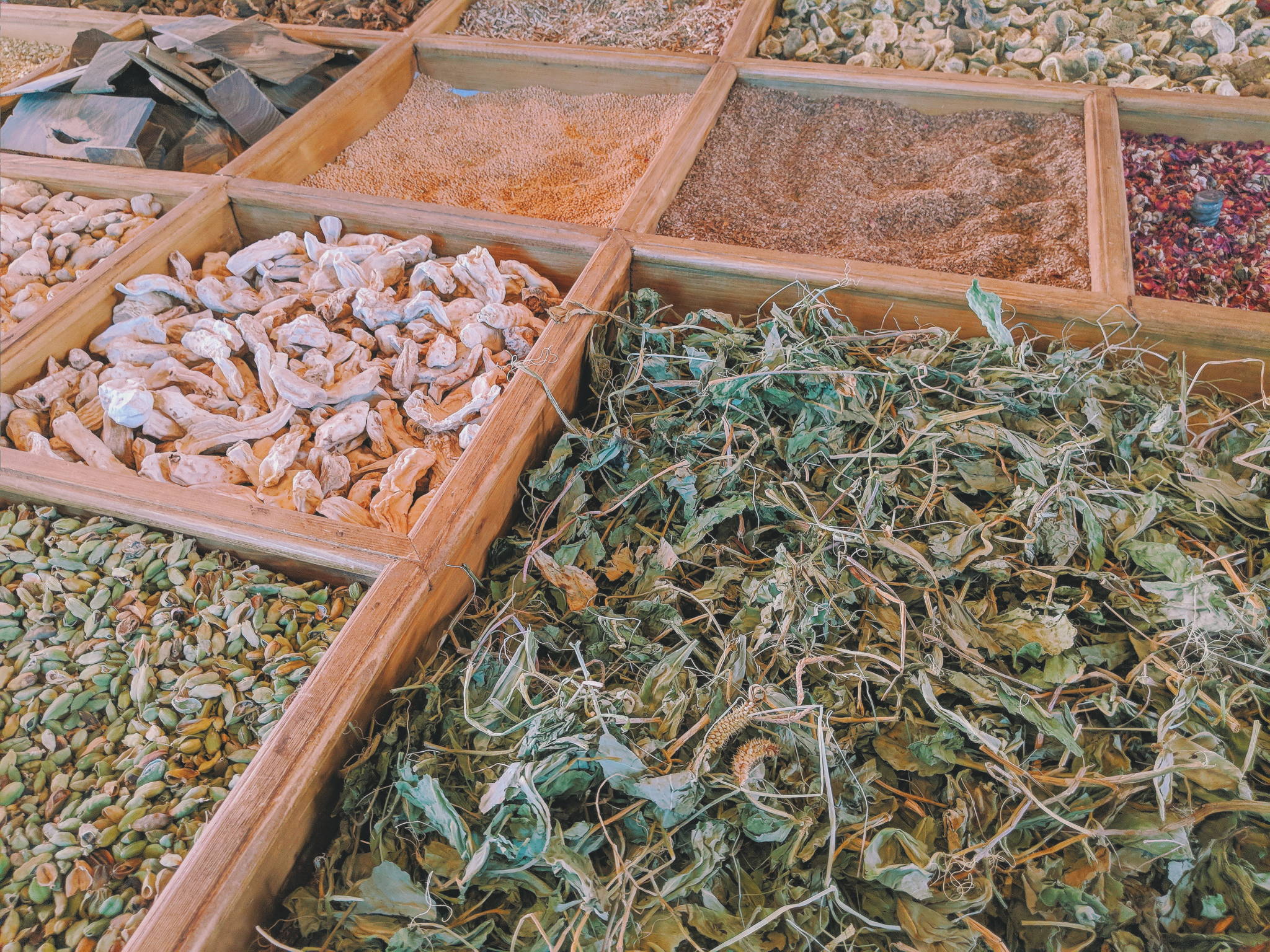 Last but not least, we were shown the Unicum cellar where more than 500 oak barrels (wowzers!) are aged for half a year. This is the point where we got to have two tastings. We got to try the regular Unicum and the Unicum plum straight from the oak barrels.
I can't say I enjoyed that part too much.
At this point, the tour was done and we got to continue on to the museum portion of the factory at our own pace.
The museum had relics belonging to the Zwack family and lots of pictures showcasing the family and the companies growth over the years. They also have 17,000 mini bottles on display which is the biggest mini bottle collection in Central Europe (I didn't even know mini bottle collecting was a thing!)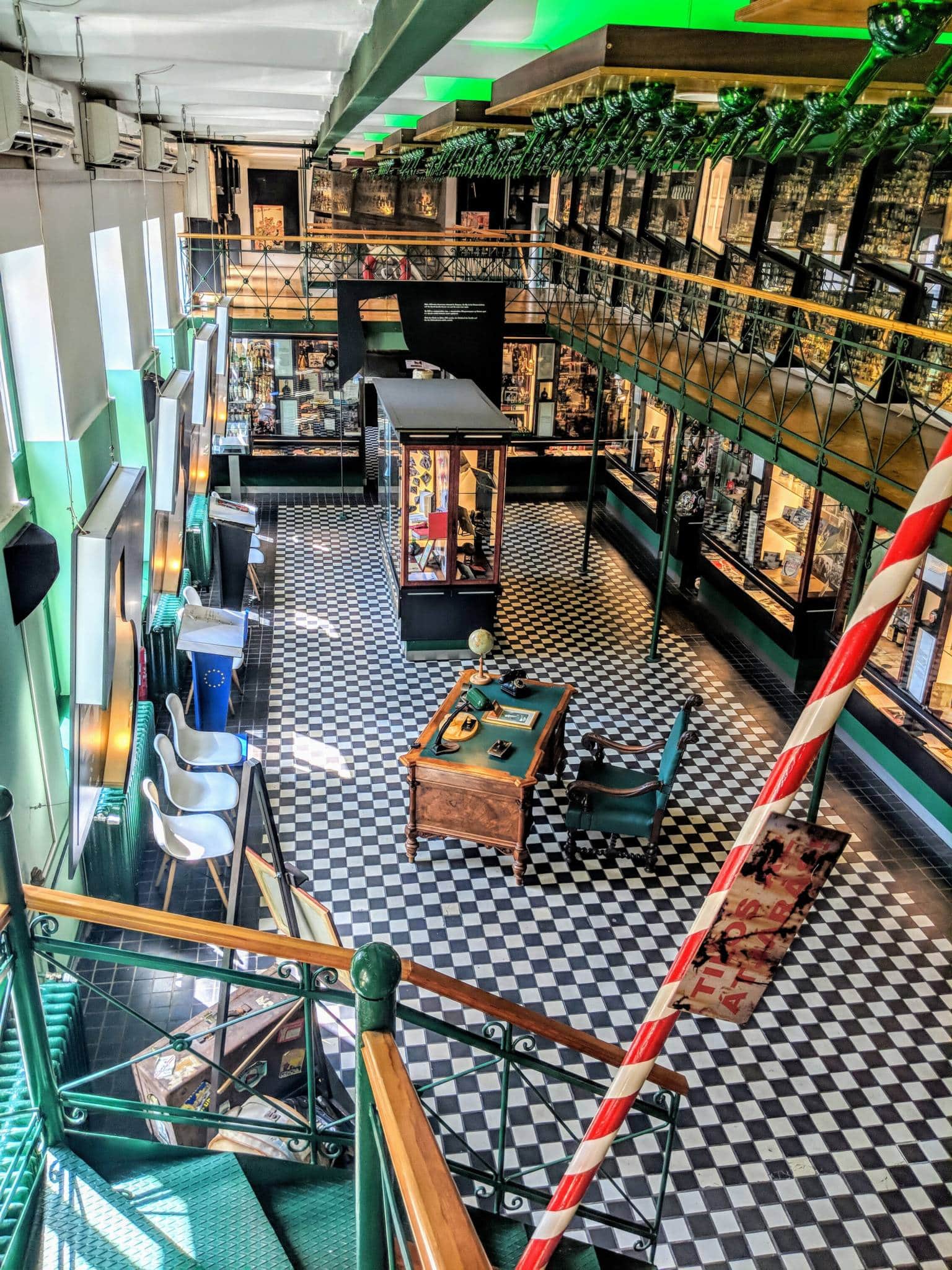 If you have the time, I highly recommend checking out the Unicum Factory. Whether you like Unicum or not it was a really fascinating & fun experience.
Address: Budapest, Dandár u. 1, 1095 Hungary
Opening hours:
Monday – Saturday: from 10 am to 5 pm
Entrance fees:
Adult: HUF 2,000 (includes a tasting session)
Senior & Group Tickets: HUF 1,700 (includes a tasting session)
Child & student under 18: HUF 1,000
Bors: The Best Soup in the World
I don't think I have ever in my entire life, eaten any soup as good as the soup served at Bors Gastro Bar in Budapest. In fact, Bors was recommended to me on multiple occasions by locals and tourists alike.
It's a small order-at-the-counter place where the menu. changes daily and is all in Hungarian, but the people who work there are super friendly and will translate the entire menu. They have an array of hot, cold, and even dessert soups (The Nutella soup was the bomb!). 
I ended up eating there two days in a row.
Thank goodness I don't live in Budapest because I would be living at Bors.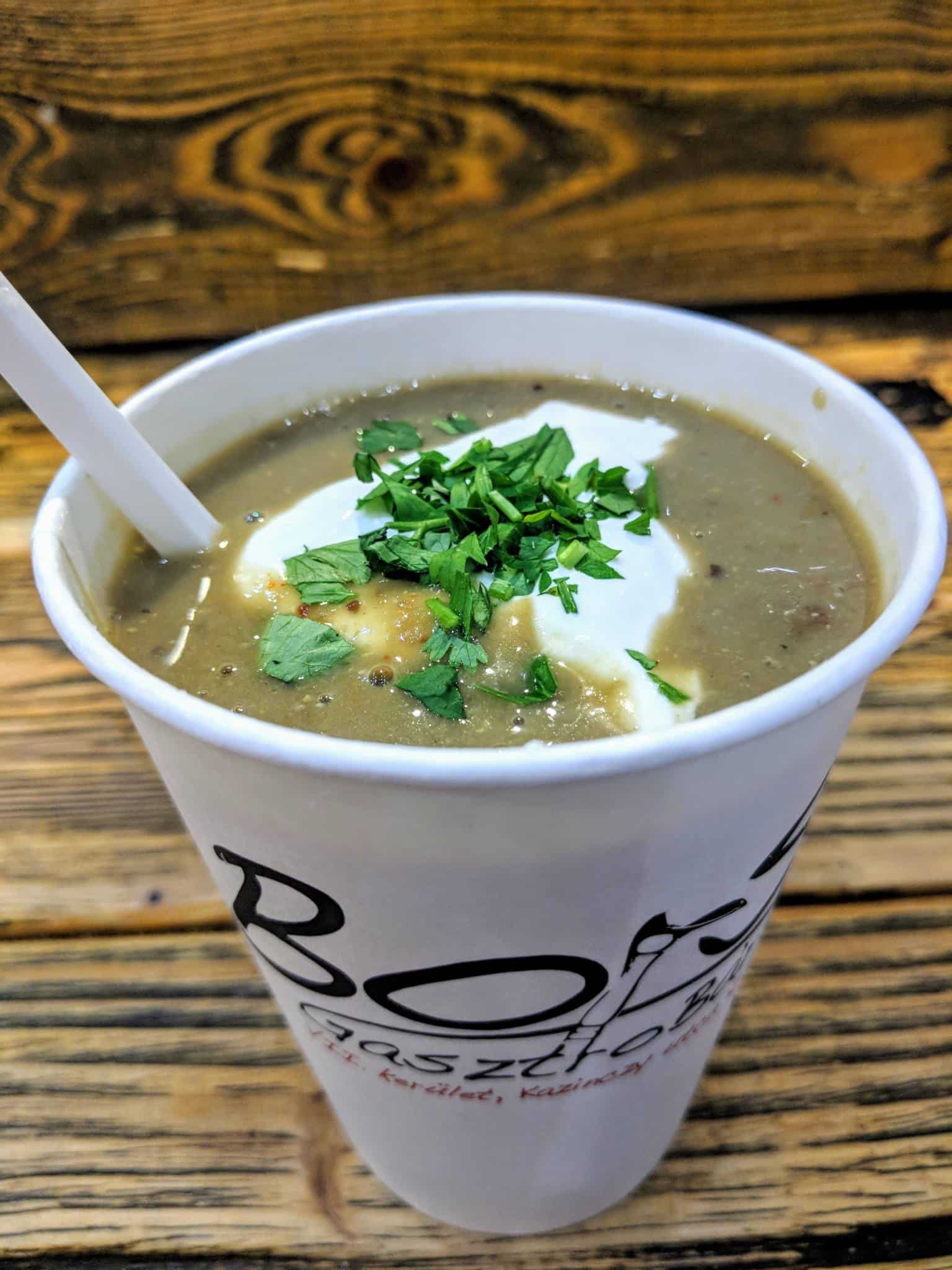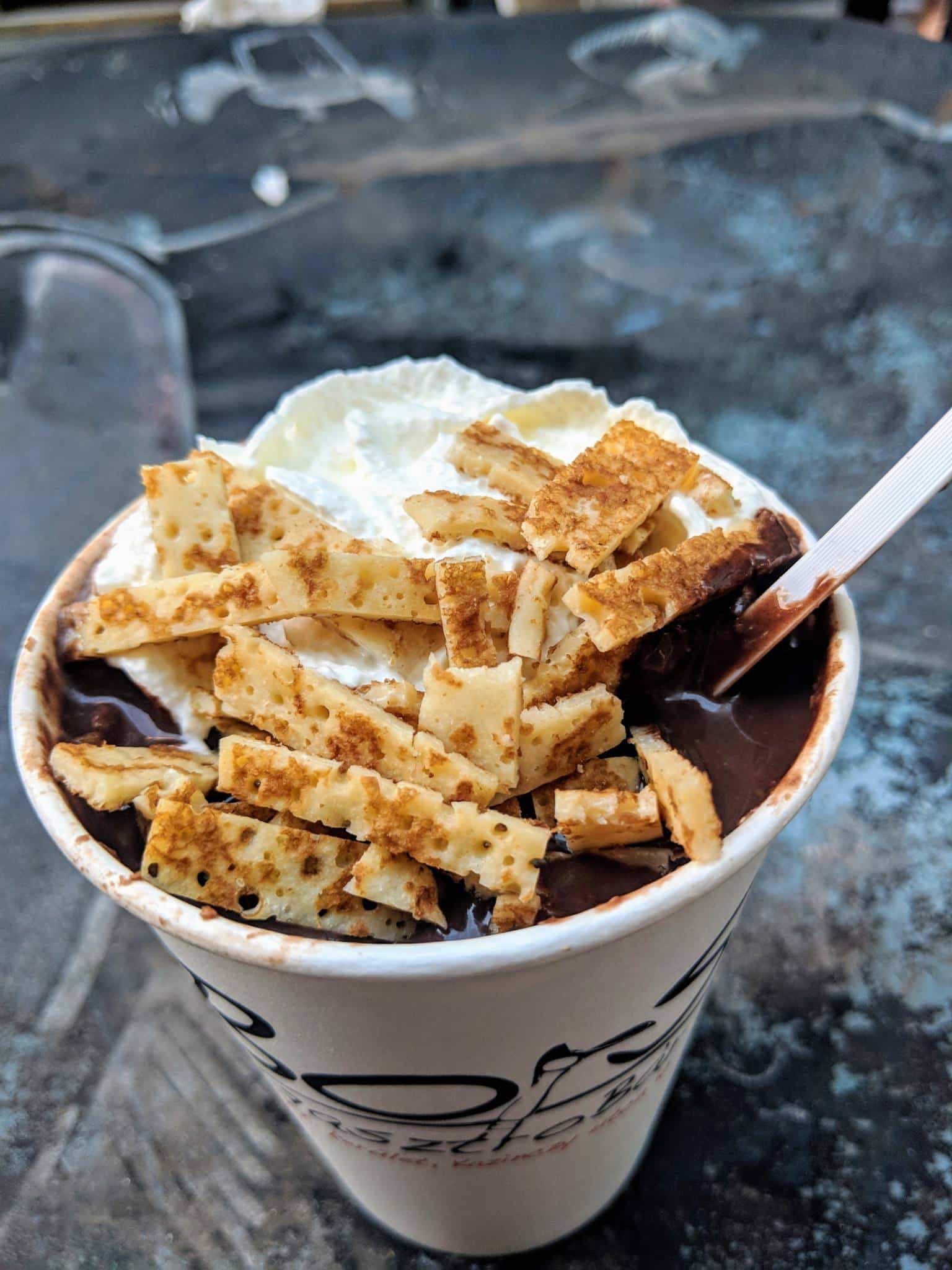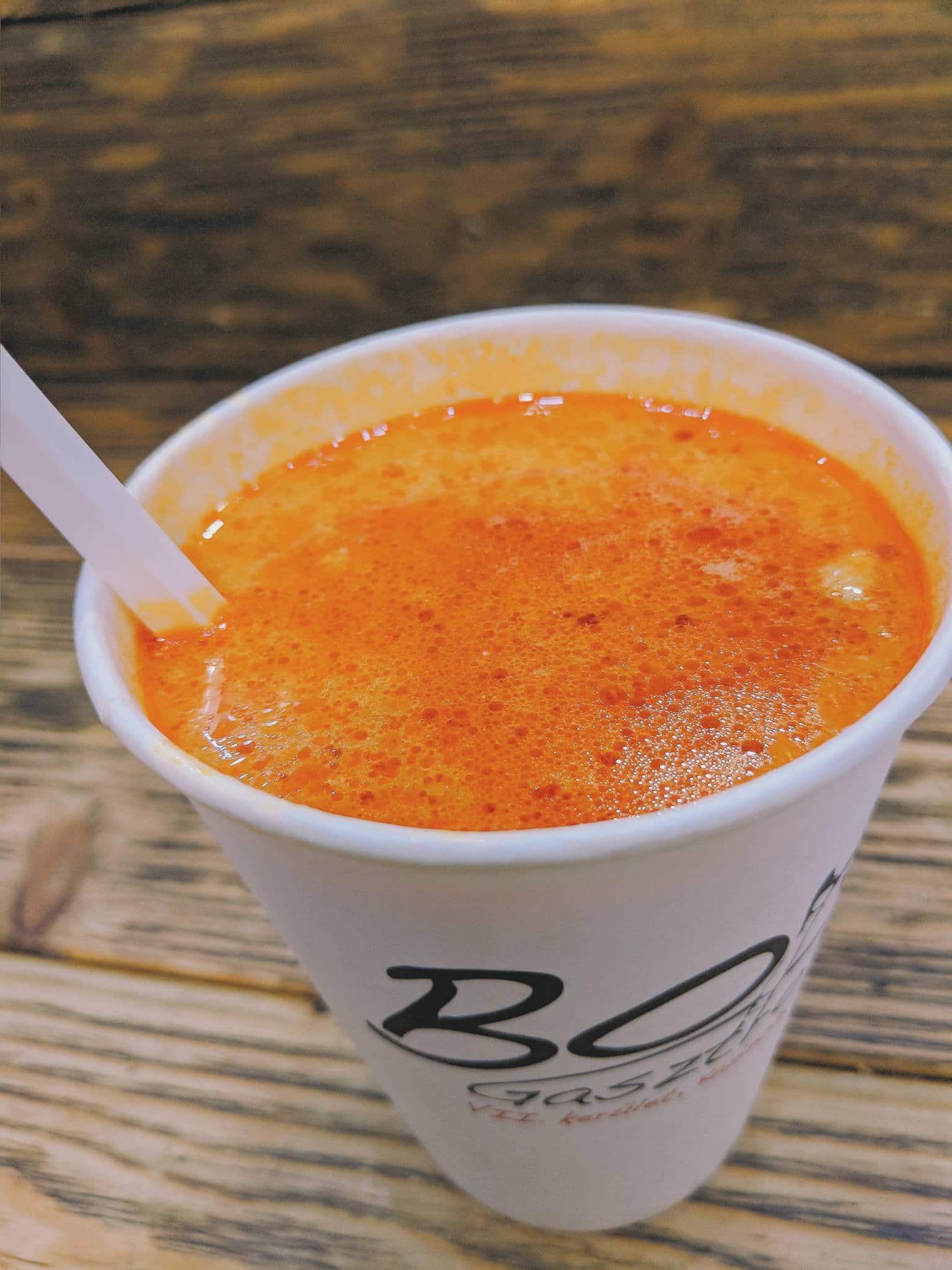 Address: Budapest, Kazinczy u. 10, 1075 Hungary
Hours:
Monday – Sunday: 11:30am – 9pm
Invisible Exhibition
This was one of my favorite things I did in Budapest. I loved this experience so much I even wrote a whole article about it! The Invisible Exhibition gives a glimpse into the life of a blind person. We got to navigate an apartment, cross a street, grocery shop, visit an art gallery, explore nature, visit a cabin and a buffet.
It was really eye-opening; learning about the daily struggles blind people face. All the guides that take you through the exhibition are blind or partially blind themselves. We were able to ask questions and our guide even told us about her personal struggles.
Don't miss out on this unique experience when you visit Budapest!
Address: Budapest, Kis Rókus u. 16-20, 1024 Hungary
Hours:
10am – 8pm
 Cost:
$8.59 on Weekdays and $10.38 on Weekends plus $3.22 fee for foreign language guidance
English tours will be on certain days. Make sureou book in advance by calling them at +36 20 771 42 36 o emailing them at info@lathatatlan.hu
It's cash only so bring enough cash for the tickets and anything you would like to purchase.

Red Ruin
Red Ruin is one of the most interesting and (offensive?) bars in Budapest. It's a small communist themed bar that pokes fun at its history with decor, like a painted mural of Karl Marx, Vladimir Lenin, Joseph Stalin and Mao Zedong in party hats having a grand ol time! There are caricatures of communist leaders lining the walls as well as kitschy graffiti. The bar is lit by bright red fluorescents lights and the drinks are cheap and good.
I didn't go to Red Ruin at night but I have heard the atmosphere is pretty great. There is sometimes live music and specials like 2 for 1 shots.
They have a wide selection of local and international beers and the cocktails have creative names like, 'The Hello Kitty.' Whaaaaaaaaaat? And since I like to live on the wild side, I had to order one.
Outcome: it was delicious!
Tip: Red Ruin is cash only!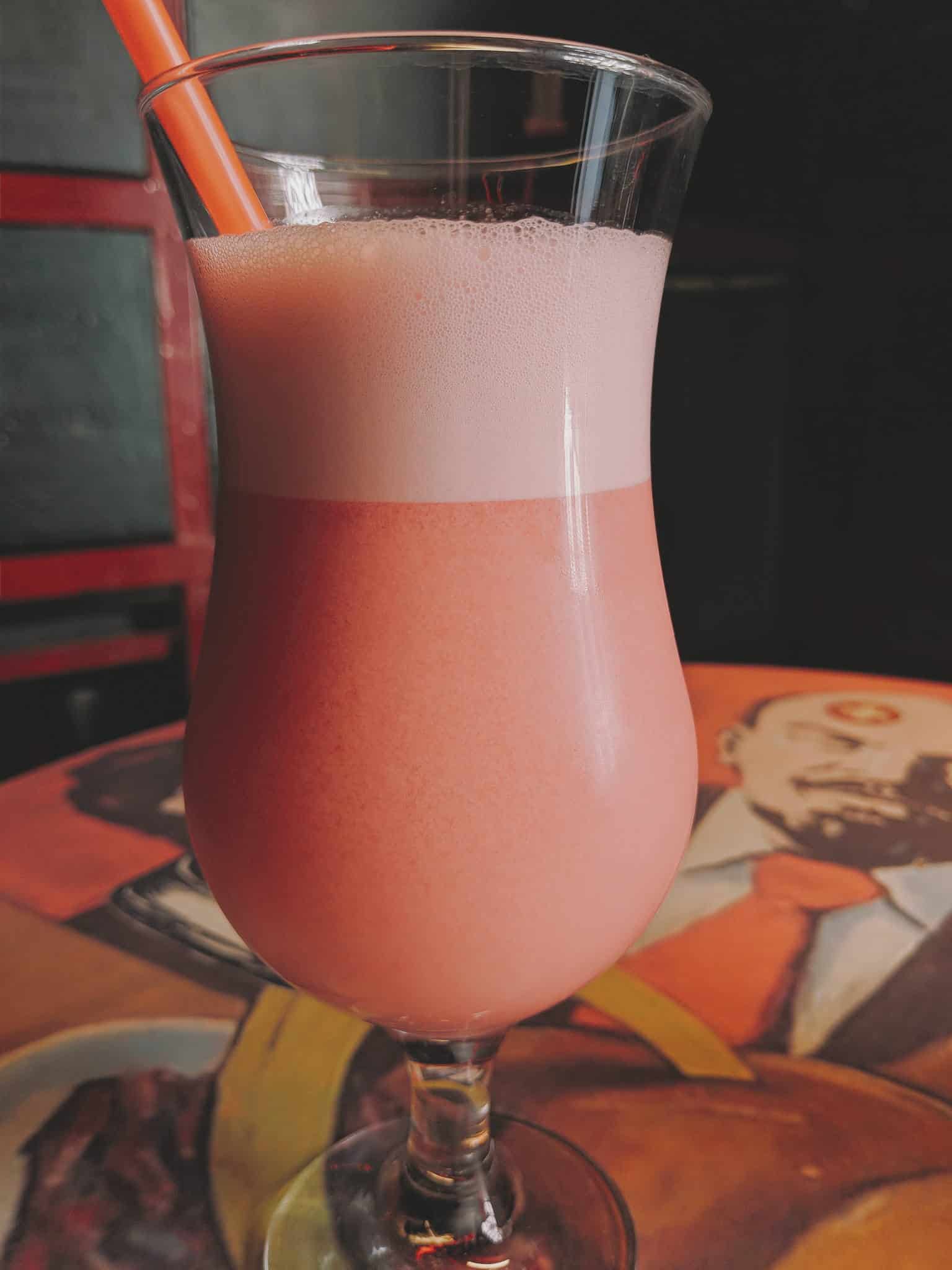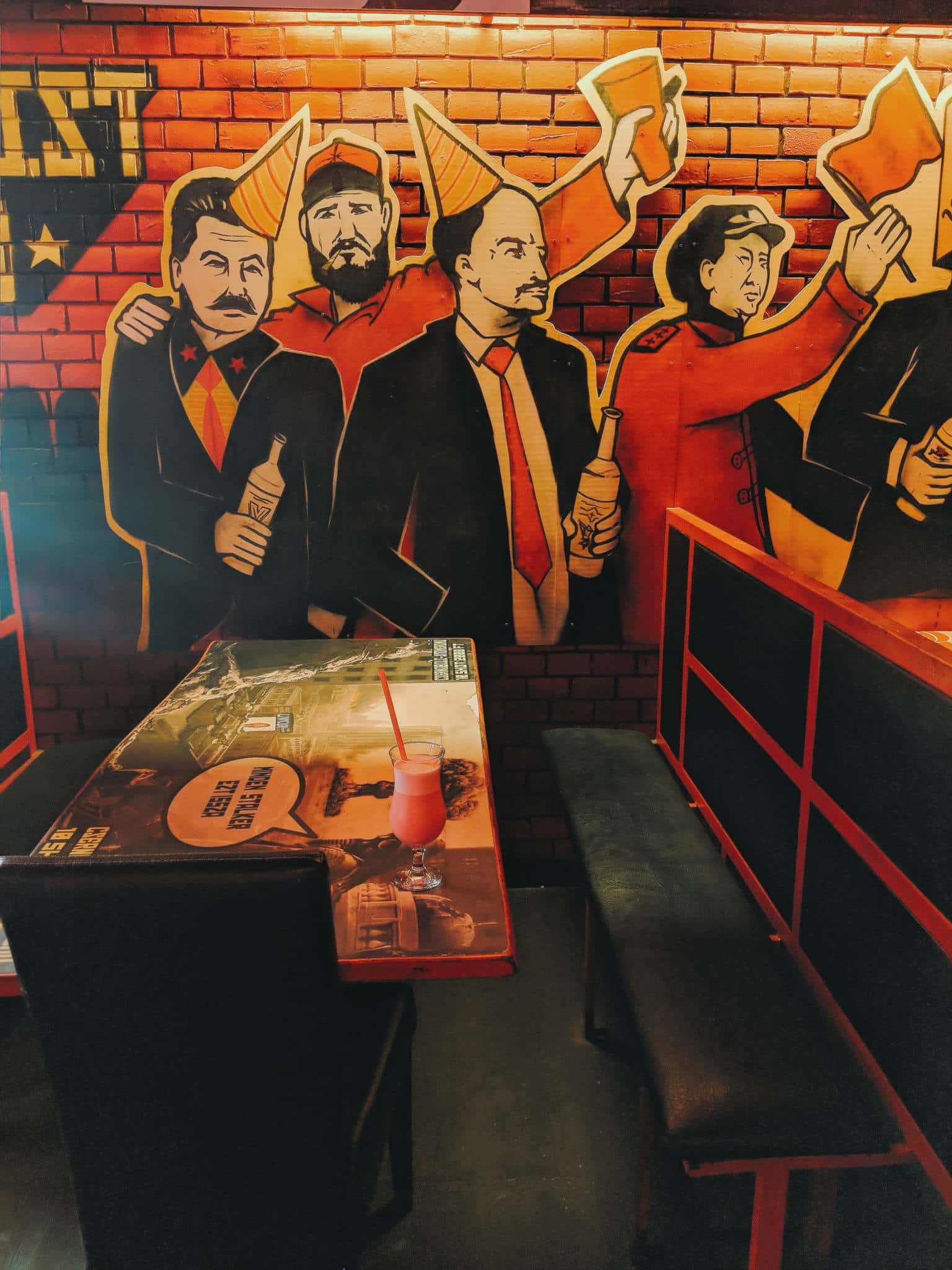 Address: Budapest, Irányi u. 25, 1056 Hungary
Where to Stay in Budapest
During my time in Budapest, I had the opportunity to stay at two different properties, so depending on your budget, these are two places I highly recommend.
Budget Hostel
Carpe Noctem OG Hostel: This is one of my favorite hostels in the city. It's small which makes it the perfect atmosphere to meet people. They plan day and night time events so you'll never be bored and they provide a super cheap and delicious meal every night. If I am traveling solo, I always spend at least a few nights here.
Address: Budapest, Szobi Utca 5, 3rd Floor, Door 8A, 1067 Hungary | Phone: +36 70 670 0384
Location: Carpe Noctem is located on a quiet residential street. It's about a 15 minute walk to many of the cities top sites, but is close to loads of delicious restaurants like Indigo Indian which has some of the best Indian food in the city! There are also many great coffee shops to get that much needed caffeine fix like Coffee Cat. They have lots of breakfast choices and it's the perfect place to chill before a busy day wandering the city.
Pricing: Beds from $24
Mid-Range Hotel
Hotel Parlament. When I stayed here it was my last day in Budapest and I wanted to splurge on a nicer hotel. Needless to say, I absolutely loved my stay here! The interior had a funky art deco style, the buffet breakfast was the bomb.com and the incredible location made it so easy to explore the remaining days I had left in the city. It had everything I love in a good hotel and would definitely stay again.
Address: Budapest, Kálmán Imre u. 19, 1054 Hungary | Phone: +36 1 374 6000
Location: Hotel Parlament is a 10 minute walk to many of Budapests top attractions like the Parliament Building, St Stephens Basilica and there are loads of trendy restaurants and bars to choose from.
Amenities:
Delicious buffet breakfast with wide selection
High-speed Wi-Fi Internet
Free coffee, tea and mineral water in the Lounge Bar every day until 5 p.m.
Internet station at the Internet corner
On-site sauna and jacuzzi
Pricing: Rooms from $117
Map & Overview of Budapest's Hidden Gems
Rudas Baths | Address: Budapest, Döbrentei tér 9, 1013 Hungary
Metropolitan Szabo Ervin Library | Address: Budapest, Szabó Ervin tér 1, 1088 Hungary
The Children's Railway | Address: Budapest, Hegyhát út 3, 1121 Hungary
Vajdahunyad Castle | Address: Budapest, Vajdahunyad stny., 1146 Hungary
Beer Spa | Address: Budapest, Kós Károly stny. 1, 1146 Hungary
Karavan Budapest | Address: Budapest, Kazinczy u. 18, 1075 Hungary
Zwack Unicum Museum | Address: Budapest, Dandár u. 1, 1095 Hungary
Bors: The Best Soup in the World | Address: Budapest, Kazinczy u. 10, 1075 Hungary
Invisible Exhibition | Address: Budapest, Kis Rókus u. 16-20, 1024 Hungary
Red Ruin | Address: Budapest, Irányi u. 25, 1056 Hungary
Tip: Save this map to your phone for offline use. Click here for directions.
Are you stuck at home cause of the crazy pandemic happening right now? Not to worry. I have got you covered! Check out these virtual vacation posts or browse them all!
Was this article helpful to you? Well, go ahead and save it by pinning it so you can reference it later on.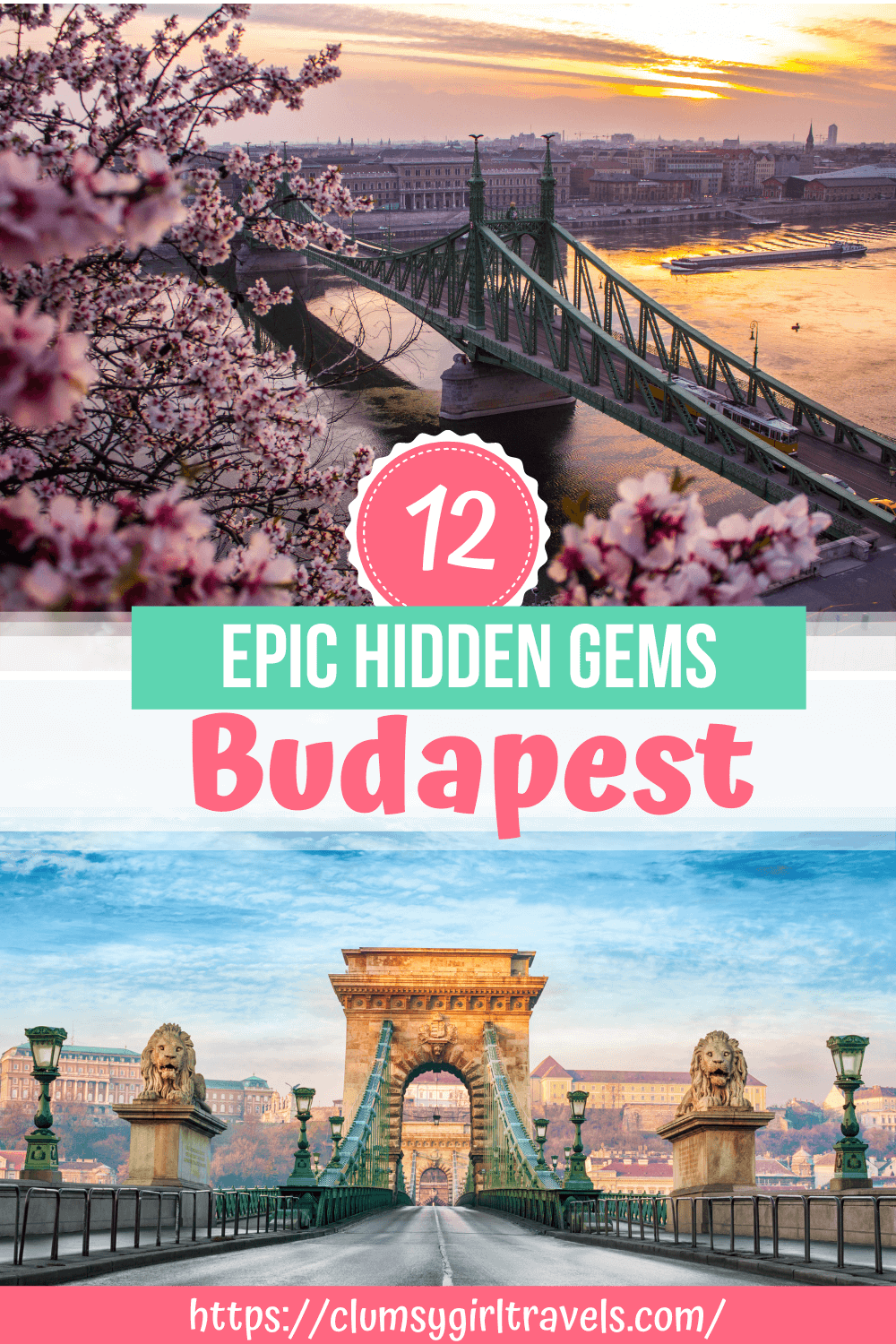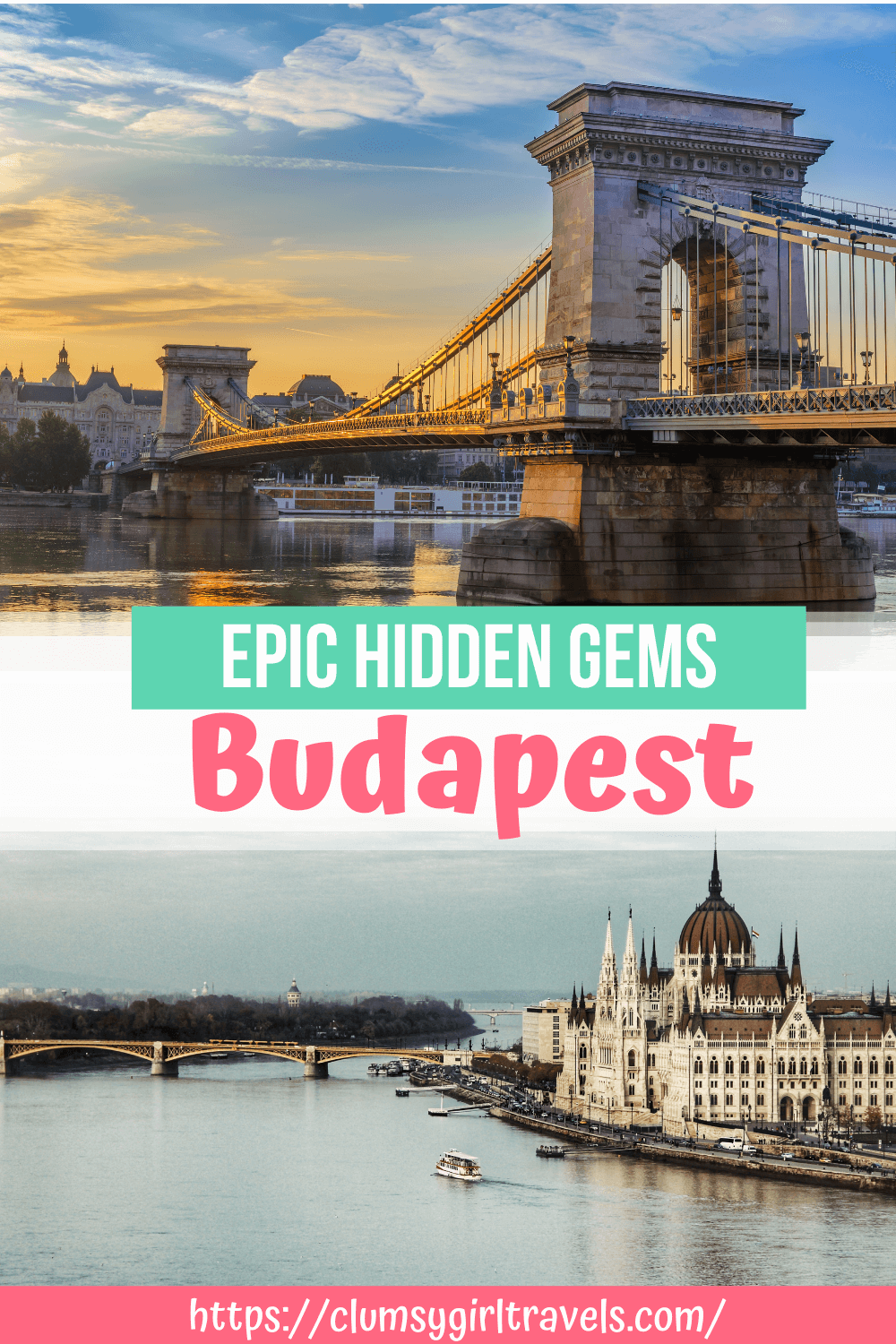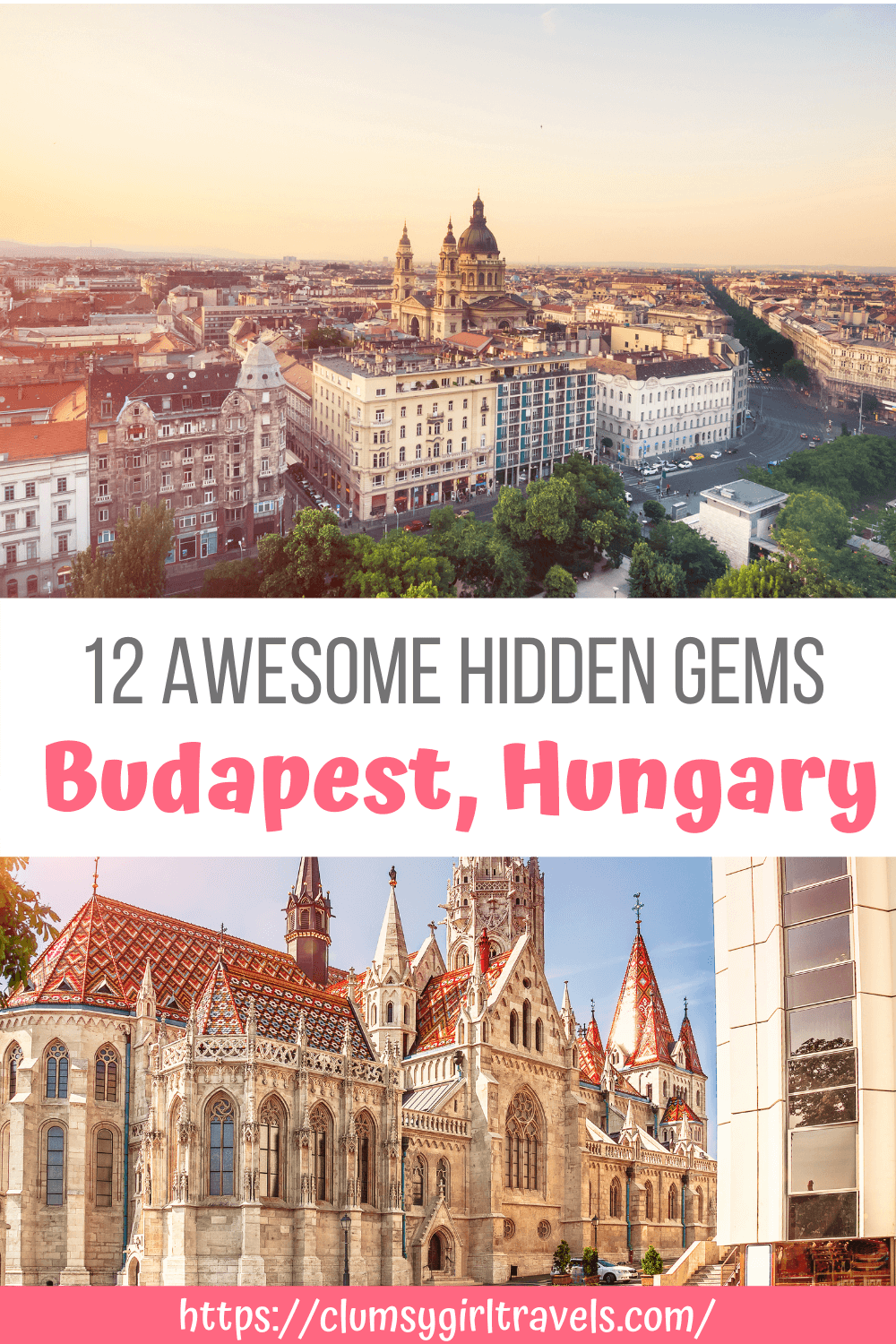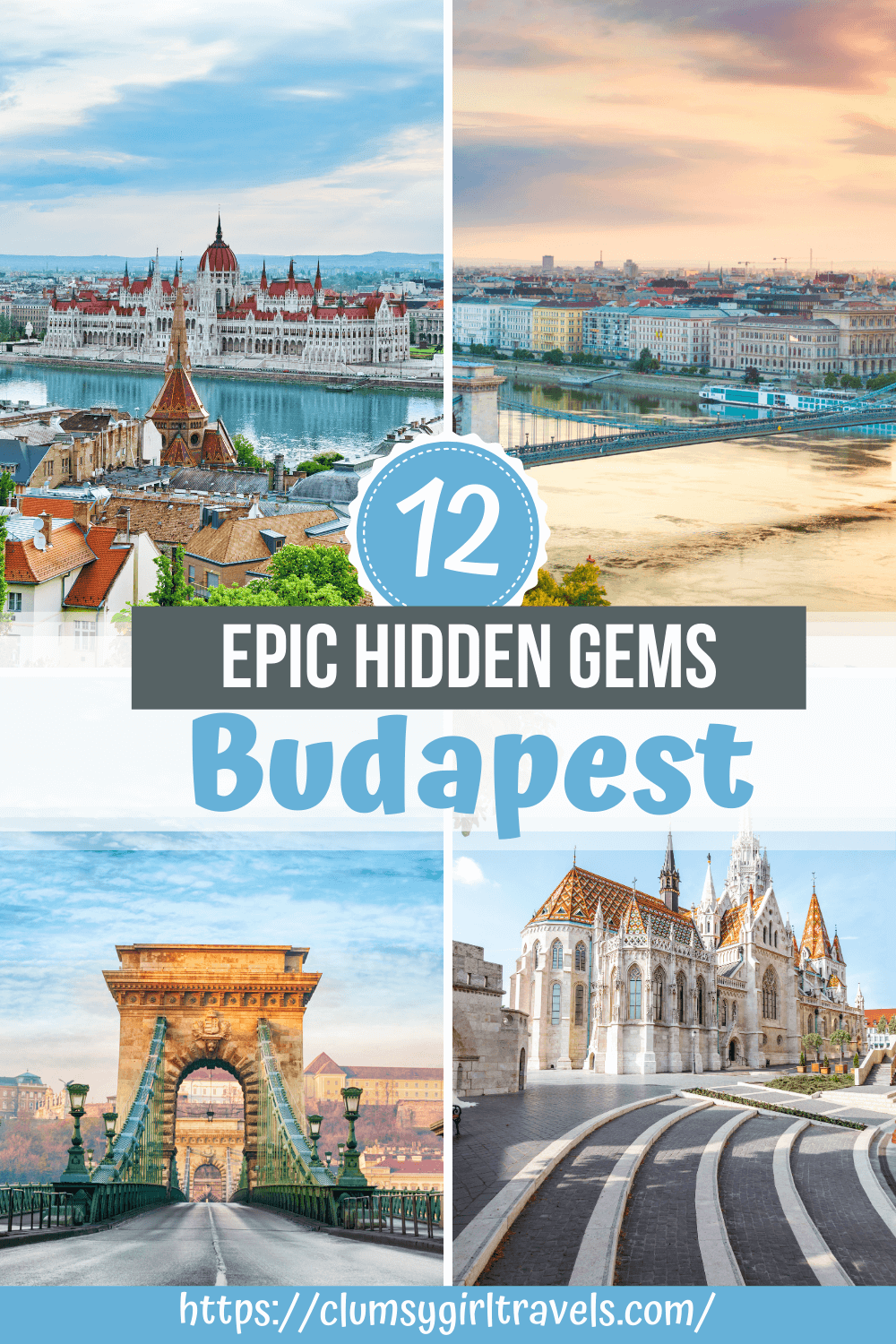 Helpful Travel Resources
First off, if you want to browse all my favorite travel resources check out my Travel Resources page.
Trip Planning: I have put together the ultimate trip planning guide that will walk you through everything you need to know to plan your perfect trip.
Book your Flight: Check out Skyscanner and Momondo! They can have great deals. Airfarewatchdog is also a favorite of mine. I get notified by email every time there is a good deal from my local airport.
Book your Transportation: Wanderu is usually where I check first. They check hundreds of different transportation companies all over the world and find you either the best bus or train deal. Flixbus is one of my favorite cheap options for Europe. The buses generally aren't too bad and they go to most countries around Europe. It's the perfect option for short distances. Train travel is my favorite mode of transportation and I always use Rail Europe to book my tickets. The Eurail pass makes Europe train travel super affordable.
Book your Accommodation: On a budget and looking for cheap accommodation? Hostelworld is my preferred site to book cheap and reliable hostels. Hotels Combined compares hundreds of sites to give you the cheapest hotel deal. If I know the hotel I want to stay at, This is the site I generally use. Hotwire has a fun mystery to it. It's a great site to use for last-minute bookings. They don't actually tell you the name of the hotel when you are browsing. You will just get the area of the city it's in, the price, and how many stars it has. I love the surprise aspect of it!

Book your Travel Insurance: Getting travel insurance is such a crucial part of preparing for a trip. You never know what could happen and why take the risk? Before I travel anywhere I always book my insurance through World Nomads.
Book your Activities: Now, you have planned all the logistics time to think about what you will do once you get to your destination! These are a few of my favorite trip planning sites. I always use Viator when I am looking for tours. I have booked cooking classes, day tours and so much more through them and absolutely love the immense selection they offer in cities all over the world! Pinterest is great to get travel inspiration and plan an upcoming trip or share inspo with friends and family. I use Trip Advisor to plan itineraries for what I want to see & do in each city. I also use them to read reviews on restaurants and hotels too.

Store Your Luggage: Do you have a long layover or a late flight and need to store your luggage? Luggage Hero has got you covered. You can book luggage storage in more than 35 cities worldwide for as little as $1 an hour or $8 for the day.