As someone with Ataxia, finding items for me to use on a daily basis can be hard. I have compiled this list of items to help those who have Ataxia or who have someone with Ataxia in their life find the perfect gift this holiday season.
Whether you need help in the kitchen, a little more stability getting up and down or a simple way to organize your kitchen utensils, This gift guide will help you find just the right gift!
Please Note: This post may contain affiliate links, which means if you book/buy something through one of my links, I may earn a small commission (at no extra cost to you!).
"I Love Someone with Ataxia" Shirt
Do you have a family member, friend, or spouse with Ataxia? This is a great way to show your love and support (not that you don't already). My mom has one and I love when she wears it!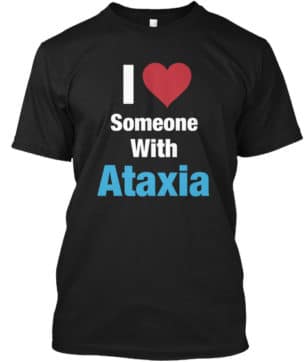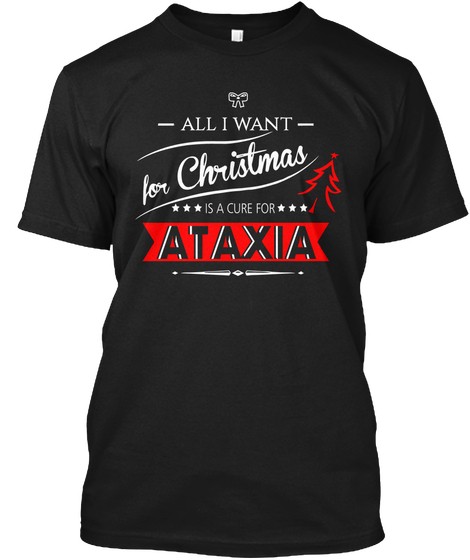 Ataxia Christmas Shirt
I love this shirt because who doesn't dream of a cure for Ataxia? I know it's on my list to Santa every year!
"I've got 99 problems" Shirt
Show off your sense of humor and get this fun shirt. This shirt is super relateable for me and I am sure it is for a lot of people as well.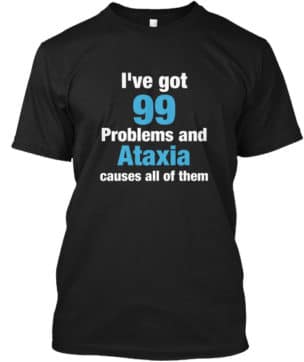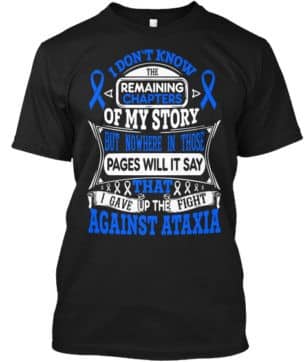 "The Fight Against Ataxia" Shirt
Ataxia is a fight many people including myself have to deal with daily and this shirt is a motivational reminder to NEVER give up.
MagnaReady magnetically infused shirt
Since tremors are a sympton for many with Ataxia this shirt with magnetic buttons will make getting ready a breeze.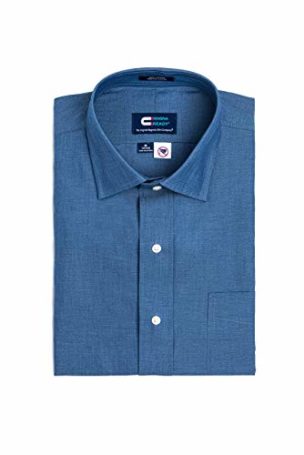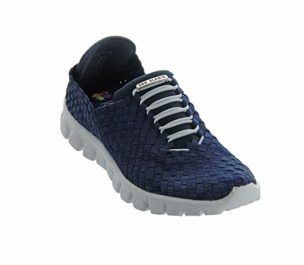 Womens No Tie Shoes
I always struggle with keeping my shoes tied so I choose to wear shoes that I don't have to tie. These shoes come in differenct colors and styles and are easy to slip on.
Mens No Tie Shoes
Don't worry, I am not leaving the men out. These shoes come in a few colors and are easy to slip on.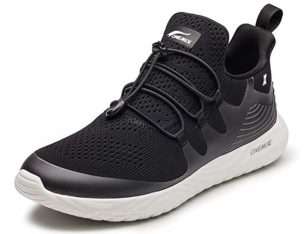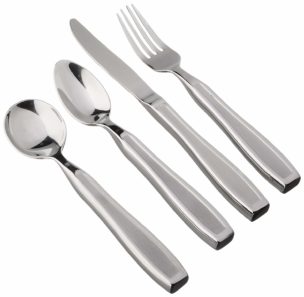 Weighted Cutlery
Weighted cutlery helps immensely for those with tremors. You will have less shakiness which means less spillage.
Scoop Plate
This rimmed edge bowl, makes scooping out food super simple. This, along with the heavyweight utensils above would make a perfect gift set.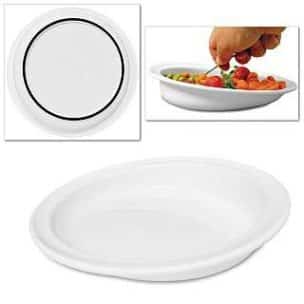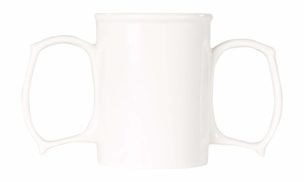 Two Handled Mug
Don't let those tremors stop you from enjoying a beverage. This two handled mug will allow you more support when drinking and allow you a tighter grip.
Food Prep Board
This prep board does it all! It opens a jar, grips a bowl, locks items in place and will allow you to prep with just one hand. You'll be able to do more tasks independently.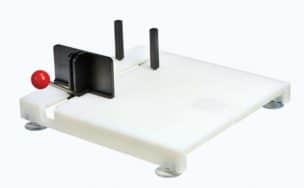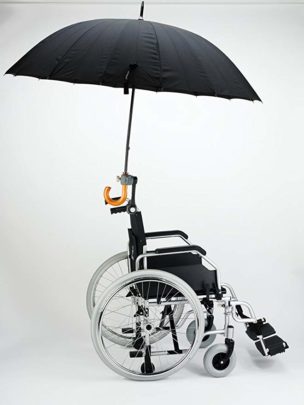 Umbrella Holder for the Wheelchair
Don't let the rain stop you from enjoying a stroll outside. I personally love walking in the rain and this umbrella holder is the ultimate solution when it comes to keeping yurself dry and not having to worry about holding the umbrella yourself.
Sock Aid
Sometimes putting on socks can be a struggle especially with weak muscles and hand tremors. This aid allows you to easily and efficiently slip on those socks, giving you a non-slip foam handle to better your grip.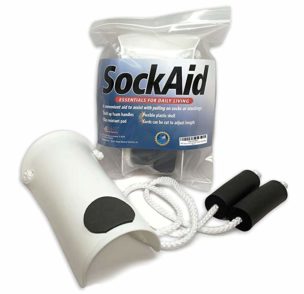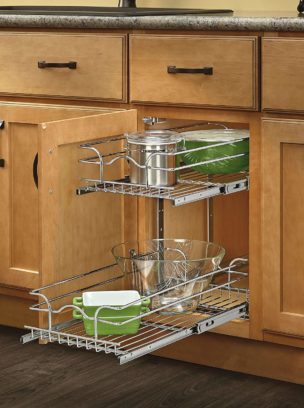 Rev-A-Shelf
These cabinets allow for easier storage and access to your kitchen utensils. This is ideal for those who have trouble standing up.
Utensil Grip
Personally, my tremors sometimes cause me to spill the food I am eating or drop my utensils. This utensil grip is perfect for people in the same boat. All you have to do is wrap the grip around your hand, slip your utensil in the little pocket and walla! There will be a lot less spillage which is the ultimate goal, right?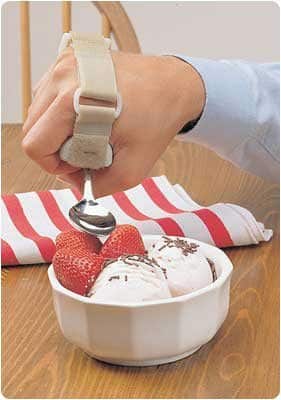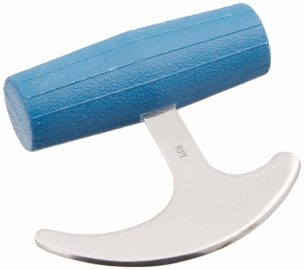 Rocking T Knife
This T-Grip Bendable knife is great for those with weaker strength. It will allow more independence when preparing ones own food.
Adaptable Drink Holder
This is a great gift for people with little grip strength. It can be adjusted to fit cans, bottles, cups and glasses.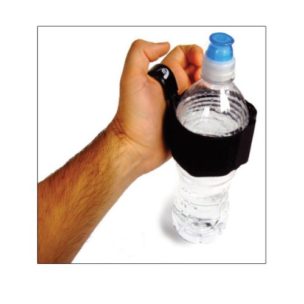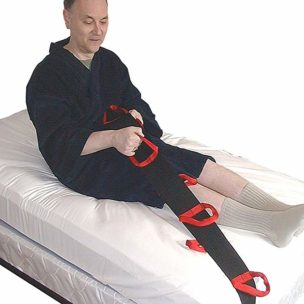 Bed Pull Up
If you have weak upper body strength this is the perfect solution. You can easily pull yourself up in bed independently.
StandEase Handle
This handle is lightweight and can be moved from room to room. It can be installed on sofas and armless chairs in minutes. It makes standing and sitting much easier.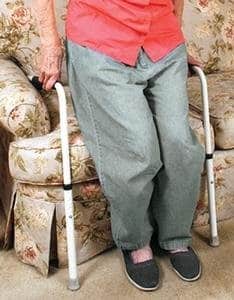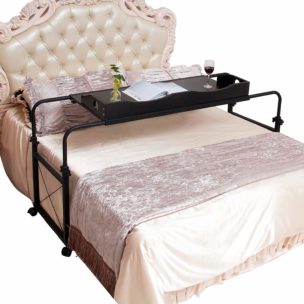 Adjustable Overbed Table
This table is adjustable and allows you to relax in comfort whether you want to eat breakfast in bed or just relax with a drink and a book.
Toilet Seat Elevator
This seat elevator allows a little more support getting up and sitting down on the toilet.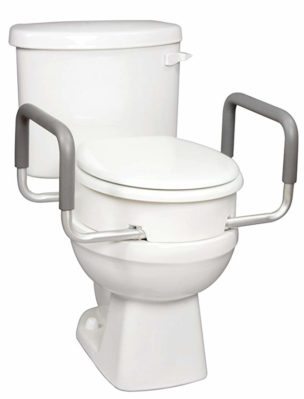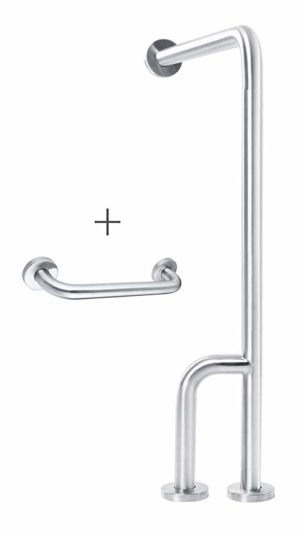 Grab Bar for the Bathroom
This high quality floor to ceiling grab bar provides safety & support in the bathroom. No need to worry about you or your loved ones falling when getting into the shower or tub.
Adjustible Shower Seat
This seat is a great solution for those who are at risk to fall in the shower.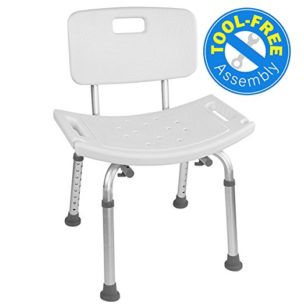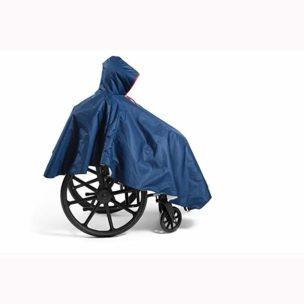 Wheelchair Winter Poncho
A little rain shouldn't dampen your day. This Poncho goes over your wheelchair to ensure you can be outside without feeling like you have just showered.  It has a truncated back so it won't get entangled in your wheelchair wheels.
Well, there you have it! I hope you found this guide helpful in choosing the right gift for you or a loved one with Ataxia.
Please Note: This post may contain affiliate links, which means if you book/buy something through one of my links, I may earn a small commission (at no extra cost to you!).
Was this article helpful to you? Well, go ahead and save it by pinning it so you can reference it later on.