When I first started traveling my lack of organization was something I realized needed a lot of work. I could never seem to keep track of my belongings. I would spend ages frantically searching in my bag for something, only to realize I lost it, forgot it or I would eventually find it after having to take everything else out. No matter how many times I repacked, I still managed to go back to the same unorganizational ways.
I started to do research on different travel accessories and bags I could get to help me stay more organized on my trips. Although my organization isn't perfect, it's gotten a lot better thanks to some of these items I have found.
If you are an unorganized traveler like myself, hopefully, you'll find some items on this list that will work for you.
Please Note: This post may contain affiliate links, which means if you book/buy something through one of my links, I may earn a small commission (at no extra cost to you!).
Packing List Check List
This packing list has been a lifesaver! Remembering everything I need to bring on a trip is hard, especially since there are so many other parts of the trip planning process to think about.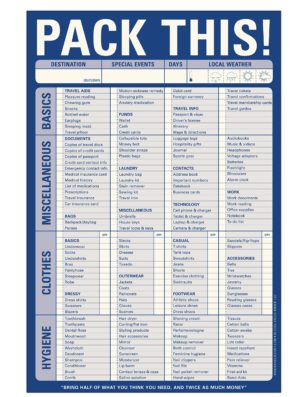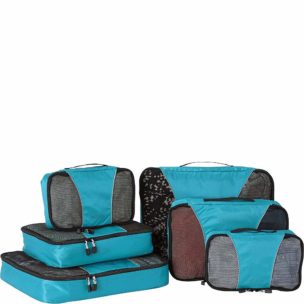 Packing Cubes
Packing cubes have changed the way I pack. They make organizing clothes so easy and I am able to quickly and efficiently pack my bag. Now if I need to find something I just go through the packing cubes rather than dump out my entire bag.
Travel Universal Cable Organizer
The one thing I am constantly forgetting and losing are my adapters. This case is a great way to organize all your cables and adapters and keep them safe in one place.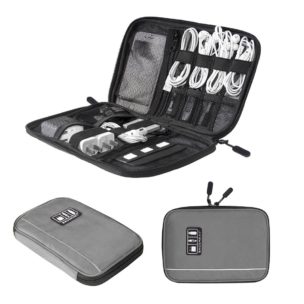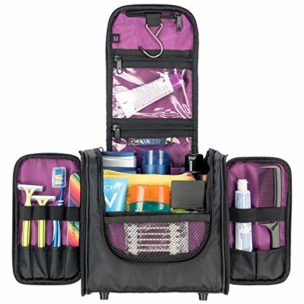 Hanging Toiletry Bag
Toiletries tend to be small and keeping them all in one place especially since you use them every day is difficult. This lightweight hanging toiletry bag is the answer! It's lightweight, spacious and will allow you to easily pack and organize all your bathroom accessories while taking up minimal space in your luggage.
Travel Shoe Organizer Bags
Shoes generally take up a lot of space. I can never take more than two pairs with me on a trip for that reason. These shoe organizer bags make so much sense! Not having to worry about your shoes getting buried in your suitcase or lost is reason enough to get these bags.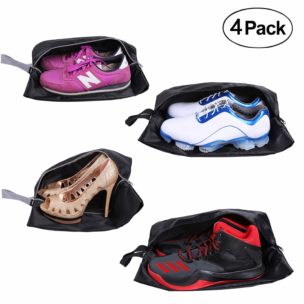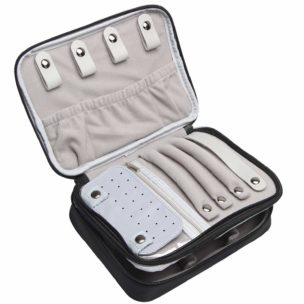 Travel Jewlry Organizer
Are you someone that constantly travels with jewelry? This Jewelry Organizer is roomy enough to carry what you need, keeping it all in one place. You don't have to worry about tangling, losing or damaging any of your pieces when on the go.
Wallet and Hidden Passport Holder
It's every travelers worst nightmare to lose a passport or wallet. This anti-theft neck wallet is perfect to keep valuables concealed under your clothes. It protects against electronic theft and is pick pocket proof.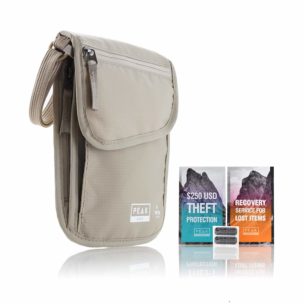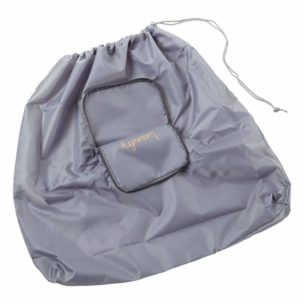 Travel Sized Laundry Bag
I have always had trouble figuring out where to store my dirty clothes when I travel. This laundry bag is what I use on every trip. It's compact and conveniently allows me to seperate my dirty clothes from my clean clothes.
Compression Packing Cubes
These packing cubes are lightweight, allow you to pack even more than regular packing cubes, and they expand to triple their size. They make packing and staying organized effortless.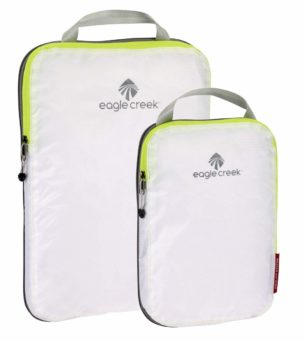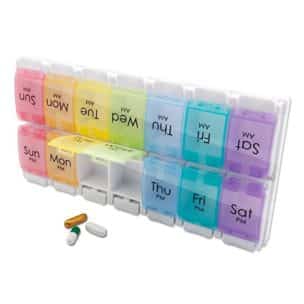 Weekly Pill Organizer
Organizing my pills is something that has taken me a long time to master. This pill box has been one of the best purchases! I love how colorful this box is and the large text makes it simple for me to read the day and time. My favorite part about this pill box is that each lid has a button you push when you are ready to take your pills, you just push the button of the lid you want to open and walla! I don't have to worry about my pill box lids opening up in my purse and spilling everywhere!
Genius Pack Carry On Spinner Luggage
This isn't voted the best carry on bag by Travel and Leisure and Foder for nothing. This is the ULTIMATE carry on essential. The features are endless. It includes but is not limited to, a removeable laundry bag, exterior pockets to store magazines, a water bottle and a passport, designated compartments for socks, chargers and undergarments, a permanet checklist so you don't forget anything and it expands an additional 2 inches. If you find yourself traveling on short trips, for business, or you just don't want to deal with a big suitcase this the best bag for you.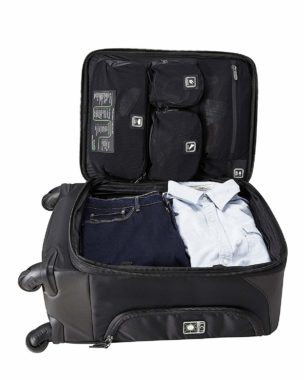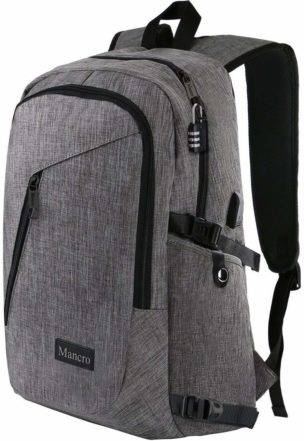 Laptop Backpack
This roomy backpack is perfect to take with you on a flight or when out exploring a new city. It has multiple pockets and compartments so you can keep your laptop, phone, ipad, wallet, keys, pens and whatever else you may be carrying around seperate. It makes finding what you need simple. There is a USB port so you can charge your phone on the go. It's also Anti-Theft and includes a theft proof combnation lock and durable metal zippers. This backpack is the perfect bag to get to keep your daily essentials organized and in one place.
Portable Luggage System Suitcase Organizer
The concept of this luggage packing system is simple, load your clothes, collapse and pack in your suitcase. When you get to your destination all you have to do is remove this suitcase organizer and hang it up in a closet or on a door. You won't even have to unpack.  It will keep your clothes wrinkle free and clean during travel. This will fit in any standard suitcase and some carry ons. There are compartments for clothes, undergarments, toiletries, shoes and dirty clothes. There is also a built in laundry bag.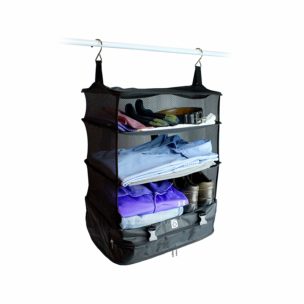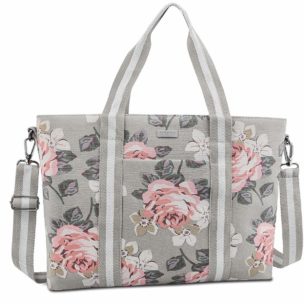 Laptop Tote Bag
For all you ladies out there, carry your laptop in style. I love this bag because it doesn't look like a laptop case and it's roomy, perfect to carry around your daily belongings. It comes with an extra strap as well so you can use it as a crossbody bag.
Camera Messenger Bag 
If you are a photographer and find yourself transporting your lenses, camera and laptop around, this bag would be perfect for you! It's pricy, but with that price you will get top-quality, water-resistant, handcrafted waxed canvas material and lined with soft protective padding. It doesn't just have to be used for a camera. It can also be used as a purse to carry your daily essentials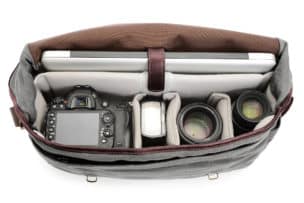 If you went through this list and thought,
"Wow, I didn't realize there were so many products out there that could help me stay organized when I travel!"
Then this list did its job.
Learning to stay organized, not just when traveling, but in general is hard and takes time to learn and figure out what works for you. I know my organizational skills are far from perfect and it's something I work on daily, but it's also something I improve daily.
I hope this list was able to give you insight into products that you could implement into your life and travels to help you reach your organizational goals.
Was this article helpful to you? Well, go ahead and save it by pinning it so you can reference it later on.