Welcome to Oktoberfest!
Thunderous singing, steins filled to the brim with cool refreshing beer, and pork knuckles the size of your head. This is Oktoberfest! It's the biggest beer festival in the world and attracts close to 6 million people a year (can you even imagine the crowds?). But imagine visiting Oktoberfest without hordes of drunk people pushing past you. It's just you and your dog. That's not weird, right?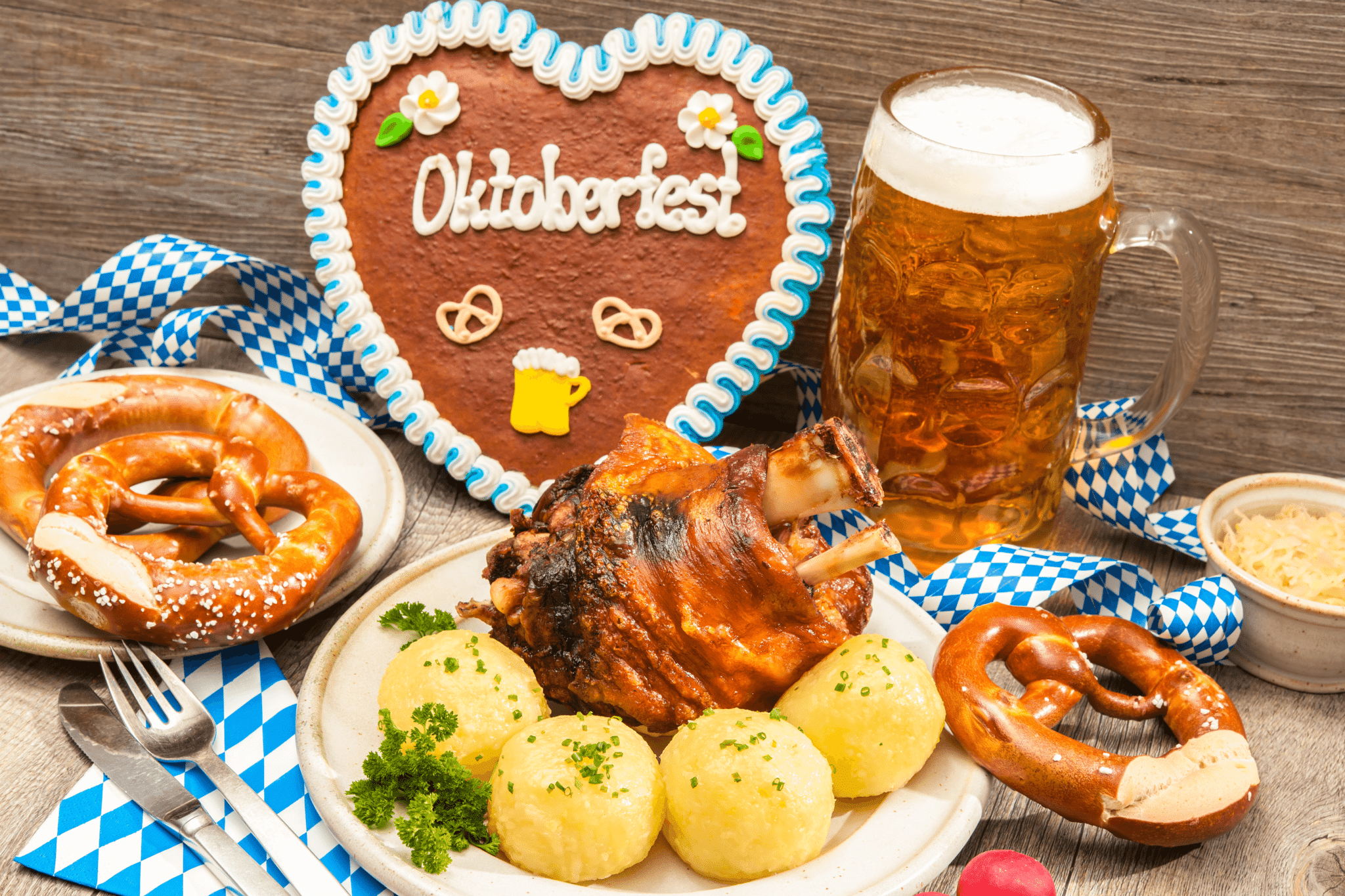 I know, celebrating Oktoberfest from home isn't the same as actually being there. Still, in these crazy pandemic times, we have to be a bit creative, and that may consist of getting a tad drunk, stuffing your face with juicy, plump bratwurst, and singing "country roads" at the top of your lungs. Although, you might want to write your neighbors a note of apology before we begin.
Since we have already virtually traveled to Stockholm, Sweden, this next virtual journey will be very different, so I hope you are ready to experience the craziness of Oktoberfest at home. Keep in mind that Oktoberfest is a 2-week festival, so you shouldn't be expected to complete this tour in just one day. The beauty of being home is that you can complete it whenever you want.
What to prepare before we start
Before you begin, celebrating Oktoberfest at home you should have a few things ready. First off, make sure you are stocked up on German beer. If you aren't big on beer, I recommend making a Radler, which is half beer and half lemonade. When I was at Oktoberfest, that is all I drank, and it is delish.
We will be making a traditional Bavarian breakfast which will consist of: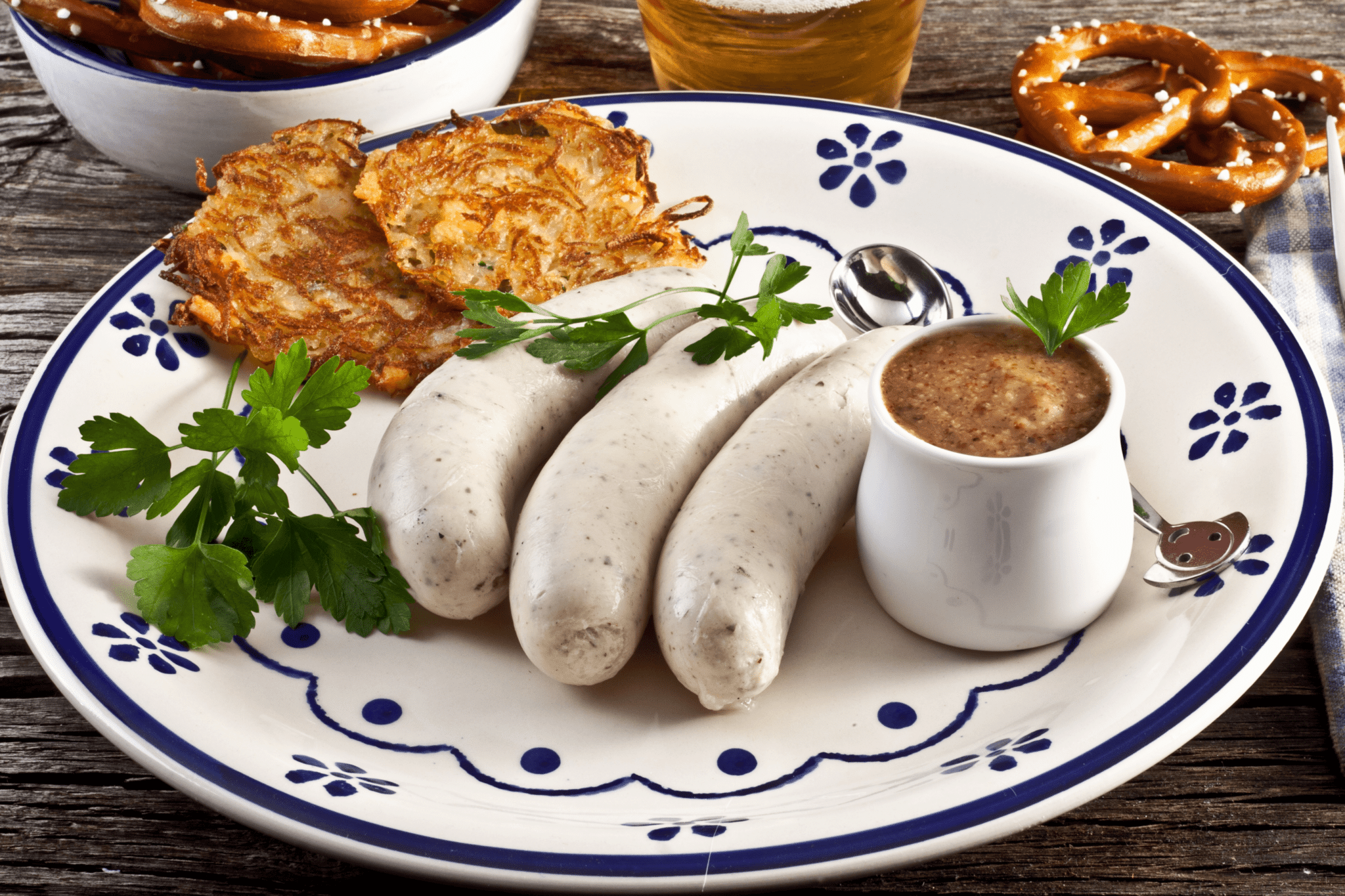 Weisswurst (White Sausage)

: You may be able to purchase this from your local butcher, but if not, there are places you can order online. I ordered an 

Oktoberfest box

 from 

Gold Belly

. The box consisted of a pack of weisswurst, bratwurst, knackwurst, skinny bratwurst, and 2 kinds of Bavarian mustard. A few other options are 

Black Forest Bratwurst Co.

 and 

Gourmet Food Store

. If you can't get Weisswurst, regular breakfast sausage will be just fine, but seriously weisswurst is unbelievably tasty, and I highly recommend getting some if you can.

A soft, fluffy pretzel

: Along with your white sausage, we will munch on some pretzels. My favorite pretzel recipe is actually a 

pretzel muffin

, so make sure you have all the ingredients because we will be making them a bit later!

Bavarian mustard

: You can't have a typical Bavarian breakfast without the mustard! If you can't find any Bavarian mustard at your local store, 

this one at Amazon

 is good.
For lunch, we will be making German fries! A traditional dish consisting of potatoes, bacon, and onions.
Then we will be making our very own Oktoberfest Gingerbread Hearts (Lebkuchenherzen) that we will be decorating. The ones at Oktoberfest aren't edible since they are usually sitting out for days, but these will be, so you can either use them for decoration, eat them, or both!
Then I have listed a bunch of typical Oktoberfest recipes at the end of the post, so you can go through them and decide what you want to make for dinner or since Oktoberfest is a 2-week festival, you can make a new recipe every night.
Now, without further ado, grab your stein of beer, and let's begin our "trip" to Oktoberfest!

Are you stuck at home but eager to travel? Not to worry. I have got you covered! Check out these virtual vacation posts or browse them all!
What to "pack" for Oktoberfest
A Typical Bavarian Breakfast
Since we will be drinking quite a lot of beer, we need to make sure our stomachs are filled. Traditional Bavarian breakfast is what every carb lover dreams of, sausages, pretzels, and mustard. The sausage typically eaten is Weisswurst (white sausage).
The sausage will be accompanied by some sweet Bavarian mustard and a pretzel because well… you can't have a Bavarian meal without a pretzel. You can buy your own pretzels, but making your own is actually pretty easy, and it will taste so much better, so we'll start by making our own pretzel muffins to have with our breakfast and any other meals during the day and days to come. The ingredients you'll need for your pretzel muffins:
400

 

g (3 1/4 cups)

 

all-purpose flour

50

 

g

 

soft, unsalted butter

 

(1/2 butter stick)

1

 

pouch

 

yeast

200

 

ml

 

lukewarm water

1

 

pinch

 

sugar

1

 

tsp.

 

salt

some

 

coarse salt

1.75

 

l

 

hot water, near boiling

50

 

g

 

baking soda
Then follow the video below for complete instructions or check out the full recipe here.
Pretzel Muffins
These pretzel muffins are incredibly soft and go perfectly with sausages like Bratwurst, Knackwurst, or Weisswurst. Make sure to eat them with sweet mustard as the Bavarians do.
How to make a traditional Bavarian breakfast
Soak your weisswurst in some hot water (bot boiling) and let it sit for 10-15 minutes. The skin of weisswurst is very fragile, so you don't want to boil it.

Once ready to eat, take a weisswurst out of the water and dip it in some Bavarian mustard. Take a bite and savor the deliciousness as it melts in your mouth.

Grab a pretzel muffin and dollop some mustard on top and place a piece of sausage on top of the mustard for the perfect bite.

Enjoy your traditional Bavarian breakfast.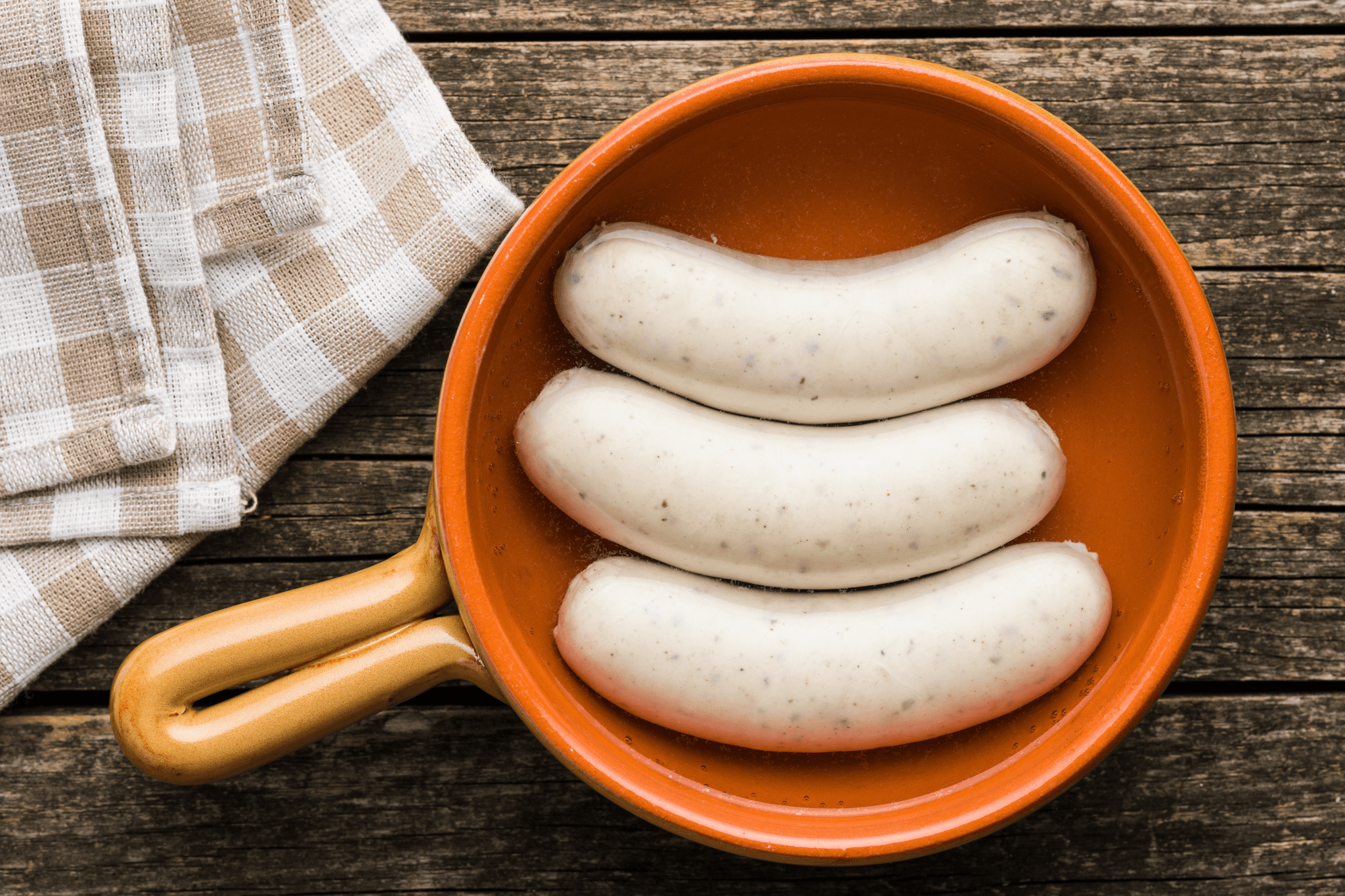 Now that you have had breakfast and are hopefully full, it's time to start this tour by learning some Oktoberfest lingo. Most people at Oktoberfest do indeed speak English, but if you really want to fit in with the locals, these phrases will help, and by the end of this tour, you should be speaking fluent Oktoberfest or at least semi-fluent.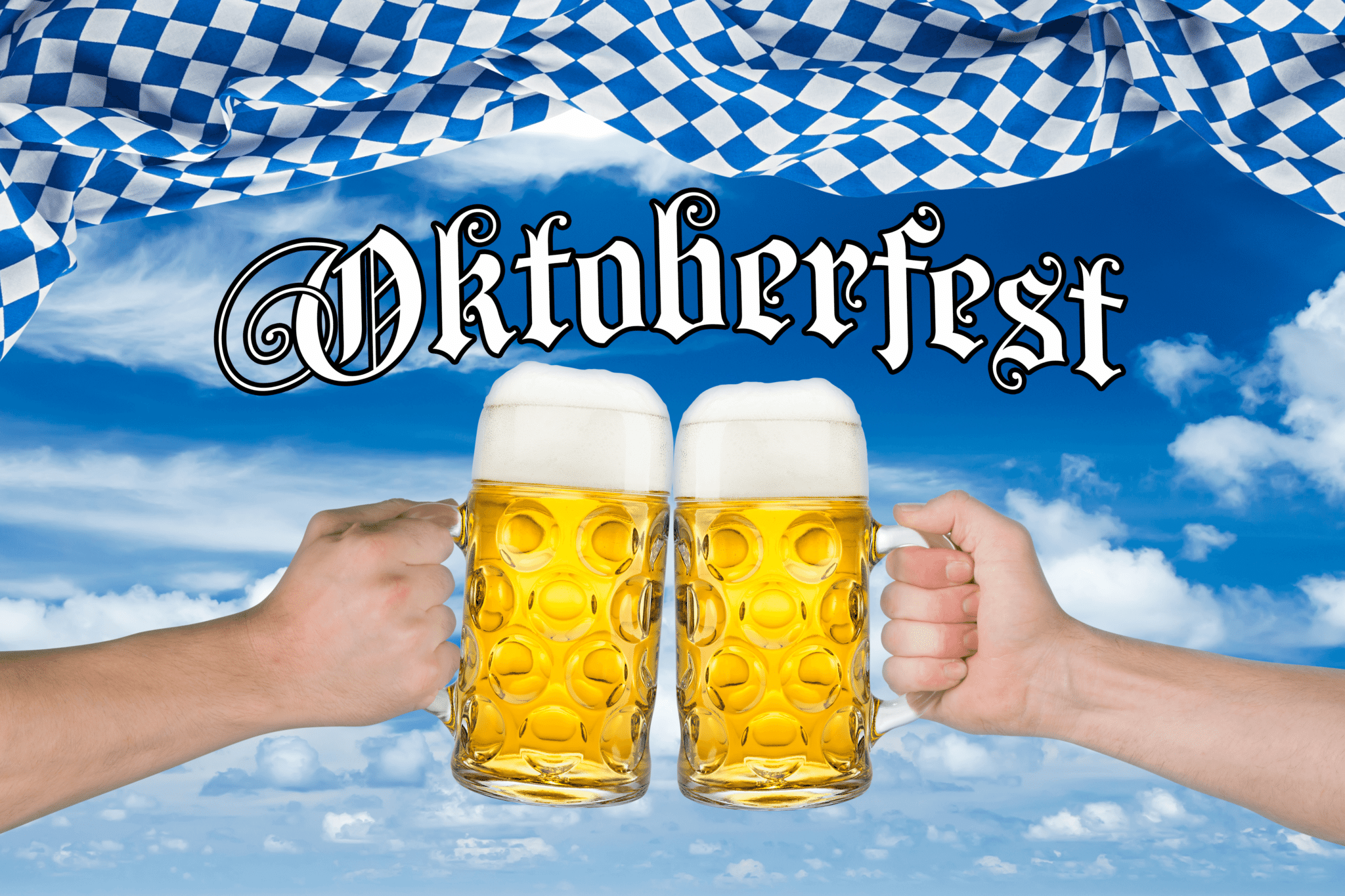 Weisn – Oktoberfest
This is how the locals say Oktoberfest, so if you are looking to fit in with a more local crowd, add Wiesn to your vocabulary. It's pronounced vies – en
Prost! – Cheers
You will hear prost a lot, especially in many of the songs and chants. It's how the Germans say cheers, and at a festival, all about beer, this word is going to follow you wherever you go. It's pronounced prawst
Bier – Beer
Pronounced bia, this one should be pretty obvious. If you want to order one beer, you would say, ein bier bitte (ayn bia bit), which means one beer, please.
Zicke Zacke! Zicke Zacke! Hoi! Hoi! Hoi! – Drinking Chant
This is one of the most popular Oktoberfest chants, and if you were actually there, you would hear it a lot. I am not entirely sure what it means, but it's sure as heck fun to say! It's pronounced (tsick-a tsack-a, tsick-a tsack-a, hoy hoy hoy)
Oans, zwoa, g'suffa – One, Two Drink Up
This is another Oktoberfest chant and is pronounced (ayns tsvi g'zoo-fa!)
Wo ist die Toilette – Where is the toilet?
One of the most important phrases you will learn because well…when there is beer, there are bound to be many many bathroom breaks.
Brezl/Brezn – Pretzel
Bretzl's (bret sel) is a very important word to know, especially at Oktoberfest where they are sold left and right.
Die Maß – one liter of beer
To be a true Bavarian you will want to order your beer by the liter and Die Maß (dee mas) is how you would do that.
Tracht – The Attire
Tracht (trakt) refers to the traditional attire worn in Bavaria, so if you are a girl, your tracht would be a dirndl, and if you were a boy, your tracht would be a lederhosen.
First drink in one of the tents
There are over 30 tents at Oktoberfest, ranging in size, and all offering very different experiences. There are 14 big tents hosted by local beer companies and 20 smaller tents that specialize in everything from coffee & dessert to wine. On this virtual Oktoberfest tour, we are going to explore some of the many tents scattered around the grounds, and in the end, you can decide which one is your favorite, so grab your steins as we visit over 10 of the BEST beer tents at Oktoberfest. At each tent shown on the video, take a sip of beer.

Oktoberfest Tent Tour
This fun video takes you around to some of the best tents at Oktoberfest. In a matter of 20 minutes, you can drink at over 10 tents! This is also a pretty helpful guide if you plan on visiting Oktoberfest in the future.
Ein Prosit is one of the most important songs at Oktoberfest. In each tent, it's played several times an hour, and when it's played, everyone belts it out while swinging sloshing steins of beer in the air. If you learn any song for Oktoberfest, it should be this one, so let's learn the lyrics! But first, let's go back in history and learn how Ein Prosit came to be the song of Oktoberfest because well… It's not actually Bavarian.
It was composed in Germany's Saxon region in the late 19th century by Bernhard Dietrich, a textile manufacturers' accountant. I don't think he knew how popular his song would be. We really don't know much about the guy other than he composed this song, so of course, it should be our duty as beer drinkers to make sure his song lives on for years to come.
German Ein Prosit Lyrics
Ein Prosit, ein Prosit
Der Gemütlichkeit
Ein Prosit, ein Prosit
Der Gemütlichkeit.
OANS! ZWOA! DREI! G'SUFFA!
Here is how the song is pronounced
Ayn praw-seet, ayn praw-seet
Dare g-moot-lich-kite
Ayn praw-seet, ayn praw-seet
Dare g-moot-lich-kite!
AYNS TSVI DRY G'ZOO-FA!
and here is the English Translation
A Toast
A toast, a toast
To cheer and good times
A toast, a toast
To cheer and good times.
ONE! TWO! THREE! DRINK UP!
Learn Ein Prosit
Set a timer for every 20-30 minutes and when it goes off, grab your beer and play this song – make sure you are singing along.
Make German Fries (Bratkartoffeln)
Oktoberfest is filled with the delicious aromas of fried sausages, roasted chicken, juicy pork, and sweet sugary roasted almonds, but there is one particular dish that, in my opinion, is one of the best. Bratkartoffeln, it's made with potatoes fried in oil until they are crispy and then mixed with onions and bacon. It's such a simple dish, yet so delicious and super easy to make.
This dish can be made in as little as 35 minutes, and since we are home, there is no need to worry about waiting in those long Oktoberfest lines for an overpriced serving. No siree! This recipe tastes just as good if not better than what you would get served at Oktoberfest.
Here are the ingredients
2 lbs firm (waxy) potatoes such as Gold, Red Bliss or new potatoes
1 small onion (or 2 shallots)w
6 strips thick cut bacon
2 tbsp cooking oil
salt and pepper to taste, to season potatoes*
1 tbsp finely chopped fresh herb (flat leaf parsley, thyme or rosemary)
For instructions check out the full recipe!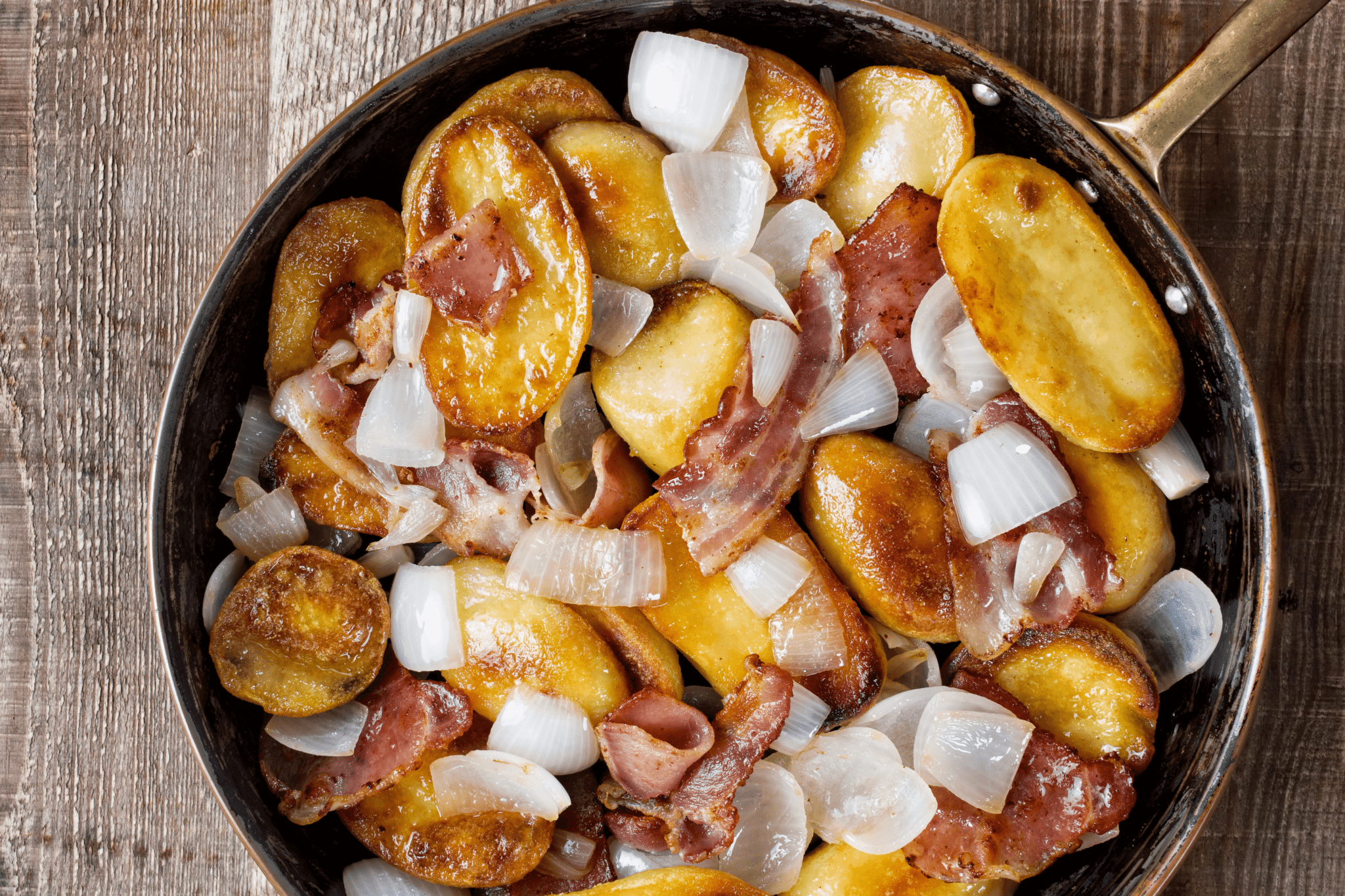 Oktoberfest Gingerbread Hearts (Lebkuchenherzen)
Gingerbread hearts are an Oktoberfest tradition, worn by women to accompany their dirndl. Every heart has beautifully intricate drawings on them as well as written phrases. Men commonly give them to their significant other to communicate their love; for instance, a few common phrases written on Oktoberfest hearts are, "I Mog Di" (I like you), "Fesches Madl" (beautiful girl), "Ich Liebe Dich" (I love you), and "Shenk Mir Dein Herz" (Give me your heart). There are also hearts you can buy with fun phrases like, "Prinzessin" (princess) and "Wiesn Prinz" (Oktoberfest prince).
These Gingerbread hearts that we will be making are so much better than those found at Oktoberfest for a few reasons. They are cheaper, taste way better, and you can write whatever you want on them! As I always say, if you didn't wake up with a Gingerbread heart next to your bed, did Oktoberfest even happen? 
Here are the ingredients.
300

 

g

 

honey

150

 

g

 

sugar

100

 

g

 

Butter

some

 

lemon zest

500

 

g

 

flour

2

 

tablespoons

 

cocoa powder

15

 

g

 

baking powder

 

(3 to 4 tsp)

1/2

 

teaspoon

 

cinnamon

1

 

pinch

 

salt

1

 

egg yolk

1

 

egg white

200

 

g

 

confectioners sugar

several

 

different

 

food colors
For directions watch the video below or check out the full recipe here
What to write on your Lebkuchenherzen
"I mog di" (I like you)
"O'zapft is" (means that the first barrel of beer has been opened)
"Fesches Madl" (beautiful girl)
"Herzl" (Heart)
"Wiesn Gaudi" (refers to the fun you have at Oktoberfest)
Another Drink Break (learn some traditional songs)
German songs, tend to be pretty catchy. Your feet may start unknowingly moving, and before you know it, you are dancing and singing away with total strangers in a crowded beer hall. At Oktoberfest, you can think of that scenario times 100 and since we are celebrating at home, we won't be dancing with total stranger, but instead we are going to have a mini-dance party. The songs I have chosen below were a few of my favorites when I attended Oktoberfest, so get your stein of beer ready and let's groove Oktoberfest style (which basically means waving your stein in the air like you just don't care)!

Donkey song iha iha iha oh
This is a fun song to sing along to. It's about a donkey who waits outside for his lover, Veronica. You'll be swinging and sloshing  your beer along to the chorus, "iha iha iha oh".
Hände zum Himmel
This is an uplifting song that celebrates friendship and getting rid of all your worries. Once this song comes on, everyone starts clapping.
Fliegerlied
This was originally a children's song, but is now popular at Oktoberfest. This song is a great way to spot locals because there is a dance that goes with it and all the locals know it.
An Oktoberfest tour of the grounds and traditions
Now that we are a few beers in let's explore the Oktoberfest ground and learn about some traditions. Oktoberfest first began in October of 1810 as a marriage celebration between the crowned prince of Bavaria, who later became King Louis I, to Princess Therese von Sachsen-Hildburghausen (try pronouncing that name!). Over the years, it has evolved and become the crazy, hectic festival we all know today.

Click here to preview your posts with PRO themes ››
These videos will provide a glimpse into the Oktoberfest celebrations: you'll learn what rides and games are there, how to drink a stein of beer properly, and learn what goes on behind the scenes through interviews with the people who work there.
A Mini Tour of Oktoberfest
This is a short tour of the Oktoberfest grounds, where you can get a glimpse of some of the games and rides that are there.
How to Drink Beer at Oktoberfest
You may not know this, but there is a right and wrong way to drink beer, and these rules apply more than ever in Germany. This video will give you the low down on how you should be handling your steins.
An Oktoberfest Documentary
This is a really fascinating documentary that gives you a behind the scenes look at how Oktoberfest comes together.
Oktoberfest Dinner Recipes!
The beer at Oktoberfest is great, but the food is a whole different story. It's a meat and carb-lovers dream – full of juicy sausages, roasted chicken, crispy potato pancakes, and pork knuckles the size of your head. There is no chance of you going hungry, and our Oktoberfest at home guide wouldn't be complete without making some traditional food. I hope you're hungry!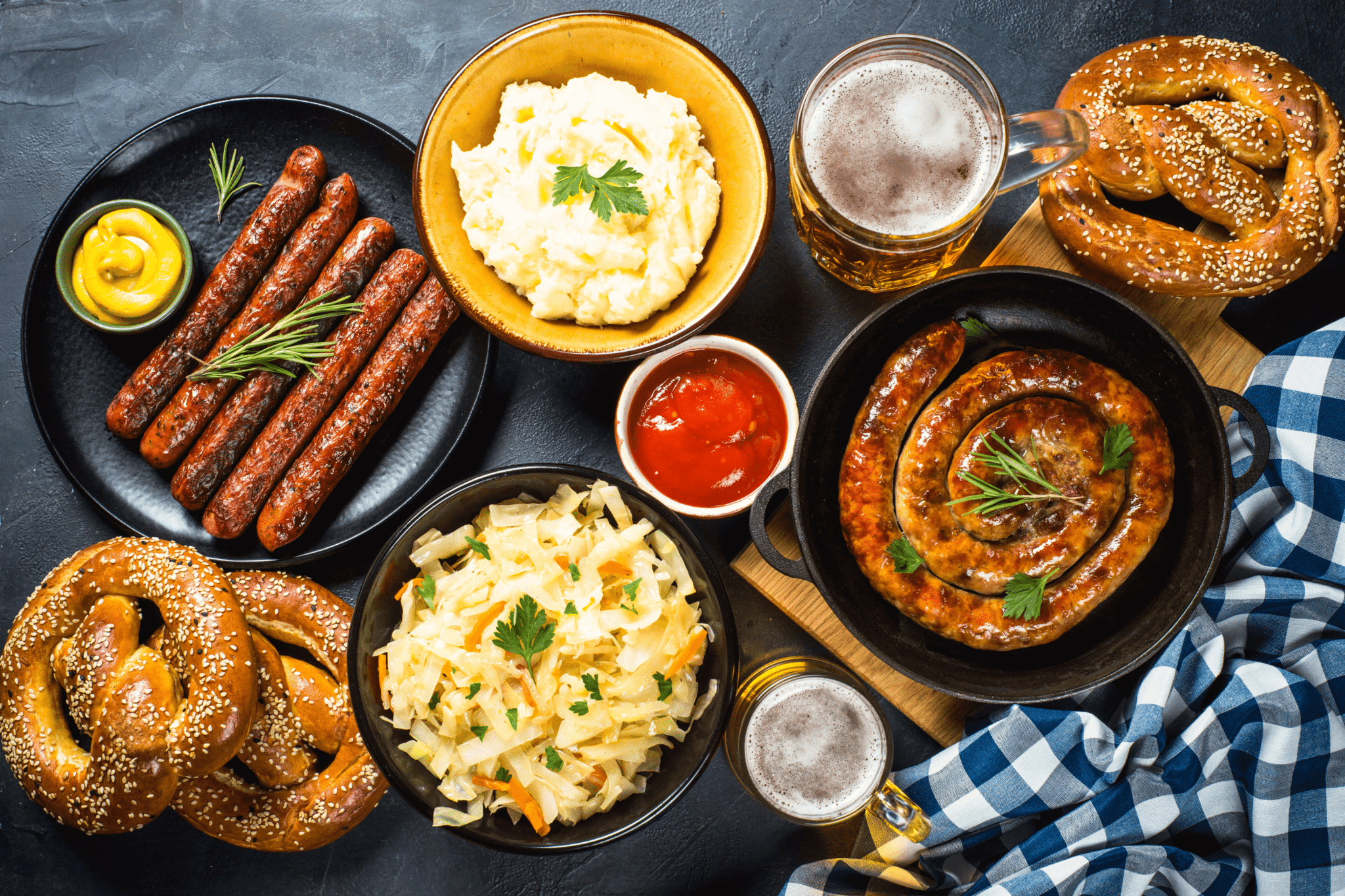 The recipes below are all foods you would find at Oktoberfest or beer halls in Bavaria. Oh, and don't forget the beer and pretzels!
Oktoberfest Appetizer and Sides
Oktoberfest Main Courses
Oktoberfest Desserts
Dance, Drink and be Merry!
It's that time of night when we have had one too many beers, and we make bad decisions (or great decisions?). At Oktoberfest, this is the time when the band would start playing songs that everyone can sing to, and everyone gets up on the wooden benches and starts singing and dancing. There are usually quite a few falls, but the paramedics are right outside the tents waiting to fix up anyone that gets hurt. I don't recommend getting up on a chair or bench at home unless it's verrrrrry sturdy. The songs I listed everyone should know, so get your dancing shoes on and let's end our Oktoberfest at home tour with a bang!
Country Roads
Country roads, take me home
To the place I belong
West Virginia, mountain mamma
Take me home, country roads
Sweet Caroline
Hands, touchin' hands
Reachin' out, touchin' me, touchin' you
Sweet Caroline
Good times never seemed so good
I've been inclined
To believe they never would
Hey Baby
Hey, hey baby
I wanna know
If you'll be my girl
Hey, hey baby
I wanna know
If you'll be my girl
Are you stuck at home cause of the crazy pandemic happening right now? Not to worry. I have got you covered! Check out these virtual vacation posts or browse them all!
Was this article helpful to you? Well, go ahead and save it by pinning it so you can reference it later on.