Istanbul is a city that stole my heart. for a few reasons, One being there was a plethora of things to do. There wasn't a day that went by where I was bored or uninterested. It's the biggest city in Europe so planning what I wanted to do each day took a lot of time because frankly, I wanted to do it all. Another reason I loved the city was the food. Istanbul is a melting pot of cultures and when it came to deciding where to eat or what to eat the only difficult choice was choosing one restaurant out of hundreds.
Oh, and the easiness of transportation was awesome. I could take a ferry, or the subway or even an Uber. There wasn't one part of the city I wanted to visit that was difficult to get to.
I'll visit Istanbul again one day, but in the meantime, these pictures remind me of the incredible two weeks I spent there.
Please Note: This post may contain affiliate links, which means if you book/buy something through one of my links, I may earn a small commission (at no extra cost to you!).
Galata Tower – This picture was taken just before I climbed to the top. You could see most of Istanbul from up there.
Tthe Ottoman Imperial Mosque Sülemaniye Camii
Dolmabahçe Palace – This was one of my favorite attractions to visit in the city. It was less touristy than Topkapi Palace and the grounds were incredibly beautiful.
Dolmabahçe Palace. – The flowers were in bloom all over the place.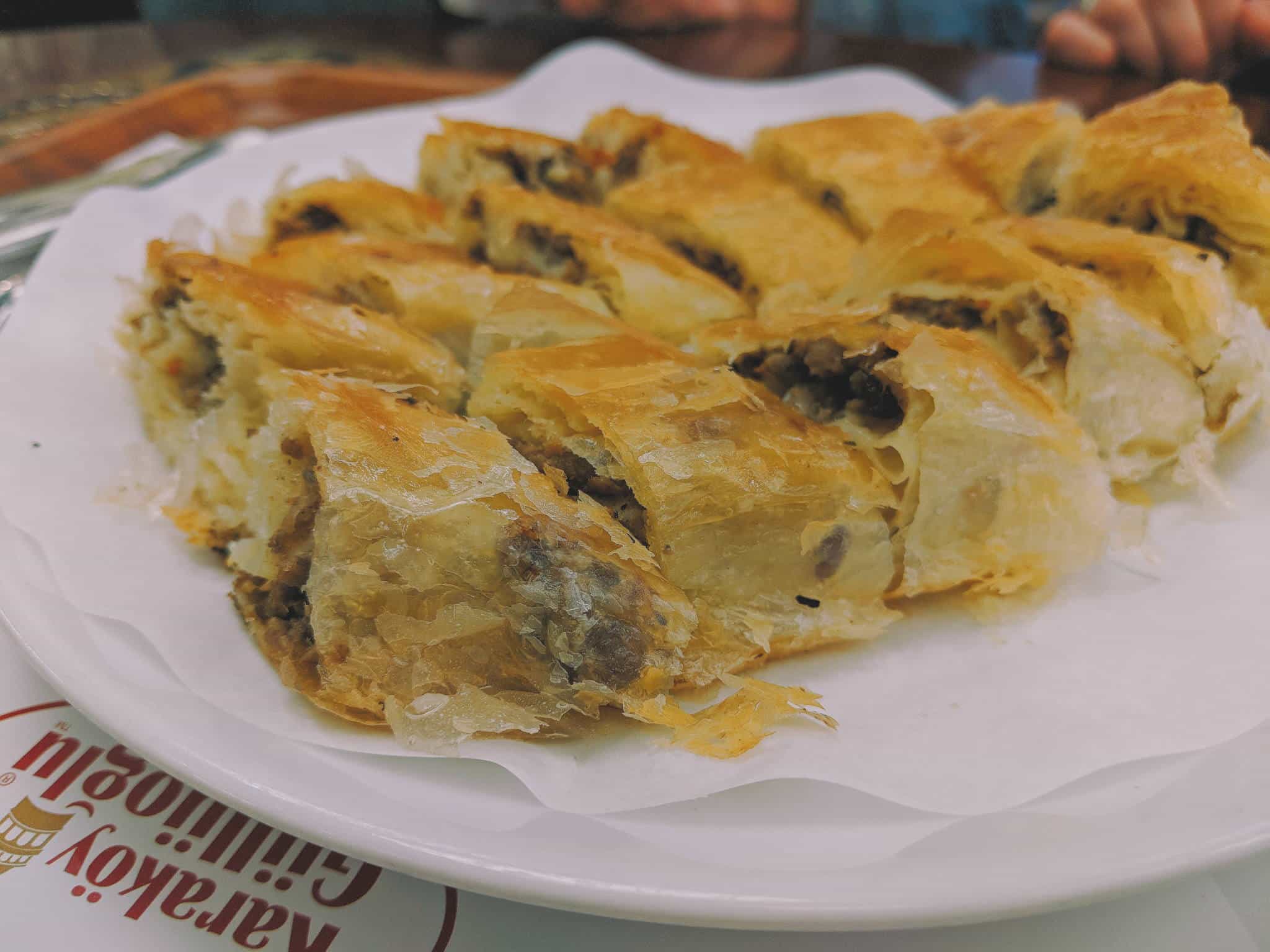 This Baklava is said to be the best in Istanbul and was recommended to me multiple times by locals. The place is called Karakoy Cay Evi and I highly recommend visiting if you're in Istanbul.
I found this tree when I was exploring the Asian side of Istanbul. These circles looked like they were sewn on. I have never seen a tree pop with so many colors.
I got to visit a popular club in the city and the bartender lit the counter on fire before preparing a line of shots. This was definitely the highlight of my night.
You can't go to Istanbul and not visit the Hagia Sophia.
This was taken at a shop selling coffee from all over the world. I got a caffeine high just smelling the coffee beans
I took a coffee making tour in Istanbul. I learned the art of making good and strong Turkish coffee and got to try several varieties at different cafes around the city. For more information or to book this tour click here
This was one of the stops on the coffee tour.
This was a view of the Hagia Sophia from my hotel. This was quite a view to wake up to every morning.
Sometimes you just need to just relax with a drink. Marbella Terrace Cafe and Restaurant had great cocktails, food and the view on to the water wasn't half bad.
This meal was prepared at a Syrian Refugee Center. It was one of the best meals I have ever eaten! I got to share this meal with Syrian Refugees and hear their heartbreaking stories. To find out more about this experience or to book it click here. All proceeds go to supporting small projects at the center.
The Maiden Tower was a short boat trip from the mainland and offered a great view from the top. It was a small island and didn't take long to explore.
According to a legend about the tower, an emperor had a daughter and one day an oracle prophesied that his daughter would be bitten by a snake on her 18th birthday and die. He built this tower in the middle of the Bosphorus to protect her.
When the day of her 18th birthday came, the emperor brought a basket of fruit to give her and in that basket, a snake was hiding and bit the princess. She died in her father's arms.
This was the view from the top of The Maiden Tower.
If you aren't sure who this is, look up Salt Bae. He's a famous Turkish Chef with a knack for sprinkling salt on his dishes. He has a restaurant set to open and this was right outside the location.
This was a stop on a food tour I did. Typical food tours do tastings but this tour made sure you left full and satisfied. For more information or to book this experience click here
Raki is a cheap and strong Turkish Liquor. It's important to be careful when drinking it. It can hit you quickly. Most people sip Raki mixed with water after a meal. It's supposed to help with digestion but there are plenty who take shots of it. If you order it at a bar or club they will add water but don't let that fool you! It's still very strong!
A meal served at Seyr-u-Sefa Cafe. It was incredible.
I think I ate my weight in kebabs on this trip.
I was never a fan of Turkish Delight in the US or I just didn't go to the right places. When I tried it in Istanbul, my life changed! I ended up buying a few packages to take home, but unfortunately, they didn't make it. Whoops!
Having tea is customary throughout the day in Turkey. It's included with your meal most of the time and even offered in shops as you're browsing.
This was the extravagant ceiling inside Süleymaniye Camii Mosque.
This is the exterior of Süleymaniye Camii Mosque. One of the less touristy mosques to visit.
A view of the Blue Mosque. Unfortunately, it was closed when I was visiting and reopened the day after I left. Talk about bad luck!
This was what I got to walk towards every day coming out of my hotel. It looks almost like a painting.
You can't visit Istanbul and not partake in some Hookah action. My favorite rooftop restaurant, Seyr-u-Sefa Cafe never disappointed. I became quite good friends with the owner.
This was the view from Seyr-u-Sefa Cafe. I got to experience the most beautiful sunset.
This was a meal prepared for us by a local family. It was such a treat meeting them and getting to know their culture. They were so hospitable and I will never forget this experience. To learn more or book this experience click here.
This was my first meal in Istanbul and a delicious one. It was a great introduction to the Turkish Cusine.
The lamps at the grand bazaar were colorful, bright and just plain mesmerizing. If only they weren't so delicate. I would have loved to take one home.
I came upon this house randomly as I was wandering the Asian side of Istanbul. I loved the colorful flower potts dotted around the windows.
I know where to go if I need to escape the rain. This was a cute street in Kadikoy, on the Asian side of the city. It was a perfect place to sit and enjoy a cup of coffee.
Topkapi Palace – One of the most regal palaces I've ever been to.
This was my favorite room inside Topkapi Palace. I stayed there way too long dreaming of what it would be like to live there.
I spent the majority of my day inside Topkapi Palace. There was an overwhelming amount to see and was impossible to get through in just one day.
Getting an ice cream in Istanbul was like being part of a show. The guys who sold the ice cream were entertainers and wore traditional costumes. As soon as you ordered they would ring a bell, start scooping the ice cream and then do various tricks with it. The consistency is very sticky which gives it a stretchy texture and allows them to play tricks on you.
It sometimes took a while before I could sample it and other times it took only a few seconds. The ice cream was so good and worth being a participant in their games to get it.
I took a day trip to Bukuyuda. It was a cheap 2-hour ferry ride and was a wonderful retreat from the city. I came upon a restaurant while I was exploring called The Secret Garden. It was decorated with little trinkets like birdhouses, pictures, bikes, and quotes hung around the place.
It truly felt like I came upon A secret garden, discovering a place only I knew about.
This was some strong Turkish coffee served at what became my favorite rooftop restaurants: Seyr-u-Sefa Cafe.
Every shop in the Spice Bazaar I walked into I was greeted with a colorful array of spices, dried fruit, and tea. If only I had more room in my suitcase, I would buy out the whole place.
This was a meal served to me by a local family. They were the nicest people and it was a night filled with great conversation and food. For more information or to book this experience click here.
Was this article helpful to you? Well, go ahead and save it by pinning it so you can reference it later on.