Imagine a world of darkness where you rely solely on every sense but sight. The one sense that provides the most information in our day to day lives. It's hard to fathom what life would be like without it.
Well, now there is a way you can experience first hand what living without sight is like (and I am not talking about the Bird Box Challenge).
The Invisible Exhibition is an interactive journey that takes you through different scenarios in the dark. You get to navigate your way around each room portrayed as real-world situations. Your guide will give you different tasks to accomplish as you go.  A few scenarios you will come across will be navigating an apartment, crossing a street and going grocery shopping.
All the guides are either blind or partially blind. They talk about what sorts of things you should do if you ever come across a blind person and what not to do. They will be open to answering any and all questions and share personal stories of how blindness has affected their lives.
This exhibition will show you that you can still experience the beauty of the world without the ability to see.
In the end, you will walk away feeling humbled, with a better understanding of the many challenges blind people face in their daily lives.
Psst, are you planning a trip to Budapest? Check out some of these cool experiences.
What to expect at the Invisible Exhibition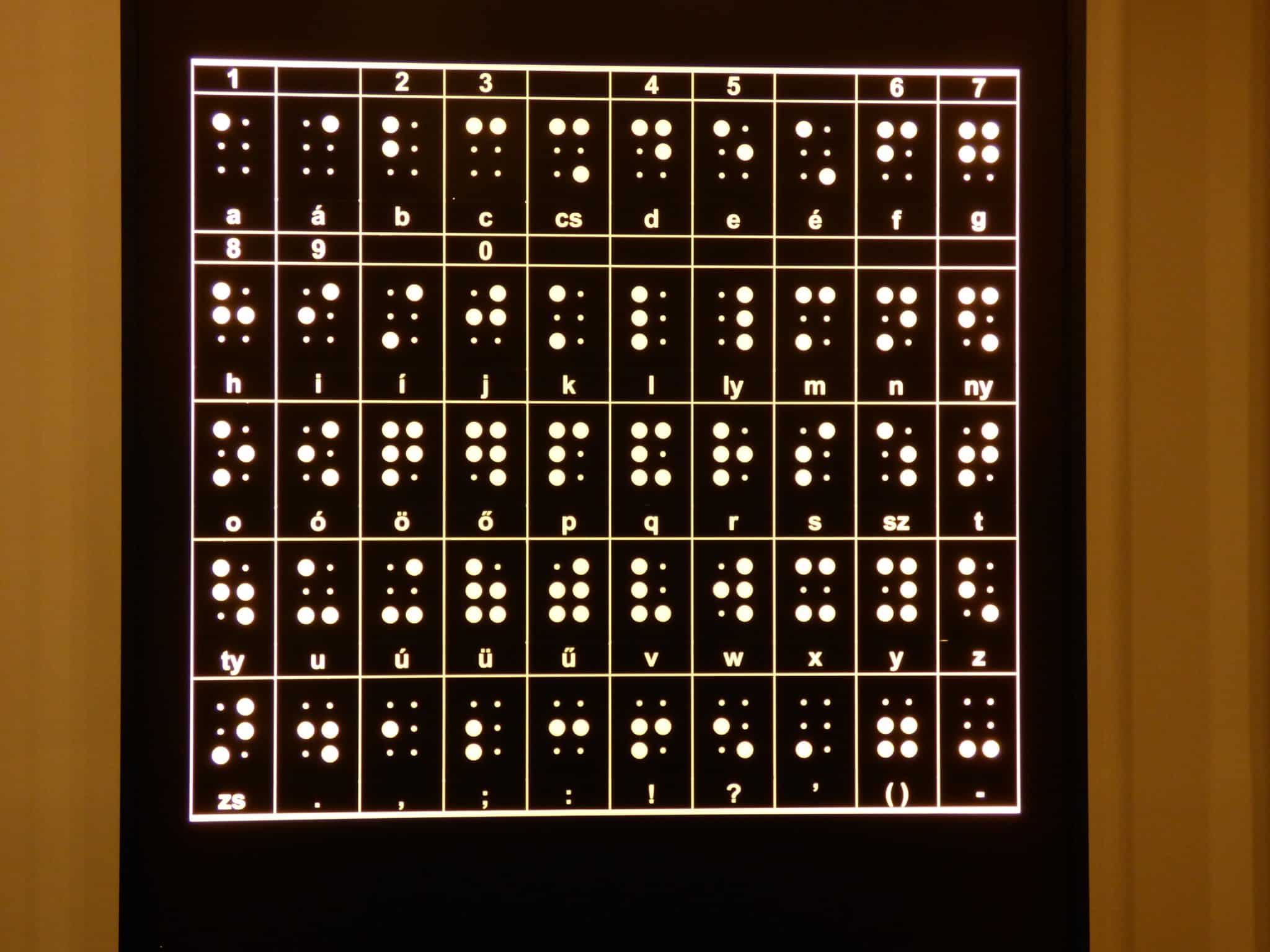 Words can't describe how excited I was to partake in such a unique experience that I arrived 20 min early. I took a cab using the Taxify app and it dropped me off right in front of the Exhibition and Trade Center. I am glad I did arrive early because finding the entrance to the exhibition wasn't easy.
Eventually, I made it, after 10 minutes of walking around. When I walked through the door of the building I went up to the receptionist to check in and pay. I put my belongings in a locker which was required and waited for the tour to begin.
When our guide came out she introduced herself and told us she was partially blind. We started the tour by learning about different tools blind people use daily. We even got to try out the tools for ourselves.
She taught us a bit of braille and then tested us on it and needless to say, the majority of us didn't do very well.
After spending about 20 minutes messing around with all the devices our guide briefed us on what to expect, rules and safety for the actual exhibition
The tour finally began! We slowly conga lined into the first room. It took some time to get adjusted to the darkness and let me tell you, having bad balance didn't help!
If I bump into things when I can see, imagine how bad it was in the dark.  
After several minutes of uncontrolled giggling and bumping into items we all finally got used to the darkness. Our first order of business was figuring out where we were. We touched a couch, a sink, a television, a phone, and heard cars driving and beeping in the distance. It was an apartment!
Our guide explained what it's like living in an apartment as a blind person and the different devices they have to use like talking clocks and, voice readers, basically everything talks.
She then gave us tasks like finding a seat, finding the bathroom and answering the phone. We all struggled a lot.
After we finished exploring the apartment we left to explore the outside world. Our first task was to cross a street. We heard the sounds of cars beeping and driving past. We were supposed to end up at a grocery store on the other side.
Eventually, we all made it safe and sound. Luckily, it was just a simulation otherwise we might not have been so lucky. Our next task was to go grocery shopping! Our guide told us to find an Orange. Oranges have a unique bumpy texture that many other fruits don't, so finding one wasn't too difficult.
Our next room was my favorite! We got to explore nature. It was definitely the most peaceful part of the exhibition. We started by crossing a bridge where we could hear the soft flow of water and take in the faint scent of pine wafting in the air.
We ended up in a log cabin which was the smallest room we visited so we were quite cozy. There wasn't too much to explore in the cabin so we spent the least amount of time there.
We then wandered into our second to last room – an art gallery! Our guide had us go around and touch the statues to try and figure out what famous works of art they were. Since I can't touch figurines in a real art museum, this goody two shoes enjoyed that rebel life.  
After guessing what statues we were touching (Some were right, but most were wrong).
We entered our next and final room – a buffet. As we entered we heard the faint chatter of diners, enjoying their meal. We found seats where we got to chill for a bit. Our guide gave us the option of ordering a drink and a snack.
I went with a beer and chocolate bar and I have to say, I felt less guilty about eating in the dark.
After we finished our drinks and snacks our tour ended and it was time to get back to the real world. It took a few seconds to adjust to the light but before long I could see again.
How to get tickets
The best way to get tickets is to email or call them and plan a date. It's the only way if you need foreign language guidance since they will have to plan ahead. It's important to plan your visit at least one day before, and they only do tours in English on certain days.
Keep in mind they only accept cash!
The costs are as follows:
Weekdays: 2400 HUF ($8.49)
Weekends: 2900 HUF ($10.89)
Plus an extra $3.22 for foreign language guidance.
How to get there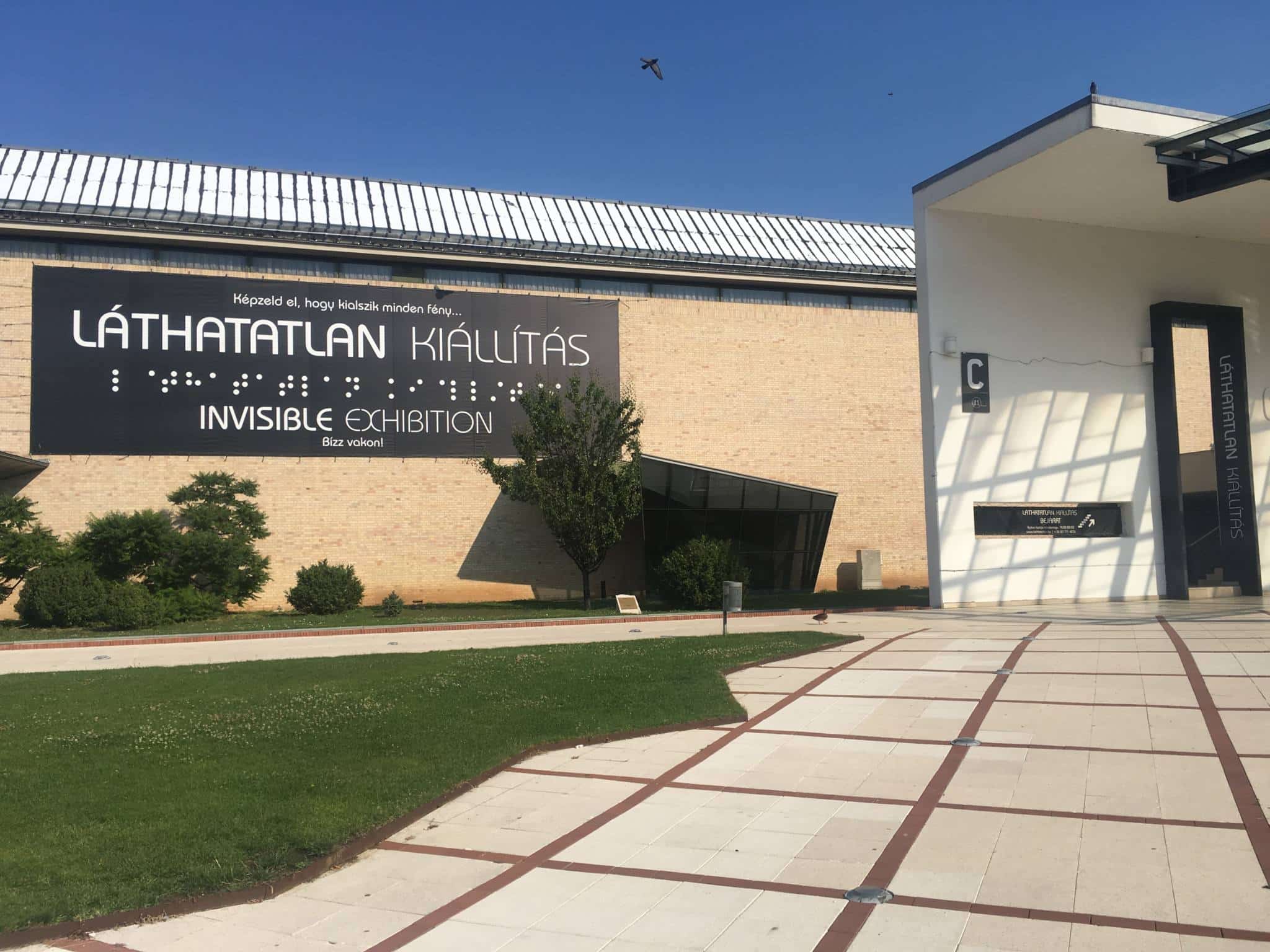 It's located at The Trade and Exhibition Center and the easiest way to get there would be to use Taxify. Don't get a taxi on the street. They are notoriously known to scam tourists. Taxify works the same way as Uber and Lyft and it's inexpensive to get most places in the city.
You could use public transport but depending on where you are in the city you should plan your route in Google Maps.
It's a bit hard to find once you get to the location so give yourself extra time to find it. 
Helpful Tips
Dress Comfortably:

Make sure to wear comfortable shoes and clothing. You will be walking around in the dark and chances are, you will trip and bump into things, and there is no way around it, so you might as well be comfortable doing so.

Drink water:

Navigating your way around in the dark can make some people anxious and anxiety triggers thirst. Drink some water before the tour begins.  The anxiousness will wear off eventually, but it doesn't hurt to stay hydrated.

Ask questions:

Don't be afraid to ask questions. They encourage it. Even if you think the question would be offensive. They are there to teach you how the blind navigate the world and that includes answering questions you may have.

Blind people and families are free: If you are blind or have a family member that's blind, you get to enter the exhibition for free!
This experience was truly remarkable. The best way to understand what someone is going through is to walk in their shoes. I learned so much about blindness. What to do when you see a blind person and how to navigate the world without sight.  
One of the reasons I found this exhibition fascinating is because I know how frustrating it can be when people don't understand my disability and what I go through day to day.  Even though blindness is a visible condition it's something no one could completely get unless they have experienced it first hand.
Helpful Travel Resources
Book your Flight: Check out Skyscanner and Momondo! They always seem to have great deals. Airfarewatchdog is also a favorite of mine. I get notified by email every time there is a good deal from my local airport.
Book your Transportation: Wanderu is usually where I check first. They check hundreds of different transportation companies all over the world and find you either the best bus or train deal. Flixbus is one of my favorite cheap options for Europe. The buses generally aren't too bad and they go to most countries around Europe. It's the perfect option for short distances. Train travel is my favorite mode of transportation and I always use Rail Europe to book my tickets. The Eurail pass makes train travel super affordable.
Book your Accommodation: On a budget and looking for cheap accommodation? Hostelworld is my preferred site to book cheap and reliable hostels through. Hotels Combined compares hundreds of sites to give you the cheapest hotel deal. If I know the hotel I want to stay at, This is the site I generally use. Hotwire has a fun mystery to it. It's a great site to use for last minute bookings. They don't actually tell you the name of the hotel when you are browsing. You will just get the area of the city it's in, the price, and how many stars it has. I love the surprise aspect of it!
Book your Travel Insurance: Getting travel insurance is such a crucial part of preparing for a trip. You never know what could happen and why take the risk? Before I travel anywhere I always book my insurance through World Nomads.

Book your Activities: Now, you have planned all the logistics time to think about what you will do once you get to your destination! These are a few of my favorite trip planning sites. I always use Viator when I am looking for tours. I have booked cooking classes, day tours and so much more through them and absolutely love the immense selection they offer in cities all over the world! Pinterest is great to get travel inspiration and plan an upcoming trip or share inspo with friends and family. I use Trip Advisor to plan itineraries for what I want to see & do in each city. I also use them to read reviews on restaurants and hotels.
Store Your Luggage: Do you have a long layover or a late flight and need to store your luggage? Luggage Hero has got you covered. You can book luggage storage in more than 35 cities worldwide for as little as $1 an hour or $8 for the day. 
Was this article helpful to you? Well, go ahead and save it by pinning it so you can reference it later on.