Have you ever been somewhere that reminded you of a fairytale? A place you felt you have read about in stories as a kid.
When I visited Zalipie, that is exactly what it felt like. Zalipie is a small town in southern Poland, about 2 hours from Krakow. Over the years it's respectively acquired the name 'The Painted Village' because of the century-long tradition of painting intricate designs on the buildings there.
When visiting, one of the first things you will notice are the cottages dotted around the town, where beautiful flowers and shapes of all sizes are painted. You will even notice doghouses, tables, fences, walls and many other items painted as well.
This tradition has been happening since the 19th century and it's something most people in the village partake in. There is even a Painted cottage competition every year.
When I decided to take a day trip to Zalipie I looked tirelessly online for any info on how to get there and there wasn't much. I discovered the best way to get there would be by car (no license) or taking a tour. Taking a tour seemed to be the best choice for me and it wasn't a bad one.
Zalipie has been on my radar for a long time, so I was going to do whatever it took to visit.
Zalipies Story
Zalipies custom of painting houses started in the late 19th century when women in the village started covering up soot stains with white paint and colorful motifs made with powdered dye and milk and they even made their own paintbrushes by using the hair from the tails of their cows. Felicja Curylowa was the most famous painter in the Zalipie. Her house inside and out is covered almost entirely with flowers.
This tradition has continued to this day and there is even a 'painted cottage competition' held every year. The colorful and unique atmosphere of Zalipie makes it one of the most charming villages to visit in Poland. 
How to get there
Getting to Zalipie from Krakow isn't too easy on public transport, but it's an incredible place to visit so I would recommend jumping through whatever hoops and ladders are necessary to make it work. Below I have laid out different ways for you to get there. You can decide which one is most convenient for you.
Tour: I would highly recommend you opt for a tour. The logistics and planning are done for you AND most companies will pick you up from your hotel. The only problem with a tour is if you are traveling solo, they can be quite pricey. Unfortunately, there are only private tours available. You would be paying for two people rather than one.
Here are a few tours that go to Zalipie from Krakow.
Bus: If you want to use the bus to get there, you can. You'll first start by taking a bus to Tarnow from Krakows Bus Station.
Price: 10 PLN
Distance: 1h 25min
View Schedule
When you arrive at the Tarnow Bus Station, you will get the Euro Plawecki Trans Bus heading towards Bieniaszowice which will take you directly to Zalipie. Make sure you pay attention to the schedule because services do not run regularly.
Price: 3 PLN
Distance: 30-45 min
Click here to view the schedule 
Tip: Make sure you tell the driver you want to get off at Zalipie so they can let you know when to get off.
Train: The train to Tarnow leaves regularly from Krakow's Main Train Station
Price: 12 PLN
Distance: 1h 25min
View Schedule 
Once you arrive at Tarnow's train station you will head towards the bus station to get a Euro Plawecki Trans Bus to Zalipie or you can get an Uber or Cab, but those options will be pretty expensive. 
Car: This would be the easiest way to get there and if you have a GPS at hand you should have no problem navigating. 
Distance to Zalipie from Krakow: Around 3 hours if you take a tour or car. A little longer if you decide to take public transport. 
Note: I have only done the tour and have not personally tried visiting on my own, but by doing extensive research and asking locals, these are the best ways to visit Zalipie. 
What to expect on the tour
Doing a tour was the easiest and most convenient way for me to visit Zalipie.
If you are short on time or really just don't trust yourself not to get lost going on your own, then taking a guided tour is the way to go.
Due to Zalipie being a small village that not many people visit, private tours are only available. Since I was just one person I had to pay for two people rather than just myself, but I was okay with that because…well…I WAS GOING TO ZALIPIE!
On the day of my tour, I was picked up at my hotel in a minivan where the guide introduced himself and talked about Zalipie and what we would see. We then were off on a 2 1/2 hour car trip. Words can't begin to describe how excited I was!
We passed by some stunning scenery until we arrived at a boat dock. We were going to take a boat to the other side and continue driving. It was a small boat and my guide seemed to know the captain. The boat ride was only a few minutes and we were the only ones on board so getting back on the road took no time at all.
We eventually arrived in Zalipie where my guide drove around until we reached Dom Malarek (the local arts center) where I got to learn more about Zalipies tradition and see where the local women come to paint souvenirs among other things.
We went to the church of St Jozef Bridegroom and then explored the cemetery in the back where Felicja Curylowa is buried.
As our day went on, we stopped at different houses for photo ops and there were times we got invited into strangers homes where we got a glimpse of how the people in Zalipie live and every house we entered had interiors covered with beautiful flowers. Everyone we met was so friendly and eager to share the beauty of Zalipie with us.
The tour was only half a day, but in that amount of time, we managed to see everything Zalipie had to offer.
What to do
The first thing I recommend doing is visiting the Local Arts Center (Dom Malarek) to get a map. If you're lucky you might see some women making crafts which you can purchase so bring cash! If you do a tour this will be one of the stops you will make.

Home of Felicja Curylowa
Felicja Curylowa was the first woman to start painting her home and therefore, started the tradition. Her cottage is open to the public as a museum and has such an intricate exterior, you will be overwhelmed looking at every little detail.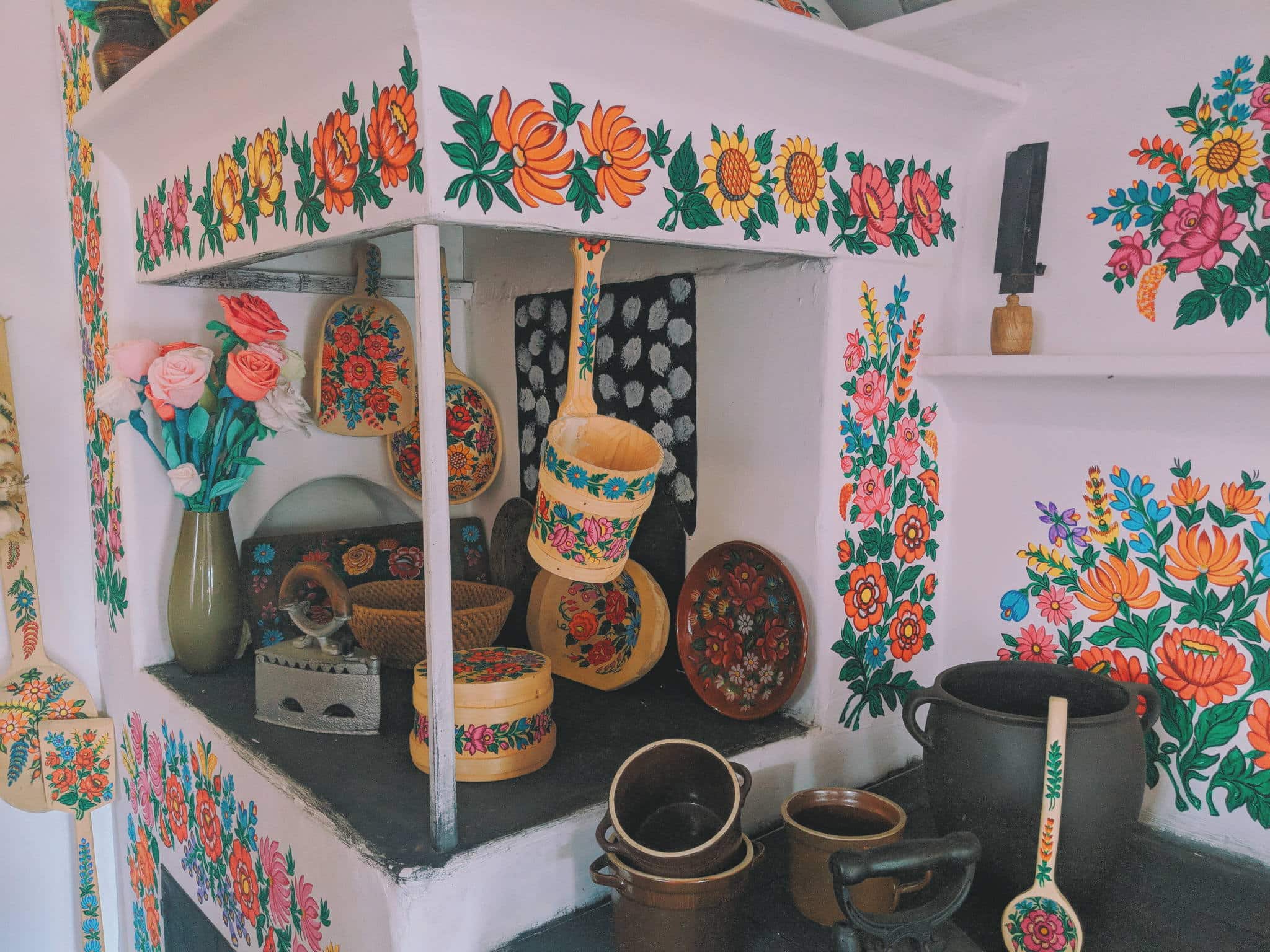 Church of St Jozef Bridegroom
From the outside, there is nothing special about this church but once you walk in, you'll immediately see how the church is respectively taking part in the tradition as well. Painted flowers line the walls and ceilings.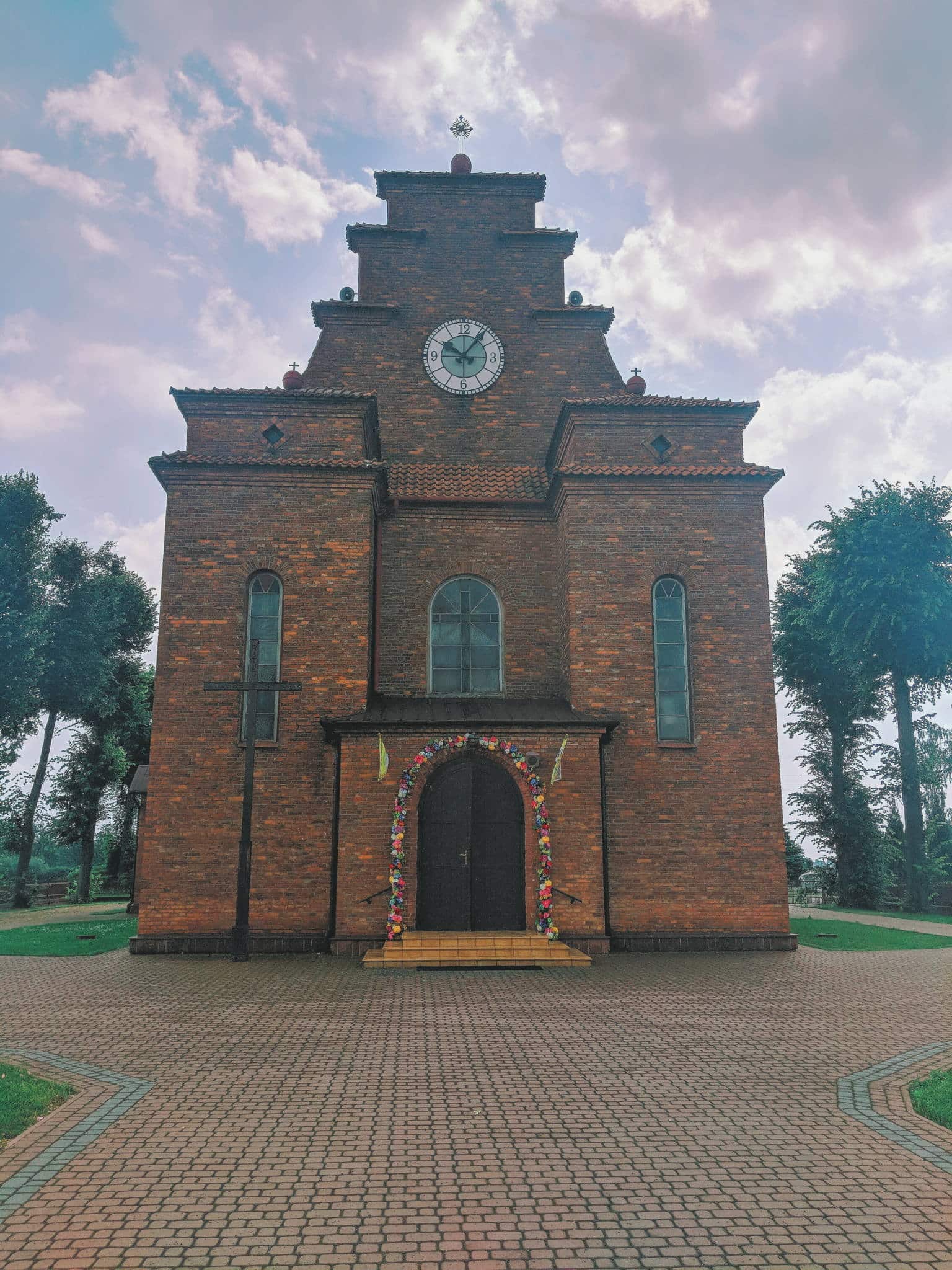 The best thing to do in Zalipie is walk around and admire the paintings on the cottages lining the main road and take in the unique atmosphere.  
Please Note: This post may contain affiliate links, which means if you book/buy something through one of my links, I may earn a small commission (at no extra cost to you!).
Was this article helpful to you? Well, go ahead and save it by pinning it so you can reference it later on.